TOP PHOTOGRAPHY SPOTS IN LOS ANGELES
Los Angeles. The City of Angels. AKA La La Land. It's where the sun shines more than 300 days out of the year and there's a high probability of running into a celebrity. There are a lot of unique and beautiful corners of Los Angeles but LA is also very large and spread out. If you're trying to snap some photos – you came to the right place. Below you'll find the most Instagram worthy spots in LA:
Griffith Observatory
Did you know over 38 movies were filmed at the Griffith Observatory? Arguably the most famous ones being Rebel Without a Cause and one of my personal favorites – La La Land. Also, did you know that more people have looked through the Griffith Observatory telescope than any in the world? The Griffith Observatory has an extensive array of space and science displays but all anyone really cares about is that VIEW! It looks over all of Los Angeles and the iconic Hollywood sign.
PRO TIP: Sunset views from here are amazing but everyone and their mother will be there. If you want a better experience, get there for sunrise!
Santa Monica Pier
There is a little something for everyone at the Santa Monica Pier – rides, games, and photo angles that will really make your pictures pop. Be sure not to miss a ride on the Ferris Wheel!
Urban Light exhibit at LACMA
This beautiful exhibit made up of 202 vintage lamps from the 1920s and '30s is absolutely one of the most Instagrammable spots in LA! The best part about it is you can go day or night and the pictures will be incredible. The lights go on every day at dusk and turn off every day at dawn so they are on all night if you're up for the no-people challenge 🙂
TIP: You don't have to pay to see the exhibit but parking around the area is a bit congested and you will most likely have to pay for a meter.
Venice
Easily one of my favorite parts of Los Angeles, when you walk through the Venice canals you don't feel like you're in Los Angeles at all. It's so quiet and serene and the homes are so charming. Whenever I visit there are very few people around and it's nice to get lost within the little streets and bridges.
Along with that, Venice beach is one of the most famous beaches in America with its never-ending street performers. It attracts all kinds of people and is a great place to immerse yourself in the Los Angeles culture for a day.
TIP: To get the above shot with the VENICE sign, run in the middle of the street when the "ALL" crosswalk is on. It's not easy, and took a couple of tries before we got the shot but as long as your patient and safe you'll be Gucci!
Hollywood Sign
Fun fact – when the Hollywood sign was first put up it said Hollywoodland. One of the best views with minimal effort is from Lake Hollywood Park. There is also a hike to the top of the sign. The best way to get there is to drive to the end of Deronda Drive, find a place to park, walk up to the gates and keep right after the gates, walk up a few stairs and follow the road. When you are further up the road head to the left, opposite of Griffith Observatory, and follow that road. It takes about an hour and a half to hike it.
Disneyland
If you're a Disney fan then you can't miss a trip to the OG Disneyland when visiting LA. Yes, tickets may be expensive and lines may be long but the trip will be worth it because DUH it's the happiest place on earth! I recommend going on a weekday during the school year if you can. I found the best time to go is the week after school starts, it may be peak prices, however, the lines are non-existent and you'll be able to enjoy the rides at your leisure
Make sure to check out the new Star Wars: Galaxy's edge. It's so rad and they have a single rider line for the Millenium Falcon (pictured above). We went a little nuts and rode it three times.
Say HI to Mickey and grab a Dole Whip! (Dole Whips are a Disneyland secret treat.)
Beverly Hills Hotel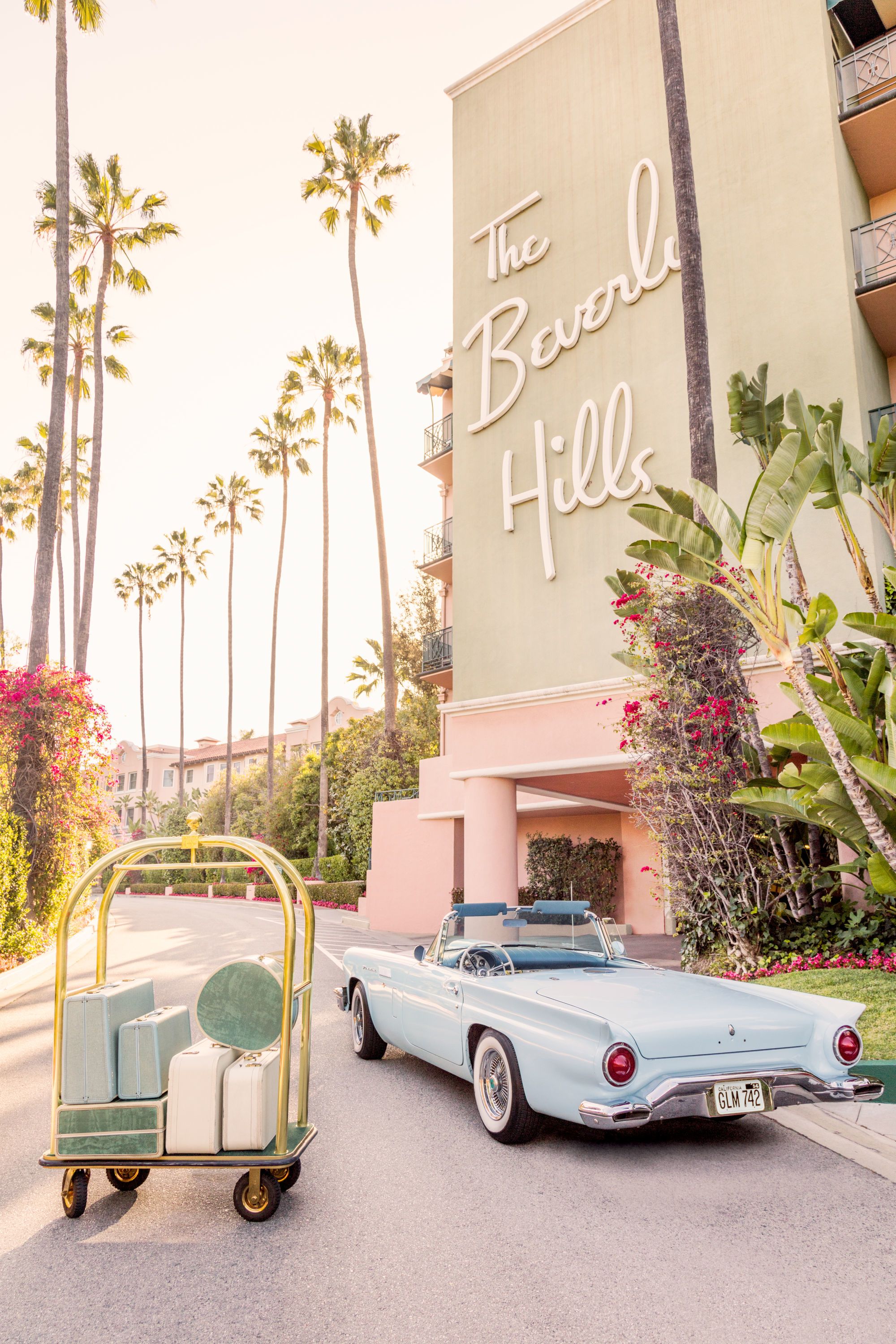 (PC: Gray Malin )
Old school Hollywood glam at it's prime right here. Not to mention the beautiful pink and green decor that is SO ON TREND right now. This place is definitely high class and with that comes a hefty price tag but you can always park your car down the street walk the entrance and snap a few pics. At least that's what I plan on doing next time I'm in town!
Thanks for checking this out the Top Photography Spots in Los Angeles and for more of my California Guides click here!
XO,
Courtney
pin this post to save for later!