Barcelona Bucketlist: 20 Fun Things to Do in Barcelona
It can be difficult to narrow down fun things to do in Barcelona Spain being that this city is immersed in unique architecture, art, and culture. To make your visit easier, I've created this guide to help you navigate this stunning coastal city. Whether you're an artist wanting to see the masterpieces of Antoni Gaudi, a lover of different cultures, or simply a travel savant – Barcelona has a little something for everyone to enjoy!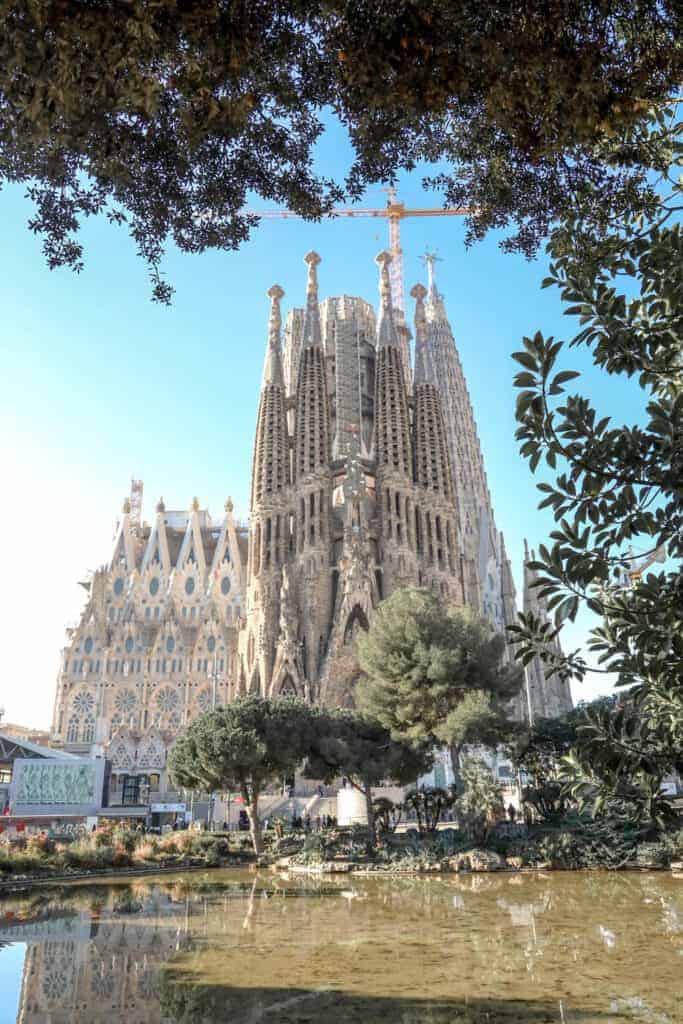 Where is Barcelona in Spain?
Barcelona is a coastal city in the Catalan region of Spain. Not only is it the capital of Spain but it's the largest city as well. It's geographically located on the northeast side of the country.
When to Visit
Barcelona's temperatures are mild during the winter months and can get hot and humid during the summer. It's typical to visit European destinations in the summer however, I would opt to visit Barcelona in January-March. Tourism will be at a seasonal low and you'll be able to explore this city with fewer people and crowds. Do note that the sunrise isn't until 8:30 am from January to March.
Fun Things to Do in Barcelona
While all opinions and recommendations are always my own, my content on this blog post may contain affiliate links for hotels I've traveled to, tours I've completed, and products I recommend. This means I get a small commission (at no additional cost to you) if you book a stay or purchase a product after clicking one of these links. As always, I am so thankful for your support so I can continue to offer free resources!
Visit La Sagrada Familia
This iconic church has been under construction since 1882 and was primarily designed by the man of the hour in Barcelona, Mr. Antoni Gaudi. Gaudi merged three different styles of architecture: art nouveau, Catalan modernism, and Spanish Gothic when creating this masterpiece. Each section of the facade was designed by showcasing religious symbolism. He created a visual representation of the lifetime of Jesus Christ which displays the glory, the nativity, and the passion. The intricate details will take your breath away. I highly recommend booking a guided tour to best experience La Sagrada Familia. You'll learn all about the beauty and splendor of this church (we booked through Viator).
Entrance Fee: $35 per person
Guided Tou + Entrance to Park Guell: $110 per person (our pick)
Palau de la Musica
A famous concert hall in Barcelona, the Palau de la Musica was completed in 1908 and was declared a UNESCO world heritage site in 1997. Its architectural design is true Catalan modernism. Which favors curves over straight lines as well as nature playing a huge role in the motifs. Not only is the design truly outstanding but the acoustics in this concert hall is regarded as the best in the world. We were lucky to have caught a musical performance during our visit!
Entrance Fee with audio guide: $11 (our pick)
Guided Tour: $20
Casa Batllo
Aside from Palau, Casa Batlló was my favorite place we visited in Barcelona. Antoni Gaudi designed this private residence for the Batllo family (pronounced bat-Leo) and he was given free rein to do whatever he pleased. The outcome was this stunning masterpiece. It reminded me a lot of Disneyland because of how whimsical the designs are. The stained glass in the front room was a work of art! And the rooftop offers beautiful views of the city. Without giving too much away – don't miss out on the experience at the end of the tour!
Entrance Fee with audio guide: $39 (our pick)
Guided Tour: $98
Park Güell
Park Güell is a private park situated on a hill overlooking all of Barcelona. It's comprised of architectural pieces designed by Gaudi and was originally going to be a residential area when the land was purchased in 1899. Gaudi used to live in one of the homes and as I stated before, his main source of architectural inspiration was nature. Finally, you won't see straight lines in most of his work.
TRAVEL TIP: When visiting Park Guell choose an afternoon slot. In the morning it was extremely harsh lighting which made for a not-so-pleasant visit (for photography purposes).
Entrance Fee with audio guide: $11 (our pick: this place is expansive so enjoy at your own pace).
Guided Tour: $32
Visit the Arc de Triomf
This grand arch was built in 1888 to act as the entrance to the Barcelona World Fair. It's situated before Ciutadella Park and surrounded by a promenade. It's the perfect spot to post up and admire its beauty. The intricacies of the arch are unparalleled, make sure to go up close and check it out!
Explore Ciutadella Park
For so long, Ciutadella Park was the only green space in Barcelona. Consider it an oasis surrounded by the city. Housed in the park are several attractions: the Barcelona Zoo, the Catalan Parliament, and the Museum of modern art. You can picnic, relax, rent a rowboat, or just take in the beauty that is Ciutadella Park. Whatever you do, make sure to visit the fountain!
Recinte Modernista de Sant Pau
The Recinte Modernista de Sant Pau (Modernist Site of Sant Pau) is a complex of modernist buildings in Barcelona, Spain. Designed by the Catalan architect Lluís Domènech I Montaner, the site was built between 1902 and 1930 as a hospital and healthcare center. Today it acts as a museum and occupies an area of more than 27 acres. It consists of 27 pavilions, arranged in a grid pattern with wide avenues and green spaces. It truly is a hidden gem in Barcelona.
Entrance Fee with audio guide: $17
Placa Reial
Notably, the most famous square in Barcelona is Placa Reial (which means Royal Plaza). It's located in the gothic quarter and is adjacent to the tourist area Las Ramblas. There is a beautiful fountain surrounded by Gaudi-designed street lamps. It's the perfect spot for lunch or dinner. We had a 3-course lunch with wine included for 12€ at Les Quinze Nits. The food was a 7 but the vibes were a 10 – I recommend it!
Barcelona Cathedral
Constructed in the 13th and 15th centuries this icon is a Gothic treasure. The intricacies of the interior were simply stunning! Included in your ticket price is a visit to the rooftops. This was the best part (especially since you take an elevator to the top, no stairs!)! It's included in the ticket and best experienced for sunset. You can visit this cathedral during the week from 10 am to 6:30 pm and on the weekends from 10 am to 5 pm (tickets are 9€). We booked our tickets the day of, no need to pre-book this one.
Entrance Fee: 9€
Pont del Bisbe (Gothic Quarter)
Also located in the Gothic quarter is Bishop's Bridge also known as Pont del Bisbe. One of the most photographed sites in Barcelona this place is most beautiful at sunrise when the light shines through the bridge. Finally, it's quite difficult to photograph but if you play around with your settings and angles, the outcome will be *chefs kiss*.
Parc de Montjuic
Montjuic is an expansive park located in Barcelona's city center. It has many attractions including the Montjuic Castle, cable cars, the magic fountain of Montjuic, and the national art museum. What many people don't realize is it's extremely hilly. So you can best explore this park by taking a round-trip cable car (from the metro station you can take a funicular straight to the cable car entrance) up to visit the Montjuic castle. We then walked down to the magic fountain, which was under renovation and will be open in the summer (February 2022). Finally, check out fundació Joan miró which is the Museum of modern art.
Montjuic Castle: old military fortress dating back to the 17th century. It has panoramic views of Barcelona and the entrance is 5€.
Magic Fountain of Montjuic: Sadly this was under renovation when we visited (January 2022) but it typically runs shows choreographed to music during the summer months (every 15 minutes). And is a free experience!
National Museum of Modern Art: entrance 12€
Montjuic Cable Cars: 14€ round trip
Fun Things to Do in Barcelona: Eat at La Boqueria Food Hall (Las Ramblas)
A bustling food market with tons of specialty stalls. They sell everything from olives, seafood, fruit, meats, cheeses, and my personal favorite – chocolate! They are open Monday – Saturday (closed Sunday) from 8 am – 8:30 pm and are reasonably priced. A great place to grab lunch!
Las Ramblas is a high tourist area located directly outside of La Boqueria. In my opinion, you don't have to spend much time here. As most of the shops lining the blvd are touristy. But hey if that's your thing, go for it!
Grab Cocktails at the Ayre Hotel
The prettiest view of La Sagrada Familia is from the Ayre Hotel rooftop. This place is a hidden gem but popular at the same time. You will need to make a reservation in order to enjoy this cocktail lounge. They start reserving 7 days out so during the summer it can be a mad dash to get a spot. Finally, don't make the same mistake we did and go to the wrong Ayre hotel. The correct one is called "AYRE HOTEL ROSELLÓN".
El Nacional Food Hall
El Nacional Food Hall is a gourmet food market located in the heart of Barcelona, Spain. Housed in a beautifully restored 19th-century building, the food hall offers visitors a unique culinary experience with a selection of high-quality local and international food and drink. It's a higher-end food hall than La Boqueria the El Nacional food hall. There are multiple tapas and seafood restaurants to choose from. It reminded me of Eataly in NYC. Finally, It's a perfect place for a casual dinner.
Bunkers del Carmel
High above the bustling city sits Bunkers del Carmel. A handful of old underground military bunkers were built for the Spanish Civil War. Lastly, this spot boasts panoramic views of the entire city and is known as one of Barcelona's best-kept secrets.
Admire All of Gaudi's Architectural Buildings
As mentioned previously, Antoni Gaudi was a notable architect in Barcelona whose most famous work is La Sagrada Familia. His creations are scattered about the city from residential buildings to museums and an entire park (Park Guell). His signature style can be characterized as freedom form. Lots of colors, textures, and uniqueness. The Catalan people are so prideful of his work, and rightfully so.
Finally, I'm sharing all the Gaudi buildings that you can visit around BCN:
Casa Milà
Casa Calvet
La Sagrada Familia
Casa Batllo
Palau Guell
Casa Vicens
Guell Pavillions
Park Guell
Indulge in Tapas
Tapas are small plates of food (think appetizers) that are the signature Spanish cuisine. They range from hot plates to cold plates, seafood, and cheeses. The most famous dish is patatas bravas which is spicy potatoes sometimes covered in cheeses). In order to truly experience Spain, you must have a meal of only tapas and wine. My best advice would be to stumble upon a place. Because there are tapas restaurants on every corner in Barcelona!
Other Fun Things to Do in Barcelona
Where to Stay in Barcelona?
Barcelona offers a variety of options for accommodation, depending on your budget and preferences. Here are some popular areas to consider when deciding where to stay in Barcelona:
Gothic Quarter: This historic neighborhood is located in the heart of the city and features narrow, winding streets and charming plazas. It's a great option for those who want to be close to the city's main attractions, such as the Cathedral and the Picasso Museum.
Example: This area is known for its modernist architecture and wide, tree-lined avenues. It's a popular area for shopping and dining, and it's within walking distance of many of Barcelona's top attractions.
El Born: This trendy neighborhood is located just next to the Gothic Quarter and is known for its narrow streets, artisanal shops, and fashionable bars and restaurants. It's a great option for those who want to be close to the city center but also want to experience a more modern, trendy side of Barcelona.
Best Barcelona Hotels
Kimpton Vividora Hotel: located in the Gothic quarter with a stunning rooftop view of the Barcelona Cathedral and a small pool.
Cotton House Hotel: centrally located and has stunning architecture. It used to be a fashion house back in the early 1900s.
Fun Things to Do in Barcelona: How to Get around BCN?
Barcelona is a very walkable city but in order to get to most museums, I recommend taking the metro. It's extremely easy to navigate, affordable, and super clean. Coming from someone that rides the NYC subway the TBA was a delight! We purchased a 10-journey pass for 11€.
You could also get around with the rideshare app "Cabify" (they have Uber as well but it's not used as much). Finally, the taxis are very affordable and they all take credit cards. In conclusion. it's easy to get around Barcelona and my pick is the metro!
Trip Price Breakdown
This came highly requested by my community on Instagram. So as promised, I'm sharing an exact breakdown of what we spent while traveling to Barcelona. Please note that this was for a 5-day/5 night trip.
Flights: SAN to BCN $1388 (two people $700 each)
Hotels: $1900 (average $380 a night)

3 of the nights were a junior suite at Kimpton Vividora. Highly recommend!

Metro Card: 11€ for ten journey pass
Coffee (including lattes): 2€
Meal Average Lunch: 11€ per person (including wine)
Meal Average Dinner: 15-18€ per person (including wine)
Taxis to and from the airport (4 trips total): $150 ($35-$45 average)
Museums, Entrance Fees, Tours: $250 for two people ($125 per person)

we only did one guided tour of the Sagrada Familia and the rest were simply entrance fees with audio guides.

In total, we spent roughly $4500-$5000 for a 5-day/5 night trip
As you can see, Barcelona is a highly affordable city. The accommodation price will increase if you book during the summer months (we visited in January).
What to Pack for Barcelona
The items below are for a January-April visit:
Have I convinced you to visit Barcelona yet? I promise you won't regret it if you follow this "Ultimate City Guide: 20 Fun Things to Do in Barcelona". Thank you for reading and if you have any questions at all comment below!
For more of my European Guides head here. If you need help packing check out my "22 Travel Essentials you need for your next trip" post.
pin this post for later
XO,
Courtney