The Perfect 10 Days in Portugal Itinerary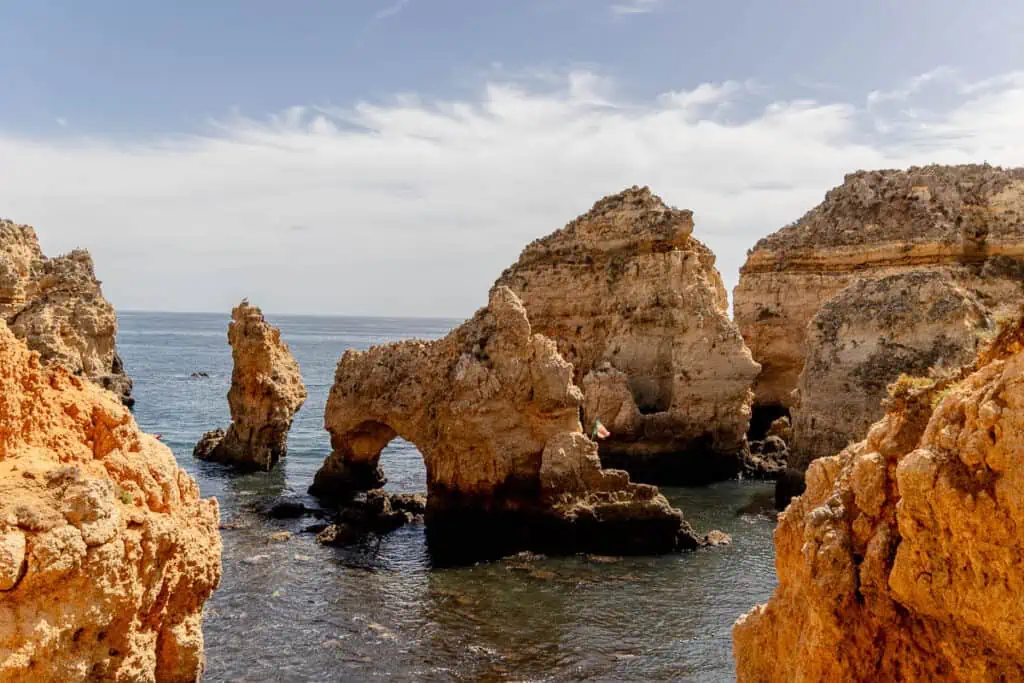 Portugal, with its rich history, stunning landscapes, and vibrant culture, is a must-visit destination for any traveler. This 10 Days in Portugal Itinerary will guide you through some of the best experiences this Iberian gem has to offer. It's become quite the hotspot in recent years, and for good reason! This enchanting nation, nestled in the westernmost corner of Europe, has long been a treasure trove of experiences waiting to be discovered.
Embark on a remarkable adventure that will take you through centuries of history, from medieval castles to modern urban wonders. From the charming streets of Lisbon to the picturesque beaches of the Algarve, this Itinerary. Whether you're a history buff, a foodie, or simply seeking relaxation, has something for everyone to discover. And spoiler alert, it has easily become one of my favorite countries I've ever visited.
Things to Know Before Visiting to Portugal
Most of Portugal is hilly so make sure to bring very comfortable walking shoes with a good grip. Along with the hills, it can be a rather wet climate and the cobblestones will become very slippery.
Portugal is a very small country but with that being said there are lots to do and tons of different landscapes to enjoy depending on your preference.
Shoulder season is a beautiful time to visit. We visited in September and would highly recommend the same for you.
You don't need a car when visiting Lisbon and Porto. However, I highly recommend renting one after your first 3 days in Lisbon. Furthermore, when choosing your car, opt for the smallest option possible as many of the ancient towns have very narrow streets.
Have small bills and coins on hand for taking public transportation (and toll roads) as they only accept cash.
Learn a few Portuguese phrases since when traveling outside of Lisbon you'll encounter quite a few locals that do not speak English.

Bom Dia (Good Morning)
Boa Tarde (Good Afternoon)
Bonne Nuit (Good evening)
Ola (Hello)
Obrigado (Thank You) however, if you're a woman you say Obrigada.
Praia (beach)
Miradouro (viewpoint)
While all opinions and recommendations are always my own, my content on this blog post may contain affiliate links for hotels I've traveled to, tours I've completed, and products I recommend. This means I get a small commission (at no additional cost to you) if you book a stay or purchase a product after clicking one of these links. As always, I am so thankful for your support so I can continue to offer free resources.
Day 1-3: Explore Lisbon
Start your journey in Portugal's capital, Lisbon. Lisbon is a city that effortlessly weaves together the threads of history, culture, and contemporary life. Lisbon is known as the city of 7 hills. Similar to Rome – the intention of each hill is a representation of the city's heritage, culture, and national landmarks. Portugal's vibrant capital is a place where cobbled streets echo with tales of explorers and traders, where pastel-colored buildings cling to hillsides, and where the melancholic strains of Fado music drift through the air.
First Day: Alfama, Rua Augusta, Tram 28, and Miradouros
Welcome to Lisbon! The ride from the airport to the main area of the city is roughly 25 minutes. Make sure to have euros handy as Uber can be a bit tricky from the airport (lots of cancellations). Because of that, it's better to take a cab. However, make sure you discuss the price prior because I was charged 40 euros for a 20-minute ride. Which is highway robbery in Portugal. Learn from my mistakes!
Morning:
Start your day with a leisurely breakfast at Lumi Rooftop. They have a wonderful brunch with panoramic views of Lisbon. It costs 25 euros per person including a cocktail and an all-you-can-eat buffet.
Walk down the road to view your first Miradouro Miradouro de São Pedro de Alcântara (which is the Portuguese word for viewpoint).
Make your way over to Rua Augusta and Praça do Comércio. Lisbon's most important square: it was built on the site where the old Royal Palace used to exist before it was destroyed by the earthquake of 1755. It was Lisbon's main port for decades, and crucial for its maritime trade. Today, you'll find lots of shopping, stunning architecture, and street performers in a lively square.
Try a "pastel de nata," a delectable Portuguese custard tart, for an authentic taste of Lisbon.
Afternoon:
Head to Alfama, one of Lisbon's oldest and most charming neighborhoods. Wander through its narrow, winding streets lined with colorful houses adorned with laundry hanging from the balconies.
Experience a ride on Tram 28, a historic yellow tram that winds its way through some of Lisbon's most picturesque neighborhoods. This tram journey takes you through Alfama and beyond, offering a unique perspective of the city.
Visit the Lisbon Cathedral, a magnificent Romanesque church, to explore its stunning interior and enjoy panoramic views from its terrace. Don't forget to snap a photo of the famous Tram 28 as it passes in front of the church.
Enjoy a relaxed lunch at one of the alfresco restaurants in Alfama, savoring traditional Portuguese dishes such as "bacalhau à brás" (codfish) or "grilled sardines.".
Evening:
Enjoy a nice sunset at Miradouro das Portas do Sol. Here you'll find sweeping views of the city, Tagus River, and Castelo São Jorge.
You can then walk right down the road (a 2-minute walk if that) and experience Miradouro Santa Luzia. In between both viewpoints, you'll find a small outdoor cocktail balcony. Grab a ginja for an authentic Portuguese drink. A sweet liqueur made from Morello (sour) cherries soaked in a distilled spirit called aguardente. The mixture is flavored with sugar and spices like cinnamon.
For dinner, try a Fado dinner experience in Alfama. Fado is Lisbon's soulful music genre, and dining at a Fado restaurant allows you to immerse yourself in the city's musical culture.
Day 2: Discover Belém, Jeronimos Monastery, LX Factory
Morning:
Start your day with a visit to the Jerónimos Monastery (Mosteiro dos Jerónimos), an architectural masterpiece and UNESCO World Heritage site. Explore its intricate Manueline architecture and ornate cloisters. It was giving major Harry Potter vibes to me. Make sure to book a skip-the-line ticket. We didn't and waited in line for over an hour.
Walk a block down to indulge in the famous Pastéis de Belém. The pastries, specifically the pastel de nata, here are the best in Lisbon (we even confirmed with many locals) and it's well worth the wait in line.
After that, walk 15 minutes to Belem Tower. A 16th-century fortress that once guarded the entrance to the city's harbor. Climb to the top for panoramic views and marvel at the maritime motifs in its design.
Afternoon:
Enjoy lunch at a riverside restaurant in Belém, savoring Portuguese specialties while gazing at the Tagus River.
Stroll along the riverside promenade, enjoying the view of the 25 de Abril Bridge, often compared to the Golden Gate Bridge in San Francisco. Fun fact: it was designed by the same architect!
End your afternoon visiting the artistic neighborhood of LX Factory. Make sure to visit the famous bookstore Ler Devagar and stroll around the cobblestone artistic street.
Evening:
Grab drinks at Limao rooftop for a beautiful sunset view (skip the food, trust).
Take an Uber to have dinner at SEEN rooftop and enjoy panoramic views of Lisbon while indulging in delicious food and soaking up the atmosphere.
Day 3: Barrio Alto, Rossio Square, Carmo Convent
Morning:
Start your day with a hearty breakfast at one of the charming cafes in the Bairro Alto neighborhood. Sip on Portuguese coffee and enjoy some fresh pastries.
Begin your exploration of Lisbon's historic neighborhoods by wandering through Bairro Alto. This bohemian district is known for its narrow streets, colorful graffiti, and vibrant nightlife scene. It's a great place to soak up the local atmosphere.
Walk along Pink Street, named for the distinctive pink color of its pavement. But Pink Street is not just a street, it is also a bustling district in Lisbon, known for its vibrant nightlife and entertainment venues.
Walk downhill towards Rossio Square, one of Lisbon's main squares. Admire the grandeur of the Rossio Train Station and the surrounding architecture.
Afternoon:
Enjoy a traditional Portuguese lunch at a nearby restaurant or café. Consider trying dishes like "frango piri-piri" (spicy chicken) or "bacalhau à lagareiro" (oven-baked codfish).
Walk through Casa de Alentejo and marvel at the stunning architecture.
Visit the Carmo Convent (Convento da Ordem do Carmo), a hauntingly beautiful Gothic church that was partially destroyed during the 1755 earthquake. The ruins are now home to the Carmo Archaeological Museum, where you can explore archaeological artifacts and enjoy a unique view of the sky through the open roof. (visited in September 2023 and part of the structure was under construction).
Take a leisurely stroll to the historic Bica Funicular (Elevador da Bica), one of Lisbon's iconic tram systems. This charming tram ride takes you through the steep and narrow streets of the Bica neighborhood, offering a glimpse into Lisbon's old-world charm. It costs 3.80 euros for a roundtrip ticket.
Late Afternoon:
After your lift ride, spend some time exploring the Bica neighborhood and its surroundings. Wander through its narrow streets, and discover local shops and street art.
Check out of your hotel, rent a car, and drive 45 minutes to the enchanting town of Sintra.
Where to Stay in Lisbon
Four Seasons Hotel Ritz Lisbon ($$$$): Situated atop a hill next to Eduardo Park, this 5-star hotel offers stunning views, an elite fitness and spa center, and the most comfortable beds I have ever slept in. Book your stay here!
H10 Duque de Loulé ($$): Set in a historic building in the city center, this hotel is a four-star superior Boutique Hotel that fuses traditional Portuguese décor with a modern and elegant touch. The rooftop has stunning views. Book your stay here!
Day 3-4: Sintra's Fairytale Beauty
Nestled amidst the lush, forested hills of Portugal, Sintra beckons travelers with an allure that is nothing short of enchanting. This picturesque town is located just a stone's throw away from Lisbon. A place where fairy tales come to life, and the very air seems infused with magic. Sintra's romantic palaces, ancient castles, and pristine landscapes have earned it the designation as a UNESCO World Heritage site, and it's not hard to see why.
The town's cobblestone streets are lined with pastel-hued buildings, while its hilltop palaces offer panoramic views that stretch as far as the eye can see. Sintra's forests hide secret grottoes, and its misty mornings add an air of mystery to the entire experience. With all that being said, be aware that driving here can be tricky. Not only are the streets extremely narrow but if you miss a wrong turn it can add 30-40 minutes to your travel time. It happened to us twice so know that before deciding if you want to drive or take the bus here. Finally, don't let that deter you from experiencing the magic that is Sintra. I highly recommend you stay the night (or two if you're a fairytale buff like myself).
Afternoon Monserrate Palace
Explore Monserrate Palace (Palácio de Monserrate). This palace dates back to the 19th century and is a testament to the Romantic architectural movement that swept across Europe during that era. One of the most striking features of Monserrate Castle is its eclectic design. Which seamlessly blends Moorish, Indian, and Gothic architectural elements. The details are simply breathtaking!
While the palace itself is a sight to behold, Monserrate is equally celebrated for its extensive gardens. These gardens are a botanical paradise, featuring an impressive collection of exotic and rare plants from all corners of the globe. As you wander through the gardens, you'll encounter towering palm trees, vibrant camellias, and hidden pathways that lead to tranquil ponds and cascading waterfalls.
Plan to spend 1-2 hours here.
The entrance fee costs 8 euros and there is a free, albeit very small, parking lot
Late Afternoon Pena Palace
Perched atop a verdant hill in the heart of Sintra, Portugal, the Pena Palace (Palácio da Pena) stands as a vibrant and whimsical testament to the Romanticism architectural movement of the 19th century. Often described as a real-life fairy tale castle, Pena Palace is one of the most iconic and captivating landmarks not only in Sintra but in all of Portugal.
It was originally a 16th-century monastery, and its transformation into a palace began in the 19th century when King Ferdinand II decided to convert the ruins into a royal residence. The result is a fantastical blend of architectural styles, combining Moorish, Renaissance, Gothic, and Manueline elements, culminating in a structure that appears straight out of a dream. It's one of the most recognizable palaces in Portugal with its red and yellow facade.
Plan to spend 2 hours here. We decided to try our luck and visit at the very end of closing and were one of the last people to leave to enjoy an empty palace. I highly recommend choosing the last possible time to enter to experience the palace like this. The lighting was perfect.
I preferred the outside grounds as opposed to the inside of the palace. Once inside it was very dim, and boring. You had to walk in a single-file line to get through the palace. It was quite unenjoyable so don't feel bad skipping the interior portion of the palace.
The entrance fee is 14 euros and an extra 2 euros for a bus to the top (which I highly recommend because it is quite hilly). We missed the last bus down the hill because of how late we stayed but walking down is a lot easier than walking up. It took us roughly 15-20 minutes to walk down to our car.
Day 4: Explore Quintas de Regailara and Journey to Porto
Morning Quintas de Regailara
Quinta da Regaleira, often referred to as a "palace of initiation,", is a mesmerizing estate that blends Gothic, Renaissance, Roman, and Manueline architectural styles. Creating an atmosphere of otherworldly charm and esoteric significance. It was built in the early 20th century by Carvalho Monteiro, a wealthy Portuguese businessman with a deep interest in the mystical and the esoteric. He collaborated with Italian architect Luigi Manini to design the estate, incorporating elements of alchemy, Freemasonry, and the Tarot into its layout and symbolism.
The most iconic feature of Quinta da Regaleira is undoubtedly its two initiation wells (Poços Iniciáticos). These inverted towers, resembling underground spiral staircases, are shrouded in symbolism. Visitors can descend into the depths of the earth, symbolizing a journey into the subconscious or spiritual transformation. The wells are surrounded by intricate stone carvings and statues.
Plan to spend 2-3 hours here as the grounds are quite large
Get there 30 minutes before opening and have your tickets purchased before
Start at the Initiation Well as the line can become hours long to enter mid-day
the entrance fee is 11 euros – they do have a parking lot
Afternoon Travel to Porto
In order to travel to Porto from Sintra you can drive which will take roughly 3 and a half hours or choose to relax on a train which will take 5.5 hours. I personally prefer to drive to experience the countryside.
10 days in Portugal Itinerary: Where to Stay in Sintra Portugal
Tivoli Palácio de Seteais Sintra Hotel ($$$): Much more than a luxury hotel in Sintra, Tivoli Palacio de Seteais is a romantic palace with period architecture that will take you back to the elegance and atmosphere of the XVIII century. This boutique hotel in Sintra – a UNESCO World Heritage Site – is a unique setting to turn any event or stay into an unforgettable experience. Book your stay here!
NH Sintra Centro ($$): Be right on the doorstep of Sintra's famous historical palaces and monuments when you stay at the four-star NH Sintra Centro Hotel. Situated in the main square directly opposite the medieval National Palace of Sintra, and tucked between the Sintra Mountains and the sea, the hotel couldn't be better located for discovering the UNESCO-listed town. Book your stay here!
Day 5-7: Porto and the Douro Valley
photo credit: CN Traveler
Next up is the captivating town of Porto. Portugal's second-largest city, which is known for its stunning architecture and port wine. Porto's history dates back centuries, and its historic center is a UNESCO World Heritage site.
The city played a crucial role in Portugal's Age of Exploration, and evidence of its rich past can be seen in its well-preserved architecture, including medieval churches, baroque palaces, and neoclassical buildings. The imposing Clerigos Tower and the ornate Livraria Lello, known for inspiring J.K. Rowling, are iconic landmarks.
Day 5: Ribeira District, Livraria Lello, São Bento, Dom Luís Bridge
Morning:
Explore the historic Ribeira district – a charming waterfront area with narrow alleys and colorful facades, is a popular spot for dining, strolling, and enjoying the views.
Be one of the firsts to Visit Livraria Lello. The famous bookstore that inspired J.K. Rowling's Harry Potter.
Stroll along Praça da Liberdade
Afternoon:
Visit the São Bento Railway station to admire the stunning tilework. It has notably been named the prettiest station in the world.
Visit the Porto Cathedral
Cross the iconic Dom Luís I Bridge – Designed by Gustave Eiffel, it connects Porto to Vila Nova de Gaia and offers panoramic views of the river and city. Another notable bridge is the Arrábida Bridge, an architectural marvel that spans the Douro.
Evening:
One of Porto's defining features is the Douro River, which winds its way through the city, separating it from Vila Nova de Gaia, where the famous port wine cellars are located. Take an evening river cruise to explore the sights from the water.
Day 6: Enjoy a wine tour in the Douro Valley (1.5 hours from Porto)
Take a day trip to visit vineyards and taste world-renowned port wines. Being that port wines are known to be heavy it's best to book a group tour so you can sit back and relax and enjoy your wines.
Where to Stay in Porto Portugal
Torel Porto Palace ($$$): An elegant palace, in the heart of Porto, is housed in a stunning mansion, which has transformed into a charming, five-star hotel, with 24 rooms and suites, a restaurant, and a swimming pool. Book your stay here!
10 days in Portugal Itinerary: Day 7-10 Algarve Beach Paradise
Nestled in the southernmost region of Portugal, the Algarve Coast is a sun-drenched stretch of coastline with its stunning landscapes, golden beaches, and a harmonious blend of traditional charm and modern amenities. This captivating region has earned a well-deserved reputation as one of Europe's premier holiday destinations, offering something for every type of traveler.
The Algarve is dotted with charming fishing villages and coastal towns. Lagos, with its historic old town, is a popular destination for its stunning beaches, lively nightlife, and historical landmarks like the Slave Market and Ponta da Piedade cliffs. Albufeira, another coastal gem, offers a vibrant nightlife scene and beautiful beaches.
Day 7: Travel from Porto to Albuifera
Head south to the Algarve region, known for its stunning coastline and beautiful beaches. The journey will take you roughly 5 hours by car. Do note there are toll roads when driving down to the Algarve but most car rentals will have a tag on the car to easily pay the tolls without stopping.
Check into the hotel. We stayed at the Nau Hotels Sao Rafael Atlantico and loved the location and facilities.
Golden hour at Praia da Albandeira. Known for its stunning arch rock formation. One of the highlights of Praia da Albandeira is its peaceful and serene atmosphere. It's often less crowded than some of the more well-known beaches in the Algarve, making it a great spot for relaxation and solitude. We witnessed people riding horses here and it was truly a magical moment.
Sunset and Dinner at Praia Dourado
Day 8: Beach Hopping and Visit the picturesque cliffs of Ponta da Piedade
Before visiting these beaches it's important to note that because most of these beaches have stunning cliffs because of that they also have long staircases to access the actual sand and ocean. Keep that in mind when visiting and wear comfortable shoes!
Morning + Afternoon
Breakfast at your hotel (most hotels in Portugal offer breakfast included in your stay).
Drive to Praia Estudantes (44 minutes) and visit this unique beach with a Roman-style bridge connecting two cliffs.
Explore the Ponta da Piendade Cliffs (a 10-minute drive). A dramatic example of how the forces of nature can create awe-inspiring landscapes. Over millions of years, wind and water have sculpted the limestone cliffs into a labyrinth of caves, grottoes, arches, and towering sea stacks. The result is a visual masterpiece of intricate rock formations and was easily my favorite view on the Algarve Coast. It

This is not technically a beach as there is a small platform at the end of this staircase. You can catch a boat tour here to explore all the caves (no prior reservations required) so bring cash if you intend to do so.
There is a small beach restaurant at the top of the stairs here so stop in to enjoy a beachside lunch.

Praia do Camilo (located right next to Ponta da Piendade) is one of the most famous beaches on the Algarve Coast. It's celebrated for its breathtaking beauty, pristine sands, and clear turquoise waters, making it a must-visit destination for beach lovers and nature enthusiasts. This is a great place to post up and relax for an hour or two after beach hopping.
Evening
Sunset and cocktails at Marina de Albufeira
Dinner in Albufeira Old Town
Day 9: Boat Tour and Charming town of Carvoeira
Morning:
Start your day with a sunrise mission to Benagil Caves. The Benagil Caves were formed through the natural erosion of limestone cliffs by the relentless action of wind, waves, and water over thousands of years. The result is a unique and stunning open-ceiling cave. It's a paradise for photographers and nature enthusiasts. Do note, you are only able to access the Benagil caves by kayak or boat tour.

We booked the private boat tour option as we wanted to be the first in the caves and it was an experience I will never forget. The tour takes you to multiple caves along the coast and even showcases a rock formation that is said to be the inspiration for The Beatles song Yellow Submarine. It's a bit more pricey than that a kayak tour but believe me, if you splurge on one experience this entire trip – let it be this. Book your tour here!
After your tour drive to Marinha Beach. One of the most iconic and picturesque beaches in Portugal. This beach is renowned for its stunning natural beauty, crystal-clear waters, unique rock formations, and golden cliffs. You can choose to hike the Seven Hanging Valleys trail along the cliffs above the beach. It offers panoramic views of the coastline and access to some of the famous caves and rock formations. To get to the famous heart-shaped rock formation you'll want to start walking right from the parking lot, look for a large sign, and hike north of that sign and you'll find the viewpoint.

There is a free parking lot and a staircase that connects to the beach below. We visited around 9 a.m. and by the time we left the parking lot was full so be prepared for that when visiting!
Afternoon:
Have lunch in the charming beach town of Carvoeiro. A picturesque coastal town that is renowned for its dramatic cliffside setting, with colorful houses built into the cliffs overlooking the sea. Such a charming atmosphere to enjoy a nice meal at one of the many restaurants that overlook the ocean.
Drive to Praia de Caneiros and relax on the beach. Before leaving make sure to visit the restaurant above (Rei das Praias) it is one of the prettiest beachside restaurants I have ever seen!
Day 10: Sunrise at Praia dos Tres Irmanos, Explore Lagos, and Drive back to Lisbon
Morning:
Start your morning with a beach walk at Praia dos Tres Irmanos. This beach is celebrated for its dramatic cliffs and rock formations that create a picturesque backdrop to the golden sandy shores. The name "Três Irmãos" translates to "Three Brothers" and refers to three large rock formations that stand in the water just offshore, adding to the beach's unique character.

From the parking lot to the section of the beach with the stunning rock formations is roughly a 10-minute walk. When we visited in September there was a bit of seaweed on the beach. But it didn't take away from the beauty of this place.
Afternoon:
Have brunch and explore the town of Lagos.
Start the journey home as you drive back to Lisbon Airport (2.5 hour drive from Lagos).
This 10-day itinerary is just a glimpse of the treasures that Portugal has to offer. From the historic streets of Lisbon to the vineyards of the Douro Valley and the beaches of the Algarve. Portugal promises a diverse and enriching experience for every traveler. Whether you're an adventurer, a history enthusiast, or a food lover, this Iberian paradise is sure to leave you with lasting memories and a longing to return. I already want to plan another trip for next year. So, pack your bags and embark on an unforgettable journey to Portugal!
Check out my 2 Day Itinerary to Seville to extend your trip by 2 extra days. As always, thank you for reading fam!
XX,
Courtney