A Complete 2 Days in London Itinerary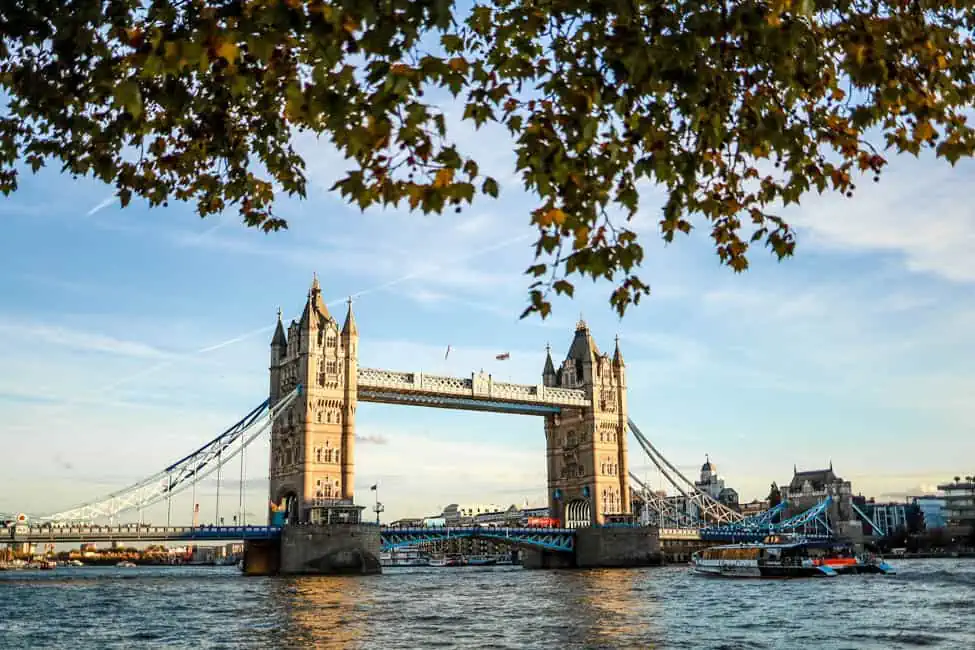 London is a captivating city known for its history, royalty, museums, palaces, and the arts. If you're looking to visit Europe for the first time, London is a great place to start, especially if you plan on a multi-city trip. London is filled with endless sights, a bustling food scene, high-end shopping, public markets, and an active nightlife. It's no small feat trying to plan 2 days in London Itinerary being that there is so much to offer. However, this guide will share the best things to do in London, the best places to shop, where to eat, and so much more!
When to Visit London
The weather in London can be quite tricky as it rains 106 days out of the year. The summer months are the driest but also highly visited. I would opt to visit London in Springtime (mid-March-April) because the blooms add to London's charming streets and tourism is lower. Furthermore, the fall is a great time to visit (October-November) we visited the first week of November and the last week of October and we had a pleasant visit in regard to weather and crowds. Finally, London goes all out for Christmas so while it is crowded is another magical time to visit London.
Best Things to Do In London
While all opinions and recommendations are always my own, my content on this blog post may contains affiliate links for hotels I've traveled to, tours I've completed, and products I recommend. This means I get a small commission (at no additional cost to you) if you book a stay or purchase a product after clicking one of these links. As always, I am so thankful for your support so I can continue to offer free resources!
Visit Big Ben
Big Ben is notably the most famous clock in all the land spanning 55 meters high. It is the epitome of London tourist attractions and it's also home to The Houses of Parliament. Recently it underwent a 6-year renovation and it is looking better than ever these days! Finally, for a great viewpoint of this stunning clock head over to the south side of the Thames underneath Westminster bridge or near the London Eye for another great perspective.
Tower of London
Easily the coolest part of our trip was visiting the Tower of London. The most secure castle in the world this Tower protected the royal family and its fortune for years. Still to this day 37 military personnel referred to as "beefeaters" call the Tower home. They have been guarding the tower since medieval times.
You can visit today by booking a tour in advance. For the least amount of crowds consider booking the first slot in the morning where you'll be guided by a beefeater. Make sure to check out the crown jewels exhibit while visiting. Finally, it costs 36£ for an adult entrance fee.
Walk Across the Tower Bridge
Adjacent to the Tower of London is The Tower Bridge. The Tower Bridge was built in 1894 and at that time it was the largest bascule bridge ever completed. Originally it was painted brown and didn't receive its royal red white and blue makeover until the queen's jubilee in 1977. Today, it's a London icon that you can walk across, visit the interior for a full-on exhibition, or even climb to. the top. Finally, to bundle the experience purchase this VIP access to the Tower of London and Tower Bridge along with witnessing the crown jewels exhibit.
Visit Buckingham Palace
Buckingham Palace is home and headquarters to the monarch of the United Kingdom aka the royal family. This palace is a cultural landmark and if you're a royal fanatic like myself, you will LOVE a trip to Buckingham Palace. This palatial palace has over 750 rooms, a police station of its own, and masterpieces of art. Over 50,000 visitors make it inside the palace yearly. Furthermore, palace tours are allowed in the staterooms but only in the summer months. Did you know there is a way to know if The King is home (I still can't believe I am writing that RIP Queen Elizabeth)? If there is a union flag flying then he is not home but if you see a royal standard flag then King Charles is in the building.
Finally, to catch the changing of the guard happens daily in June & July. And in all other months, it takes place only on Monday, Wednesday, Friday, and Sunday. Times are scheduled to change so check out the timetable before visiting.
Westminster Abbey
Westminster Abbey is an architectural masterpiece of the 13th to 16th centuries. This gothic church is full of history and some of Britain's most notable people are buried beneath the church. It's also been the venue for every single coronation of the monarchy along with 16 Royal Weddings. The most recent being Prince William and the new Princess of Wales, Kate Middleton. Currently, it costs £12 to visit the church.
Visit Trafalgar Square
Trafalgar Square is central London at its best. It's a public square situated near tons of London landmarks. It is often referred to as the heart of London. It was designed in the 1800s to commemorate the British victory over the French and Spanish fleets in the battle of Trafalgar. Today it's the perfect spot to people-watch and admire the art surrounding the square. Finally, each year it houses a Christmas tree gifted by Norway.
The London Eye
Built for the 2000 Millenium celebration is the London Eye. Europe's tallest observation wheel which is situated along the Thames. Over 3 million visitors ride this wheel yearly being that it offers beautiful 360° views of London. In total it takes 30 minutes to ride the wheel and costs $39 per person. Finally, book your time slot beforehand since tickets sell out fast!
Thames River Cruise
The Thames River is the largest river in England which runs through the heart of the city. The Thames makes up for 2/3 of the drinking water in London and you used to be able to ice skate on it in the winter. Additionally, it is best experienced on a river cruise. Whether you want to dine on a boat under the stars and the Tower Bridge, take in the sights during the day for a lunchtime cruise, or simply just cruise with no frills – there is a tour for everyone!
Stroll through Hyde Park
Kensington Palace & Gardens
Kensington Palace was once Nottingham House a small suburban villa the royals used as their country home. It was then Queen Victoria's childhood home and most recently was home to our queen, Princess Diana. Today, the palace is open to visitors which can experience a museum and exhibitions and is open daily. Book your ticket in advance. Finally, the gardens at Kensington Palace are extravagant and an oasis of calm so add it to the list!
Visit Notting Hill
Notting Hill is the quintessential neighborhood in London. Charming streets filled with colorful row homes and conventional London vibes. This vibrant area is also filled with trendy cafes, vintage fashion, colorful homes, and upscale boutiques. The main road is Portobello road filled with bohemian shops and vintage galore. On the flip side, Westbourne Grove is home to upscale shops and chic victorian row homes. It's easy to take the tube to Notting Hill Gate and then approximately a 15-20 minute walk through the neighborhood to get to the colorful row home streets. Finally, if you're looking for a cute cafe check out Biscuiteers.
Colorful row home streets:
Lancaster Road
St Lukes Mews (a favorite of mine!)
Westbourne Park Road
Colville Terrace
Elgin Terrace
Explore Piccadilly
London's most famous square is Piccadilly Circus. It is reminiscent of Times Square in New York City with large billboards and tons of retail shops. An entire surrounding area is a happening place where you'll find posh hotels, trendy restaurants, English pubs, and the theatre district. It's a high tourist area so be aware of your surroundings when visiting.
Explore the National History Museum
The Natural History Museum, formerly named the British Museum, is a scientific museum comprised of 70 million specimens from all parts of the world, historical collections, and a leading research science center. This famous museum represents the discovery and enjoyment of the natural world through exciting exhibits. The most popular part of this museum is the blue whale skeleton they have hanging on the main promenade.
Unique Places to Visit in London
If you can add a day or two to your itinerary consider visiting these unique places in London.
St. Dunstan in The East – a church built in the 1400s St. Dunstan has stunning grounds with cloisters. It's a popular photo spot so expect crowds.
Leadenhall Market – a covered market with tons of narrow passageways filled with stores and restaurants.
Convent Garden – a shopping and entertainment hub in London's west end filled with craft stalls, upscale restaurants, and live street artists.
Goodwins Court – this alley is known for being the inspiration for Diagon Alley in Harry Potter. Once you walk through you can see why. There is even a small owl pictured in one of the windows further confirming the inspiration. Finally, if you're a huge HP fan consider booking this Harry Potter filming locations walking tour.
Sky View Garden – London's highest public garden situated at the top of a skyscraper. Tickets are free to visit however you must make reservations in advance.
Best Restaurants in London
Dinner
Circolo Popolare ($$) – From the infamous Big Mamma restaurant group comes Circolo Popolare in Fitzrovia. This restaurant's interior is over the top and decorated with 20,000 bottles lining the walls. Not only that but the food is incredible with the menu changing each month.
Amazonico ($$$) – Located in the trendy Mayfair neighborhood is Amazonico London. The menu combines a blend of Latin American cuisine with inspiration from the countries of the Amazon and Asia. It's quite eclectic. They have a live band most nights and the cocktails we're the best part of this restaurant.
Chiltern Firehouse ($$) – Housed in an old firehouse (hence the name) is Chiltern Firehouse. This celebrity hotspot is known for its contemporary Italian cuisine. The bucatini was heavenly and you need to make reservations for this hotspot.
Brunch/Lunch
Sketch Tea Room ($$$) – Sketch is filled with unique art sculptures and different concept rooms. It's the most Instagram-famous spot in Mayfair. The most famous is the tea room which was re-done in 2021 and now showcases a yellow theme. Afternoon tea costs $75 per person and comes with a decent amount of pastries and tea sandwiches along with unlimited teas to choose from. The coolest part? The bathroom houses private porter potty-Esque eggs and a colorful ceiling. If it sounds weird, it's because it is but it's a must-see!
The Wolseley ($$) – Housed in a 1920's old car showroom in Piccadilly is The Wolseley Restaurant. Known for its exceptional service and exquisite interior. I had the best eggs benedict here and would highly recommend it for brunch.
Peggy Porschen ($$) – Peggy Porschen Cakes is renowned for its delicious and luxurious decorated Birthday cakes and cupcakes. Not only that but its insta-famous exterior makes this bakery well recognizable.
Best Bars in London
Churchill Arms ($$) – You can't go to London and not visit the Churchill Arms pub – it's iconic. The annual flower bill is 25,000 pounds a year. So, be prepared to be blown away by the exterior!
Sherlock Holmes Pub ($$) – This pub is tucked away a few streets east of Trafalgar square. Inside you'll find Holmes-inspired memorabilia and Holmes films playing on the screens.
Mr. Fogg's ($$$) – Mr. Fogg's house of botanicals is a unique place in which it houses flowers and fauna from around the world. It gives off an Alice and Wonderland vibe with its beautiful displays. Finally, it is well known for botanical craft cocktails.
Searcys at the Gherkin ($$$) – Housed on the 39th floor this bar and restaurant offer 360 views of London. Come here for a cocktail at sunset, the views are incredible!
Best
Hotels in London
There are many different areas of London so inevitably there are many hotel options that are well worth your stay. A few of our favorites:
Conrad St. James ($$) – Luxury hotel in St. James down the block from the Abbey. We really enjoyed our stay here. It was conveniently located across from the tube. You can't beat the customer service either – the concierge was really on top of their game!
The Ampersand Hotel ($$) – The Ampersand is surrounded by some of London's most famous districts, from Knightsbridge and Mayfair to Hyde Park and Chelsea — all within walking distance – which makes this a premier place to stay!
Brown's Hotel ($$$) – Located in the trendy neighborhood of Mayfair is the Brown's Hotel A Rocco Forte Hotel. The exclusive private member's feel of this hotel will make you feel as if you're the only one staying in this 5-star!
The Langham London Hotel ($$$) — A true London Icon, the Langham London Hotel has been serving guests since 1865. It's located on one of the most popular streets in London (Regent Street) and has an award-winning spa to relax in when visiting London.
2 Days in London Itinerary
Day One
Morning breakfast at The Wolseley
Walk through Green Park to visit Buckingham Palace
Tube to Tower of London
Visit and walk across the Tower Bridge
Thames River Cruise
Visit the London Eye
Walk across Westminster Bridge to see Big Ben
Westminster Abbey
Dinner in Mayfair at Amazonico
Day Two
Morning in Notting Hill
Tube to Hyde Park
Visit Kensington Palace
Shopping at Harrods
Afternoon Tea at Sketch London
Shopping around Mayfair
Visit Piccadilly circus
Walk to Trafalgar Square
Visit the National History Museum or Convent Garden
Dinner and drinks at Searcy's at the Gherkin
How to Get Around London
London is a busy city so with that comes traffic and high prices for taxis. I highly recommend taking public transportation, The Underground or as Londoners say "The Tube", it's reliable, easy to get around, and I felt safe during all my travels.
The Underground ($) — The easiest/most cost-effective way to get around the city is also referred to as The Underground. The map is easy to follow, the tube station is clean, and the transportation is reliable. If you're going to be in London for a couple of days, your best bet is to buy a visitor oyster travel card to get the most bang for your buck.
Taxis ($$$) — London's "black cabs" are very quintessential to London. But can be very expensive. Plan to spend a pretty pound if you opt for the Taxi life (most accept credit cards). However, you should take at least one to say you did it!
Hop on hop off bus ($$) — Super touristy but instead of schlepping all around the city on the tube or taxis, this is the best way to get the most out of your time. It goes all around the city and stops at all the main attractions.
The Heathrow Express ($) — The best way to get into the city of London is from the airport. It takes only 15 minutes from the airport to Paddington Station (a major tube hub) and can get you anywhere in London with a quick transfer. I would only advise against this if you have a lot of luggage.
Best Shopping in London
Harrod's ($$$) – Home to London's most luxurious shopping. Founded in 1894 and owned by the state of Qatar, this department store is the largest in Europe covering 1.1 million square feet across 7 floors. You have to swing by Shoe Heaven (yes it's literally called that) containing 17 high-end shoe boutiques that will make you want to drop your entire year's salary in one swipe.
Carnaby Street ($$) – In the heart of London's West End is this unique shopping & dining area which covers 14 streets and has over 100 shops and 60 restaurants. It was the birthplace of the fashion and cultural revolution in the '60s and is commonly known as the "Capital of Cool". Don't miss a visit to Kingly Court – an open-air restaurant hub with tons of great eats to choose from!
Mayfair ($$$) – the neighborhood of Mayfair is as posh as it gets ladies and gents. Surrounded by the top luxury designers including Dior, Cartier, and Chanel. Along with that,
Fortnum & Mason ($$$) An iconic department store located in Piccadilly known for its exterior displays, delicious chocolates, and fancy teas.
I hope you enjoyed this "Complete 2 days in London Itinerary" and that it helped you make the most of your time in this gorgeous city! If you have any further questions I didn't cover please drop a comment below. Don't forget to check out more of my European travel guides!
XO,
Courtney
pin this post for later