The Best Holiday Outfits to Wear this Season
As the holiday season approaches, the air is filled with an undeniable sense of magic and merriment. Whether you're attending a glamorous soirée, a cozy family gathering, or a festive virtual celebration, one thing is for certain – it's time to elevate your style and step into the spotlight with confidence. In the spirit of spreading joy and embracing the festive cheer, we've curated a sensational collection of the 28 best holiday outfits that promise to dazzle and shine.
From sophisticated ensembles that capture the essence of timeless elegance to playful and trendsetting looks that push the boundaries of holiday fashion, our curated list is a celebration of diversity, creativity, and the joy that comes with dressing up for the most wonderful time of the year. Join us as we embark on a journey through a kaleidoscope of styles, colors, and textures, each outfit carefully selected to inspire and ignite your own sartorial imagination.
While all opinions and recommendations are always my own, my content on this blog post may contain affiliate links for products I use and love. This means I get a small commission (at no additional cost to you) if you make a purchase after clicking one of these links. As always, I am so thankful for your support so I can continue to offer free resources!
Leather Leggings + Skirts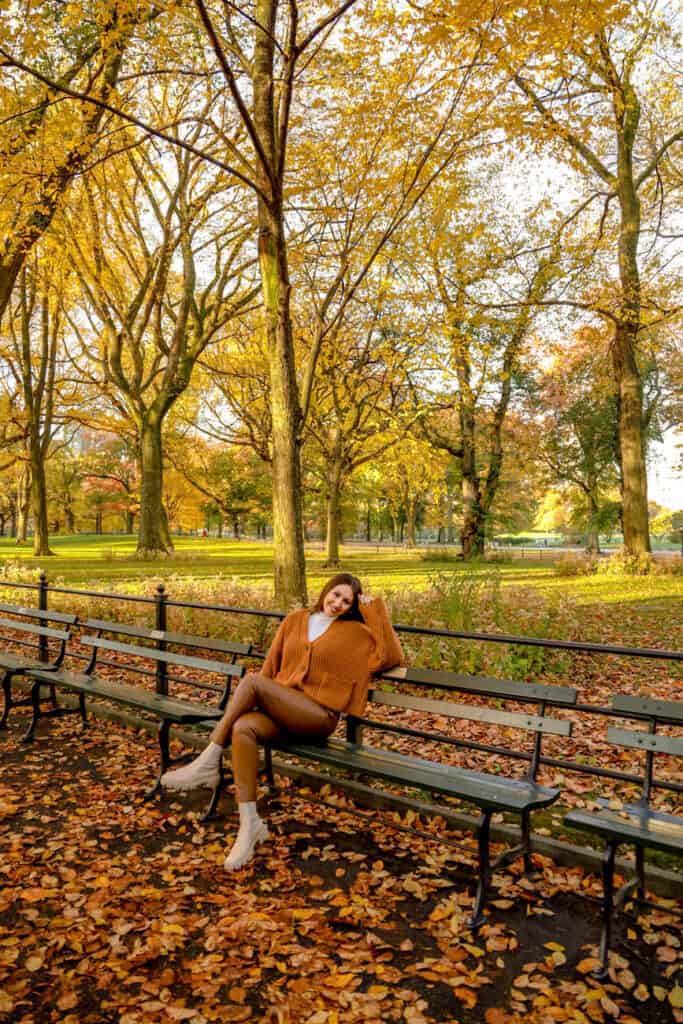 In the realm of winter fashion, few combinations strike the perfect balance between edgy and cozy quite like the pairing of leather leggings with a sumptuous sweater. This dynamic duo effortlessly marries comfort with style, creating a look that transitions seamlessly from casual daytime chic to evening glamour.
Pick up a pair of leather leggings and pair them with a chunky oversized sweater. The contrasting textures create a visual feast while ensuring you stay snug and warm on chilly days. You can also don brown leather leggings with an oversized cardigan and neutral booties for a comfortable but chic look. Finally, a leather skirt (or faux leather if you prefer) is a great addition to your wardrobe and makes for a chic festive Friendsgiving look!
Hostess with the Mostess
If you're donning the hat of the host this holiday season, your attire becomes more than just a fashion choice. It's a reflection of your welcoming spirit and the festive ambiance you're creating for your guests. Opting for an outfit that strikes the perfect balance between style and practicality is key.
Comfort is important, especially as you navigate the ins and outs of hosting duties. But that doesn't mean you have to compromise on elegance. Consider any of these sophisticated yet comfortable ensembles below that allow you to effortlessly move between the kitchen, living room, and dining area while still exuding a polished charm.
Sweaters + Sweater Dresses
Sweaters are effortlessly versatile since they combine comfort with style. Making them a go-to choice for festive gatherings. Whether you're sipping cocoa by the fireplace or attending a holiday soirée, the sweater dress is your style canvas for a look that's both snug and sophisticated.
For a laid-back yet polished daytime affair, opt for a chunky knit sweater dress in a timeless hue like camel or burgundy. This classic choice exudes warmth and comfort while providing a blank slate for accessorizing. Cinch the waist with a statement belt to add structure and definition, and complete the look with knee-high boots or ankle booties. Play with textures and patterns, such as pairing a cable-knit sweater dress with a plaid scarf, to add a touch of visual interest.
When the evening calls for a dash of drama, opt for a sweater dress with subtle embellishments or metallic accents. This can be a stunning choice for a holiday party or a special dinner. Keep accessories sleek and let the dress take center stage—pair it with sheer tights and heeled boots for a look that effortlessly transitions from elegant dinners to festive gatherings.
Holiday Dresses + Sequins
'Tis the season to shine, and what better way to illuminate the festivities than by slipping into a holiday dress that sparkles with all the magic of the season? As twinkling lights adorn homes and streets, your attire should reflect the same luminous spirit. Enter the realm of holiday dresses that sparkle—an embodiment of glamour and sophistication that effortlessly captures the essence of celebration.
Sequins, glitter, and metallic embellishments take center stage in these dazzling ensembles, turning each step into a cascade of twinkling lights. When it comes to selecting the perfect sparkle-infused dress, the choices are as diverse as the holiday traditions themselves. Consider a mini dress adorned with shimmering sequins for an extravagant dinner party. Or opt for a pair of sparkle pants paired with a sweater for a more understated yet equally radiant look.
Holiday Outfit Accessories
An easy way to sparkle this season is by adding blinged-out accessories to your look. You can easily pair a black or neutral sweater dress with statement earrings and white booties. I also love a good holiday sequin clutch that comes in handy for special occasions as well. Finally, if you're feeling artsy this season opt for an Art Deco clutch and metallic heels for a beautiful evening look.
Click below to shop my holiday accessories picks:
Thank you for reading my Holiday Outfit guide! I wish you nothing but love, peace, and happiness this holiday season. If you have any questions or need more advice on what to wear, I would love to help! And you don't want to miss my "Ultimate Holiday Gift Guide: for everyone on your list".
Happy Holidays fam!
Pin this post for later
XX, Courtney