The Best San Diego Christmas Activities written by a Local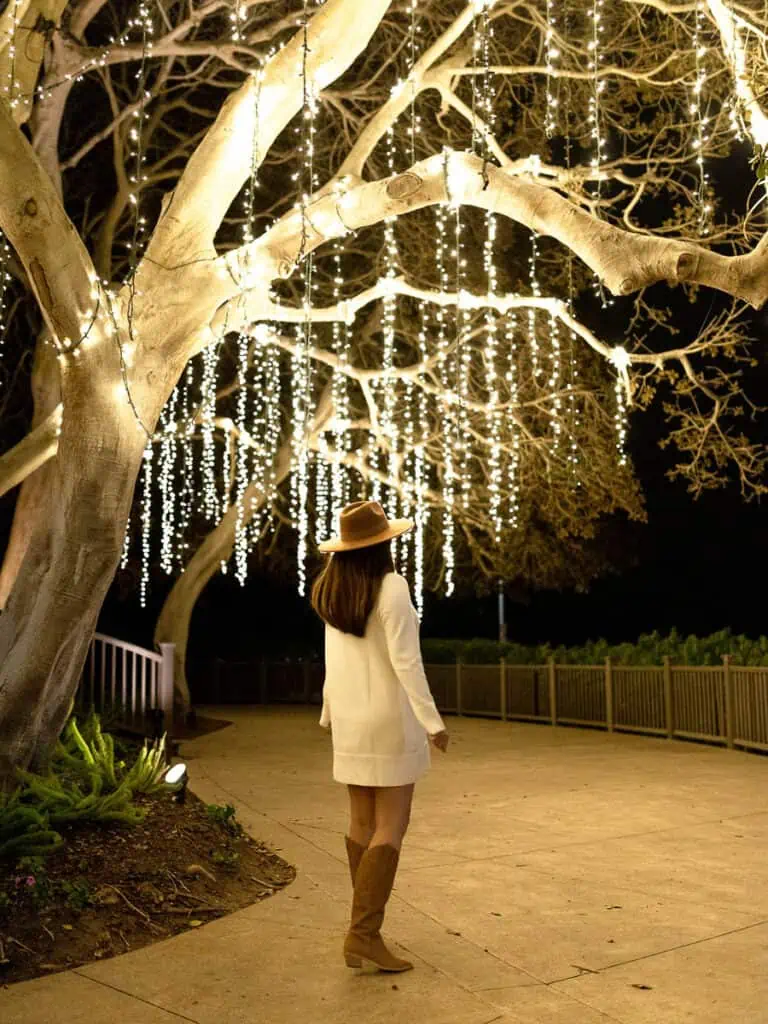 San Diego Christmas is a magical time of year in America's Finest City. It's filled with warmth, joy, and the spirit of giving. In San Diego, this is amplified by the city's unique charm, vibrant communities, and perfect weather. While it might not be a winter wonderland with snow-covered streets, San Diego has its own way of spreading Christmas cheer.
The city comes together to embrace the holiday spirit in a distinctly Southern Californian fashion. From festive boat parades to enchanting light displays and ice skating on the beach. San Diego offers a plethora of Christmas activities that cater to everyone's tastes. In this blog, we'll take you on a journey through the best San Diego Christmas activities, showcasing the diverse and delightful ways in which the city celebrates the most wonderful time of the year. Whether you're a local looking for new traditions or a visitor seeking a memorable holiday experience, San Diego has something special in store for you.
Hotel Del Coronado Christmas
Name a more iconic Christmas Activity other than visiting the Hotel Del Coronado during December. The Del is the most magical during the holiday season. Not only is it located on one of the most famous San Diego beaches, but it's decorated with tons of bright lights, an ice skating rink on the beach, a holiday food truck, and even a light show orchestrated to music.
This year the festivities begin on November 17th and go until January 7th. And you can't miss the multiple Christmas trees that scatter the property. There is one in the lobby, the courtyard, as well as a small one located next to the ice rink. The light show is completely free and happens every day from 5 pm to 9 pm (every 30 minutes) and is located next to the Crown Room. For more information head to the Hotel Del Coronado website.
Ice Skating costs $40 pp (with value skate days (Nov. 27-28, Dec. 4-5, 11-12): $35)
Holiday food truck items range between $16-$30
They have igloos for rent on the beach
You can rent a fireplace around the rink but it's a $150 minimum food + drink purchase
Liberty Station
With a Christmas Tree standing at 88 feet tall another great holiday activity is spending an afternoon or evening in Liberty Station. Not only that, but they have an array of cuisines at the Liberty Station Public Market, a large ice skating rink, and holiday lights scattered about the station.
The Rady's Ice skating Rink is $15 per person and directly supports Rady's Children's Hospital when purchasing a ticket. Yay for giving back! They also have a Nutcracker tea experience happening on December 17th this year and you can visit their website for tickets. Finally, the iconic Christmas tree lighting ceremony this year is on November 24th from 5 pm to 9 pm.
Holiday Market at Petco Park
The Holiday Market at Petco Park is back this year! This event is held every day from December 1st until December 24th and features food and shopping stalls reminiscent of a European Christmas market, a carousel, beautiful light displays, photo opportunities with Santa, and so much more! They offer live music on select nights and have fake snow blowing throughout the park. It's magical!
Tickets are $10 per child and $16 per adult
Carousel is $3
You need to book your time slot in advance
Mission Bay Christmas Tree
A true California Christmas includes a lit-up Christmas tree on the beach. Am I right? Well luckily for you there are quite a few in San Diego. My favorite one is on Mission Bay just north of the Catamaran Resort. Furthermore, don't miss this beautiful christmas light display at the Hyatt Regency Mission Bay. If you know of any other beachside Christmas trees in San Diego please send them my way!
Seaport Village Surfin Santa
Seaport Village is a hidden gem for holiday activities. Not many people know this but annually they have a Surfin Santa event. Where Santa himself surfs into the seaport and parades down the boardwalk. There are also tons of light displays, including a light tunnel orchestrated to music, a Christmas tree made out of buoys, and a vintage Carousel for kids. It's a great free activity to enjoy with the family! Find out more information here about visiting this coastal gem.
San Diego Botanic Lightscape
Lightscape is back for the second year at the San Diego Botanical Garden located in Encinitas. Stroll through the outdoor gardens that are lit up with over 1 million holiday lights. Enjoy tons of exhibits from a lit-up bamboo garden, singing trees, fire displays, and my personal favorite the winter cathedral. This event is a popular one so make sure to book your time slot in advance. Finally, they are open this year from November 17th to January 1st and you can book your time slot here!
When is December Nights in Balboa Park?
Balboa Park December Nights is one of the most iconic Christmas events. This year the famous San Diego event is taking place on December 1st and 2nd. Explore the holiday cheer that is brought to Balboa Park with tons of unique food vendors, museums with free entry, and live entertainment. The Christmas tree lighting ceremony takes place on the first evening with an exciting countdown at dusk.
Unfortunately, if I'm keeping it real the crowds make it one of my least favorite holiday activities in San Diego. However, don't let that sway you from visiting there are still great parts of the evening to make it worth a visit. Finally, make sure to take an Uber or ride your bike as parking can be quite an ordeal!
Holiday Oasis at insideOUT
No other restaurant does better Christmas decor than insideOUT in Hillcrest. Starting on Tuesday, November 28th through January 7th, you can enjoy holiday-themed cocktails, hundreds of twinkling lights, and even a magical snowfall happening every 90 minutes or so. If you plan on dining, reservations are a must. Finally, this is an 18+ event and they do accommodate walk-ins on a first come first serve basis if you want to experience this magical oasis but miss out on reservations.
Jungle Bells San Diego Zoo Information
The San Diego Zoo is one of the most popular San Diego attractions and annually the Zoo is transformed into a winter wonderland during the holidays. It's a great experience for any age as the zoo is lit up with holiday lights and decorations, live music, and special food and drinks. You can also take a ride on The Polar Express (4D experience). This year it's happening from December 9th – January 1st and you can find more information here.
The Grinch at The Old Globe Theatre
Did you know that Dr. Suess lived in San Diego? I have a local legend to tell about How the Grinch Stole Christmas came out. Firstly, he lived on top of Mt. Soledad in La Jolla and would complain about the college students partying in Pacific Beach down the hill. Until one day he decided to go down the hill and confront them when he realized they weren't that bad. They actually cared deeply about the environment and ocean and wanted to preserve our beautiful city. So that my friends is How The Grinch Stole Christmas came about.
And one of the reasons why "How The Grinch Stole Christmas" at the Old Globe Theatre is so iconic in San Diego. It has to be the most popular San Diego Christmas activities. Showings start in early November and go through the end of December. You most definitely need to book tickets in advance as they are known to sell out fast!
One Paseo Del Mar
One Paseo is a great place to celebrate the holidays. Not only do they have tons of shopping to knock some gifts off your list but the restaurants are worth a visit on their own. Furthermore, they have a large Christmas tree, a festive Studebaker littered with Christmas decor, and their very own December Nights.
Don't miss the store Pigment, you can easily find a present for everyone on your list there. For the fashionistas in your life visit Van De Vort. Finally, for some of my favorite restaurants to check out are Tocaya, Parakeet Cafe, and Blue Bottle Coffee.
San Diego Bay Parade of Lights
Every year during December the San Diego boating community goes all out with their San Diego parade of lights. Over 80 boats parade throughout the San Diego bay decked out in Christmas lights. It's a completely free event and begins at 5 pm each evening it's held (for 2021 it's December 12th and 19th). Finally, the parade starts from Shelter Island and goes to Harbor Island. Another popular parade to check out is the La Jolla Christmas Parade.
San Diego Christmas Bars + Restaurants
Here is my ultimate list of the best christmas bars and restaurants. The ones listed below go all out for Christmas with decorations and specialty holiday drinks for the season:
False Idol in Little Italy

Nightmare Before Christmas theme – get the hot buttered rum

Miracle on 30th Street Polite Provisions
InsideOUT in Hillcrest
Nason's Beer Hall in Downtown
Barbarella in La Jolla
Nolita Hall in Little Italy
Top of The Hyatt Downtown
The Grass Skirt in Pacific Beach
Kindred in South Park
Cesarina in Point Loma
XMAS Bar in Downtown
Neighborhoods in San Diego with the Best Christmas Lights
There are tons of neighborhoods that are decked out in Christmas lights and decorations that make for a great weekend activity. The best part is? All of these are free San Diego Christmas Activities! Some neighborhoods sell hot chocolate, elote, and popcorn, and there may even be Santa sightings. Below are the top neighborhoods to check out when visiting during Christmas:
Merritage Court in Scripps Ranch (pictured above)
Candy Cane Lane in Poway (Hickory St – pictured above)
Christmas Circle in Chula Vista (Mankato street + Whitney street)
Christmas Card Lane Rancho Penasquitos (Oviedo street + Ellingham street)
Carlsbad Christmas House
Luminaria South Park
Jingle Bell Hill in El Cajon (Pepper Drive)
Starlight Circle in Santee
Garrison Street Lights in Point Loma
Well, there ya have it, folks. That about covers it for San Diego Christmas activities. Which ones are you going to check off your list this year? If you have any questions feel free to leave them below. And don't forget to check out more of my San Diego guides. Wishing you and your family a Merry Christmas & Happy Holidays!
pin this post for later
XX, Courtney