35 Best Airport Outfits: How to Look Effortless while traveling
Do you ever have trouble finding cute airport outfits when traveling? As we prepare to embark on our next travel escapade, one often underestimated aspect comes into focus: airport outfits. Striking the perfect balance between style and comfort can make those long hours of waiting and transit feel much more pleasant.
Whether you're jetting off for a leisurely vacation or a business endeavor. Finding the best airport outfit can set the tone for your entire trip. As a full-time travel blogger, I'm always on the move and searching for that perfect airport outfit.
In this blog post, we'll dive into the world of travel fashion and explore the art of curating comfortable yet chic ensembles that are tailored for traversing terminals, enduring flights, and arriving at your destination feeling effortlessly put-together. From cozy layers to versatile accessories, join us as we uncover a range of stylish airport outfits that are bound to make your journey as enjoyable as the destination itself.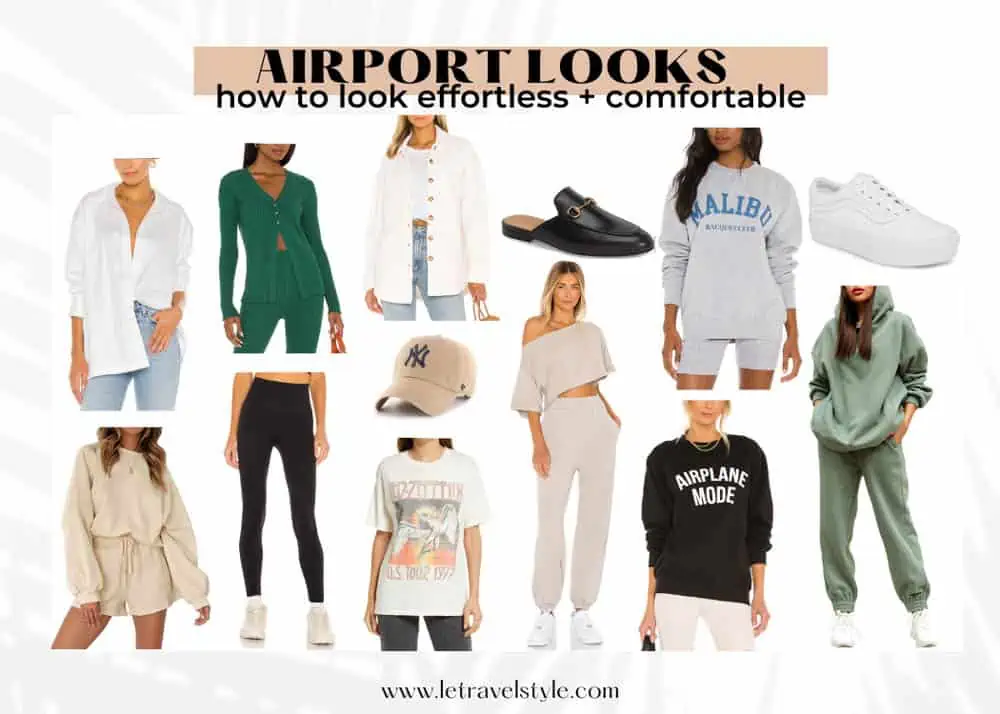 While all opinions and recommendations are always my own, my content on this blog post may contain affiliate links for products I use and love. This means I get a small commission (at no additional cost to you) if you make a purchase after clicking one of these links. As always, I am so thankful for your support so I can continue to offer free resources!
Matching Sets
Enter the travel trend that's been capturing the hearts of globetrotters and fashion enthusiasts alike: the matching set. Coordinated ensembles, featuring a top and bottom that perfectly complement each other, have become the go-to choice for jet-setters looking to elevate their airport fashion game. But it's not just about appearances—wearing a matching set while traveling offers a multitude of benefits that go beyond aesthetics.
Not only are you at an optimal comfort level but you also always look effortless while wearing a matching set. There are so many sets on the market these days. You can choose from a knit set, a matching sweat set, or even a short set for those summer months. Pair it with loafers and a classic trench for a polished look. For a casual look pair it with white sneakers and a denim jacket! Below I'm sharing my top picks at all price points.
MATCHING SET TOP PICKS:
Leggings + Oversized Button-Down
Classic but make it comfy! This dynamic duo not only offers a timeless and polished look but also comes with a range of benefits that make navigating airports, flights, and new destinations a breeze. When it comes to picking out leggings I always have the best luck when purchasing quality over quantity.
For instance, I've had my Lululemon leggings for 7 years now and they still look new (wear roughly 1-2 a week). Really. It's best to invest in pieces you know you will wear over and over. Additionally, I've recently fallen in love with the Alo Leggings for travel. And if you're looking for a pair to hold it all in consider the Spanx leggings. As for the oversized button-down, I tend to find good ones at Zara and H&M since these pieces truly only last a few seasons. Pro tip: size up your button-down for an oversized fit.
MUST-HAVE LEGGINGS:
Knit Joggers + Graphic Tee
This combination airs more on the casual side but is a favorite of mine. This airport outfit is perfect for those red-eye flights since we need all the comfort to help us sleep. Finding the perfect pair of knit joggers is not easy. I've added my favorite ones below to help you decide. Furthermore, I always find the best graphic tees at Abercrombie.
Finally, you can pair this look low with slip-on sneakers, a baseball cap, and an oversized jacket to pull it all together. Don't forget to pack your eye mask to get some shut-eye.
JOGGER PICKS:
Biker Shorts + Crewneck Sweatshirt
A little more on the trendy side but this combo is perfect for those warm summer temps. I'm obsessed with these biker shorts from Alo. They are the best quality and come in over 10 colors. You can easily pair this look with an oversized sweatshirt (blazer if you want to be super on-trend), sneakers, and a baseball cap to pull it all together.
CREWNECK SWEATSHIRT FAVORITES:
Jumpsuits
Who wants to wear a dress on a plane? Not me! Another easy way to put together a stylish airport outfit without actually trying is to invest in a comfortable jumpsuit. You can easily pair this with cute sneakers, an oversized denim jacket, and a scarf (that doubles as a blanket on the plane) to pull it all together. It may be a bit difficult traveling in a jumpsuit when it comes to using the bathroom, but anything to look cute, right?
JUMPSUIT TOP PICKS:
Airport Outfits Must-Haves
A Comfy Jacket
A comfortable jacket, faux leather jacket, or sweatshirt is a must for travel clothes. I tend to stick to a classic denim jacket as it's so versatile for both the summer and fall. You can always count on airplane cabins to be chilly, so you don't want to forget this piece when traveling. Also, it can double as a blanket or travel pillow. You sure can get creative on a flight!
Baseball Cap
It's always smart to have a hat on hand because you never know what kind of bad hair days you will run into when traveling. This is the perfect way to combat those unexpected days and stay incognito on your flight if you don't want to chat it up with your neighbor.
Comfortable Sneakers
Whenever I'm traveling, I want to be as comfortable as possible since there is usually a lot of walking involved. Skip the heels and opt for a chic pair of comfortable shoes for your trip. You'll be happy you did!
Airport Accessories Must-Haves
If you're wondering what kind of accessories to pack for your travel day, I got you covered! Firstly, for those early morning/red-eye flights consider packing cat-eye sunglasses to hide those tired eyes. Next, a good pair of socks to keep your feet warm on the plane. A pair of affordable noise-canceling headphones go a long way in the airport. Finally, I never leave for a trip without my portable backup chargers.
Airport Looks from Amazon
Finally, for my Amazon shopper gals on a budget, I've put together a list of airport looks from Amazon. They're all affordable and I happen to have a couple of these sets myself.
SHOP MY AMAZON PICKS BY CLICKING HERE!
Thank you for reading my "35 Airport Outfits: How to Look Effortless and Comfortable when Traveling" post. I hope you're traveling somewhere fun! Don't forget to check out my "29 Travel Essentials: to help with packing" post for more ease on your trip.
pin this post for later
XO,
Courtney