36 Must See Places in New York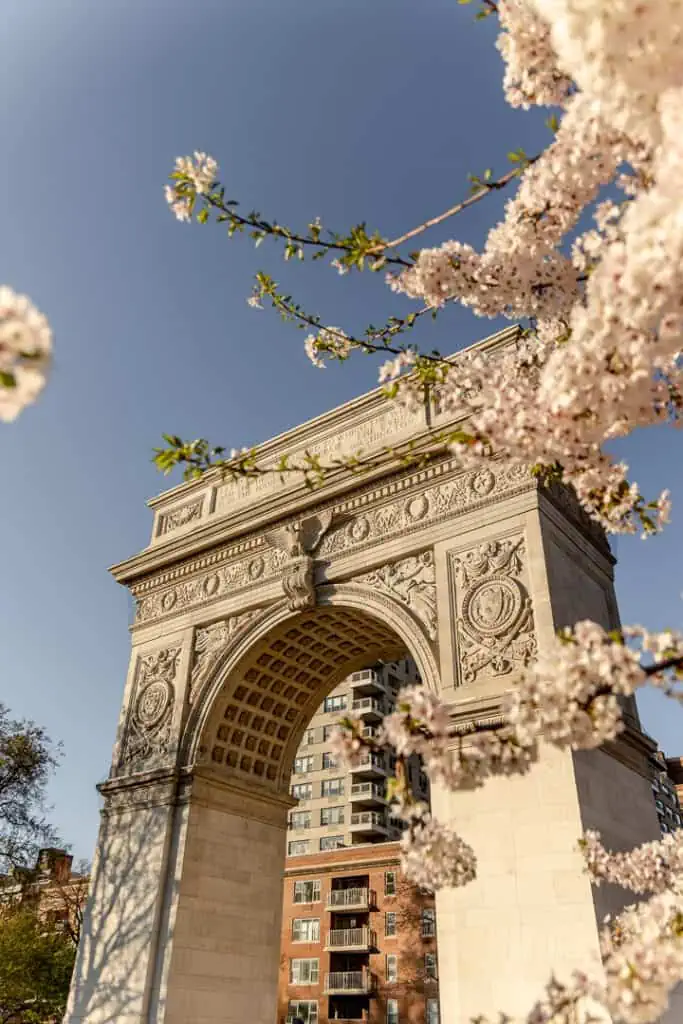 New York, New York! A city so nice they named it twice. It can be hard to narrow down the must see places in New York is that it's the biggest city in America. Also since New York City is one of the most iconic and diverse cities in the world. NYC boasts a certain hustle and bustle energy. Some people love it, other people don't – but everyone can agree on the fact that there is no place quite like New York City. I was born and raised 45 minutes from Manhattan and visited "The City" (as locals call it) with my family almost every month. So this my friends, was written by a local.
In this article, I share "The 36 must see Places in New York City" by neighborhood. With so many incredible sights and experiences to offer, it can be overwhelming to plan a trip to this bustling city. In this blog post, we'll take a look at some of the must see places in New York, from world-famous landmarks to hidden gems that are sure to delight any traveler.
Whether you're a first-time visitor or a seasoned New Yorker, there's always something new to discover in this vibrant city. So, let's dive in and explore the top places in NYC. Some things are touristy, others not so much but I will tell you that if you check these places off of your list when you're in town, you won't be disappointed.
Best Time to Visit New York
New York City is a vibrant destination year-round, with each season offering a unique experience. However, the best time to visit New York City depends on your preferences and what you want to do while you're there.
Whether you're looking for autumn vibes, a Christmas wonderland, or summer in the city – New York offers it all. In my opinion, I would choose May/June or September October November for the most temperant weather and beautiful fall foliage at the end of October.
Finally, if you're interested in seeing the famous Christmas displays and holiday decorations, winter (December to February) can be a magical time to visit. I may be biased but it is the best place to experience Christmas time in the States. However, keep in mind that it can be very cold during this time, as well as VERY crowded. So make sure to pack warm clothing and be prepped for the crowds. I have an entire guide on Christmas in New York.
Best Things to Do in NYC by Neighborhood
While all opinions and recommendations are always my own, my content on this blog post may contain affiliate links for hotels I've traveled to, tours I've completed, and products I recommend. This means I get a small commission if you book a stay or purchase a product after clicking one of these links. As always, I am so thankful for your support and will continue to share the best properties, things to do, and items I love!
Must See Places in New York: Uptown
Visit "The Met" The Metropolitan Museum of Art
The Metropolitan Museum of Art, also known as "The Met", is one of the most famous and prestigious museums in the world. Located in the heart of Manhattan on Fifth Avenue. It houses over 2 million works of art from around the globe, spanning 5,000 years of human history. It is one of the most extensive art collections in the world with art from ancient Egypt to modern-day contemporary art.
The Met's vast collection includes everything from ancient Egyptian artifacts to contemporary paintings and sculptures. Visitors can explore galleries dedicated to American art, European art, Asian art, African art, and more. The museum also features special exhibitions throughout the year, showcasing works by famous artists and exploring specific themes or periods in art history.
Furthermore, most people don't know this but there is a rooftop garden overlooking Central Park. It's easy to miss, but the Iris and B. Gerald Cantor Roof Garden is one of the prettiest views in Manhattan.
Visitors can easily spend an entire day exploring the Met's vast collection and taking in its many exhibits and features. With so much to see and do, the Met is a must-visit destination for anyone interested in art and culture. Finally, if you are looking for a guided tour this one is the best and is fairly reasonable!
Pro Tip: If you're a New York resident, it's free to enter but you should leave a small donation to support the arts.
Have Drinks at The Plaza Hotel
The Plaza is New York's most iconic luxury hotel located on the corner of Fifth Avenue and Central Park South in Manhattan. It was built in 1907 and has been a beloved landmark and cultural icon ever since.
The Plaza Hotel also features a variety of dining options, including the famous Palm Court, which serves high tea and light meals under a stunning stained glass ceiling. Palm Court is a New York institution and needs to be experienced at least once in your life.
The hotel's other restaurants include The Todd English Food Hall, The Champagne Bar, and The Rose Club. It's a great place to have lunch if you're uptown and the prices are much more reasonable in the Food Hall versus Palm Court. Check out the list of dining options in the food hall.
Visit the Met Cloisters
The Met Cloisters is a branch of the Metropolitan Museum of Art located in Upper Manhattan, New York City. This unique museum is dedicated to the art, architecture, and gardens of medieval Europe, and is situated on a beautiful hill overlooking the Hudson River. One of NYC's most prized hidden gems.
It features an impressive collection of over 5,000 works of art and artifacts from the medieval period, including illuminated manuscripts, sculptures, stained glass, metalwork, and textiles. The museum's architecture and gardens are also stunning, featuring medieval cloisters, chapels, and courtyards, as well as a beautiful herb garden and a peaceful meditation garden.
See a Ballet or Performance at Lincoln Center
The New York City Ballet is one of the most prestigious and acclaimed ballet companies in the world and performs regularly at the David H. Koch Theater at Lincoln Center for the Performing Arts.
Lincoln Center has housed many renowned and innovative and groundbreaking performances throughout the years. They perform all kinds of shows from opera, to ballet, to orchestra performances. Most notably, The New York City Ballet performs here year-round and Christmas is one of the best times to visit for a performance. For tickets and showtimes check out the Lincoln Center Website.
Catch a Yankee Game
Technically, Yankee Stadium is not uptown – it's The Bronx – hence the name, The Bronx Bombers. But nevertheless, the Yankees are true baseball legends. And yes, I may be biased because they are my home team but visiting the stadium is a great way to experience New York culture.
With the new stadium built in 2009, you can choose from an array of dining options. Including sushi, Philly cheesesteaks, and a full-on buffet experience in the Legends Suite. However, nothing will ever compare to a ballpark frank, a beer, and watching those boys in pinstripes.
Must See Places in New York (Lower Manhattan)
Walk the Brooklyn Bridge
Completed in 1883, the Brooklyn Bridge was the first suspension bridge to be built in the United States and remains an engineering marvel to this day. It's one of if not the most famous New York City landmarks. It connects Brooklyn and Manhattan and offers beautiful views of both skylines.
In addition to its beauty and historic significance, the Brooklyn Bridge is also a popular spot for photographers and filmmakers, who are drawn to its iconic architecture and sweeping views. Whether you're looking to take a leisurely stroll, enjoy a bike ride, or simply take in the breathtaking scenery, the Brooklyn Bridge is a must-see attraction for anyone visiting New York City.
Photo tip: If you're looking to experience the bridge with fewer crowds visit before 8 am. And for the best lighting remember that the sun rises behind Manhattan and the sun sets behind Brooklyn.
Visit Little Island
The newest kid on the block. Little Island is a unique public park located in the Hudson River in New York City, near the Meatpacking District in Manhattan. The park opened in May 2021 and has quickly become a popular destination for locals and tourists alike.
It's completely free to visit and has stunning views of the city overlooking the Hudson. Furthermore, there are food trucks, a playground, and an open concert bowl that plays live music. It offers a peaceful and serene oasis in the heart of the bustling city. Whether you're looking to enjoy a picnic, take a leisurely stroll, or simply take in the stunning views of the Hudson River and the surrounding skyline Finally, it's open to the public from 6 am to 11 pm.
Walk The Highline
The High Line is a public park built on a historic freight rail line elevated above the streets in Manhattan's West Side New York City. It runs from Gansevoort Street in the Meatpacking District to West 34th Street, between 10th and 12th Avenues.
The park features gardens, art installations, and public spaces for walking, sitting, and taking in the city views. It offers a unique perspective of the city from above. Furthermore, it has been recognized as a model for urban renewal and sustainable design.
Shopping in SoHo
One of my favorite parts of the city! SoHo is the trendiest spot in the city with designer shops, cool eateries, cobblestone streets, and iconic cast-iron facades. One of the main things to do in Soho is shopping but it's a destination for foodies as well. Make sure to check out Dominique Ansel's bakery for frozen hot chocolate, Felix Roasting Co the most aesthetically pleasing coffee shop, and delicious coffee, and Balthazar for celebrity sightings.
Head to Chinatown for Dumplings
Chinatown is a popular spot that attracts foodies and tourists alike. It's known for its soup dumplings, pork buns, boba tea shops, and some not-so-authentic designer goods (if you know, you know).
Also, it's important to mention that Chinese Food in New York City is without a doubt, the best in the United States. I can say that because I'm a New Yorker and have never found comparable Chinese food outside of the state of New York. Really. I swear!
Visit One of the Oldest Streets in NYC
Stuyvesant Street located in NoHo is one of the oldest streets in the city! It's unique since it runs diagonally. The ivy-covered building located on Stuyvesant and 10th is one of the most photographed places in lower Manhattan. It's located in the St. Marks's historical district which is another area of the city that you should get lost in. Finally, it's beautiful to visit in all seasons, especially in the fall.
Visit Little Italy for the San Gennaro Festival
One week a year in September, Little Italy in New York goes all out for the San Gennaro festival. It's one of my favorite times of the year! The streets are closed to cars, the shop owners line the street with food carts, and there is plenty of entertainment all around with musical acts, rides, etc. It's reminiscent of a street fair and is the best time to really experience Little Italy.
Visit the World Trade Center + One World Trade
Visiting the World Trade Center is not for everyone. Due to the tragedy that occurred here on September 11th, 2001, it can be very emotional for some people so know your boundaries before visiting. If you want to pay your respects, it can be a humbling experience to visit the remembrance pools and the 9/11 museum. We will never forget it! Along with that, you can also visit One World Observatory which has 360-degree views of the entire city. Locals tip: The Oculus located adjacent to the WTC is a new architectural structure built a couple of years ago that houses multiple subway lines. It's prime for photo opportunities!
Midtown NYC
Go to the Top Of The Rock + Rockefeller Center
The most famous place to visit (aside from Times Square) in Midtown Manhattan is Rockefeller Center. During Christmas, it houses "The Tree" and is most well known for its ice skating rink but you can enjoy Rockefeller Center year-round! It has plenty of dining options in the concourse. The Top of The Rock observation deck is located on top of Rockefeller Center and it boasts the prettiest views of the city. Make a reservation for sunset to get the best lighting possible! Finally, book your tickets in advance to get the best time slot.
Visit Hudson Yards + The Vessel
Hudson Yards is a brand new area in New York that was finished in 2019. It's home to tons of new shops, dining options, and The Vessel. This architectural structure is reminiscent of a beehive. Sadly, the interior is no longer open to the public, and not sure if they will be opening it anytime soon. However, it's still beautiful to view from the outside.
See a Show at Radio City Music Hall
The iconic concert hall, Radio City Music Hall is a must-see when visiting New York. It was opened in 1932 and is known for its Art Deco design, grand scale, and state-of-the-art technology. The Music Hall features a large auditorium that can seat over 6,000 people and has hosted numerous events, including concerts, awards shows, and theater productions.
The venue is perhaps best known for the Radio City Christmas Spectacular, a holiday show that has been performed annually since 1933 during the Christmas season. But you can catch a show here anytime during the year!
In addition to its entertainment offerings, Radio City Music Hall is also known for its architectural and historical significance. The venue has been designated a National Historic Landmark and is recognized as one of the most iconic buildings in New York City. Finally, the art-deco-style chandelier located inside is a beauty!
Visit The Edge
The newest kid on the block, The Edge is the highest viewing tower in the western hemisphere. It's unique since it's suspended in mid-air giving you the notion of floating. It's located in the Hudson Yards development and stands 1,100 feet tall, making it the tallest building in the Hudson Yards development.
The Edge features a unique observation deck that extends 80 feet out from the side of the building, offering visitors a stunning panoramic view of the city. The deck is enclosed in a glass floor and walls, providing an exhilarating experience for those who dare to step out onto it. They even have a portion of the floor that is glass so you can look 100 stories down. Finally, book your tickets in advance since the best time slots (sunset) tend to sell out first!
Visit The Empire State Building
The Empire State Building is an iconic skyscraper located in Midtown Manhattan, New York City. And being that New York is the Empire State, you HAVE to visit the Empire State Building. It was completed in 1931 and was the tallest building in the world until 1970. The building stands at 1,454 feet tall and has 102 floors. It was designed in the Art Deco style by architects Shreve, Lamb & Harmon Associates.
In recent years, they have transformed the observation decks, on the 86th and 102nd floors, with panoramic views of the city. Finally, they have included new exhibits to showcase all the infamous movies filmed at the Empire State Building. Including King Kong, Sleepless in Seattle, and Independence Day. Book your tickets here!
Walk Around Times Square
Times Square is an incredibly touristy part of the city but if you've never been to New York before, you HAVE to at least walk through it for the experience. It is famous for its bright lights, billboards, and bustling crowds, and is often referred to as "The Center of the Universe."
Times Square was originally called Longacre Square, but it was renamed in 1904 after The New York Times moved its headquarters to the area. Today, it is one of the most visited tourist attractions in the world, with over 330,000 people passing through it each day. Finally, the above photo was taken in October 2020. I can guarantee when you visit it won't be this empty.
Catch a Broadway Show
There is nothing quite like seeing a Broadway show on Broadway. It's such an important part of New York culture and supporting the arts is always a good idea! If you're going to pick one experience in this "must see places in New York guide" – let it be this. There are numerous Broadway shows in New York City at any given time, ranging from classic musicals to new and innovative productions. They come in all shapes and sizes and they have a show for everyone to love. Check out broadway.com for showtimes!
Visit Bryant Park
Bryant Park is a public park located in Midtown Manhattan. It is situated between Fifth and Sixth Avenues and between 40th and 42nd Streets, adjacent to the New York Public Library. The park features expansive lawns, gardens, walking paths, a fountain, and outdoor seating areas. It is also home to numerous events throughout the year, including outdoor film screenings, concerts, and ice skating during the winter months.
You could call it an urban oasis in the middle of the city and many locals enjoy the outdoor space during their lunch breaks. There are tons of good food options in the area like Maman Cafe, Joe's Pizza, and The Bar Downstairs at the Andaz Hotel.
Visit The New York Public Library
Who wants to go to a library on vacation? Well when it looks like Hogwarts and it's featured in movies like Ghostbusters, you go to the library on vacation. The New York Public Library (NYPL) is one of the largest public libraries in the world and a landmark institution in New York City.
The library was established in 1895 through the consolidation of the Astor and Lenox Libraries and the Tilden Foundation and has since grown to include 92 locations throughout the city. It's completely free to enter and is open most days 11 am – 6 pm. Whether you're a book lover, a history buff, or simply looking to explore one of New York City's most iconic institutions, the New York Public Library is a must-visit destination that offers something for everyone.
Walk Through Grand Central Station
Grand Central Terminal, often referred to as Grand Central Station, is a historic transportation hub located in Midtown Manhattan in New York City (Subway, Metro-North, LIRR, and Buses). It was completed in 1913 and has since become one of the city's most iconic landmarks and a major tourist destination.
The Main Concourse ceiling boasts a zodiac ceiling that is made up of 12 constellations painted in gold leaf. The concourse is home to a famous clock, which serves as a meeting spot for many New Yorkers. Finally, it has been featured in numerous movies and television shows, cementing its status as an iconic symbol of New York City. Whether you're a history buff, architecture enthusiast, or just looking for a unique shopping and dining experience. Grand Central Terminal is a great free spot to visit!
West Village, New York
Visit Washington Square Park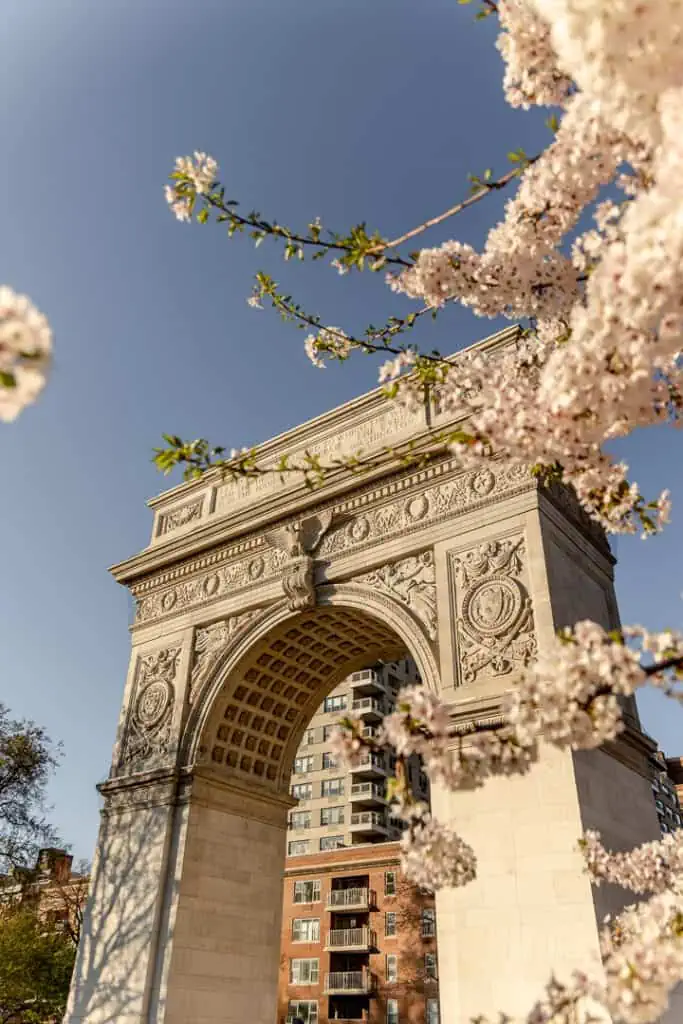 Washington Square Park is a popular park located in Greenwich Village that is most known for its stately arch. It was presented to New York for the centennial year of George Washington's inauguration as president (hence the name). And it was modeled after the Arc de Triomphe in Paris.
Furthermore, the park is home to many events and festivals throughout the year. Including the Washington Square Outdoor Art Exhibit. A biannual event that features the work of local artists. The park also hosts numerous cultural and educational programs, as well as performances by musicians, dancers, and theater groups. It's a prime spot for people-watching. Finally, you can catch cherry blossoms here in the spring.
Catch a show at the Comedy Cellar
The Comedy Cellar is widely known as the best Comedy Club in the states that has "kept comedy alive". Every big-time comedian has performed here at one point in his/her career. They often have frequent surprise guests. So you might be lucky to be surprised by a big-time celebrity when you catch a show here!
Visit The Friends Building + Carrie Bradshaw's Apartment
The exterior of The Friends Building is not the actual filming place of Friends. It was however used as the footage for any opening scene that "The Friends" in the apartment. So we can all pretend it was filmed in New York and visit the exterior. It's located in the West Village which in my opinion is the prettiest part of Manhattan. It is such a charming neighborhood and should be experienced by all!
Address: 90 Bedford Street, New York, NY
A couple of streets over you can also visit Carrie Bradshaw's apartment. In Sex and The City, Carrie lives on the Upper East Side in the 70s streets. While it may seem like her life is very UES. The exterior of her apartment is actually located in the West Village. Many people come here to visit Carrie's Apartment and some may just dress up as her while doing so!
Address: Perry Street, New York, NY, 10014
Visit Grove Court
Right down the way from The Friends Building, (you can easily check both of these off the list at the same time) is a small court that houses the most charming townhomes and during October they have the best pumpkin displays (above photo taken in 2020 and everyone was on a budget).
Grab a slice from Joe's Pizza
Another local spot that is most popular for grabbing "a slice" on the go. This casual eatery doesn't have any tables but you can post up in the window. Jerry Seinfeld himself endorses this spot as the best pizza in New York City. Make sure to try the Sicilian slice, you'll thank me later! Finally, the West Village location only takes cash so make sure to have it handy and ready to go.
Address: 7 Carmine St, New York, NY 10014
Must See Places in New York: Central Park
I wrote an entire blog post about The Best Photo Spots in Central Park, make sure to check that out for more detailed information.
Walk The Bow Bridge
Bow Bridge is a picturesque pedestrian bridge located in the heart of Central Park in New York City. The bridge, which spans over The Lake, was designed by Calvert Vaux and Jacob Wrey Mould and completed in 1862.
The bridge is a popular destination for visitors to Central Park, offering stunning views of the park and skyline. Its unique design, with its intricate cast-iron details and ornate features, has made it one of the most photographed landmarks in the park.
Visit Bethesda Terrace
Bethesda Terrace is a stunning architectural feature located in the heart of Central Park in New York City. The terrace, which was designed by Calvert Vaux and Frederick Law Olmsted, was completed in 1863 and is considered one of the park's most iconic landmarks.
Bethesda Terrace consists of two levels: the lower level features a beautiful fountain. And the upper level offers breathtaking views of the surrounding park and skyline. The upper level is also home to a covered arcade, which features ornate carvings and intricate details that make it a true architectural masterpiece.
One of the most striking features of Bethesda Terrace is the magnificent Minton tile ceiling that adorns the arcade. The ceiling features an elaborate pattern of floral and geometric designs and is made up of over 15,000 hand-crafted tiles. It's the perfect spot to post up and people-watch! And you can almost always catch a live performance here.
Loeb Boat House
Adjacent to Bethesda Fountain is the Loeb Boat House. The Loeb Boathouse is a charming restaurant and boating venue located in the park. It was originally built in 1874 as a storage facility for boats and was later converted into a restaurant in the 1950s.
Today, the Loeb Boathouse is a popular destination. It offers delicious food, beautiful views of Central Park, and a range of boating options. Visitors can rent rowboats or take a romantic gondola ride on The Lake, which is located right outside the restaurant. The rowboat experience costs $20 an hour with a $20 deposit. They do only take cash and one hour is enough to see the sights.
Visit Belvedere Castle
A castle in Central Park? Sign me up! This beauty was built in 1869 and sits on the highest point in the park, Vista Rock. It was originally built as a decorative structure and was later converted into a weather station and nature observatory. The castle's perch on a rocky outcropping provides a unique vantage point, making it a great spot for taking photos or just admiring the views. Finally, it's completely free to visit!
DUMBO Brooklyn
DUMBO is a trendy and vibrant neighborhood located in Brooklyn, New York. It is situated between the Manhattan and Brooklyn Bridges and offers stunning views of the Manhattan skyline. The view seen here is at Pebble Beach during sunset. One of my favorite photos we have ever taken.

Anyways, technically speaking Brooklyn is not part of New York City. However, I had to add this spot to the list as it's become popular in recent years. The below photo was taken on Washington Street a prime spot for photos (but make sure to get there early). But don't stop exploring Dumbo there.
Make sure to visit the waterfront park, Brooklyn Bridge Park. which offers beautiful waterfront views and a range of recreational activities, including basketball and volleyball courts, playgrounds, and Jane's carousel.
Where to Stay in NYC
Andaz 5th Avenue
I've stayed in lots of NYC hotels over the years and The Andaz Fifth Avenue is one of the most luxurious. Not only are you located in the most central part of Manhattan. But the ambiance, staff, and views of the NYPL and Empire State Building make this stay perfect. It's also located close to Bryant Park which is a great place to enjoy the outdoors in the middle of the city.
I was lucky enough to stay in the wellness suite that features a huge bathtub, a workout mirror, and a calming presence. The staff was the most welcoming and room service from the Bar Downstairs was delicious. I highly recommend staying here when you visit New York. You most definitely won't regret it. Book your stay here!
What to Pack for New York
It all depends on what season you're visiting for the spring/summer/fall:
Thanks for reading my "36 Must See Places in New York". If you're headed there during the holidays check out my Christmas Activities in NYC post. Finally, forget to check out more of my USA travel guides!
PIN THIS POST FOR LATER