The Best Things to Do in Old Town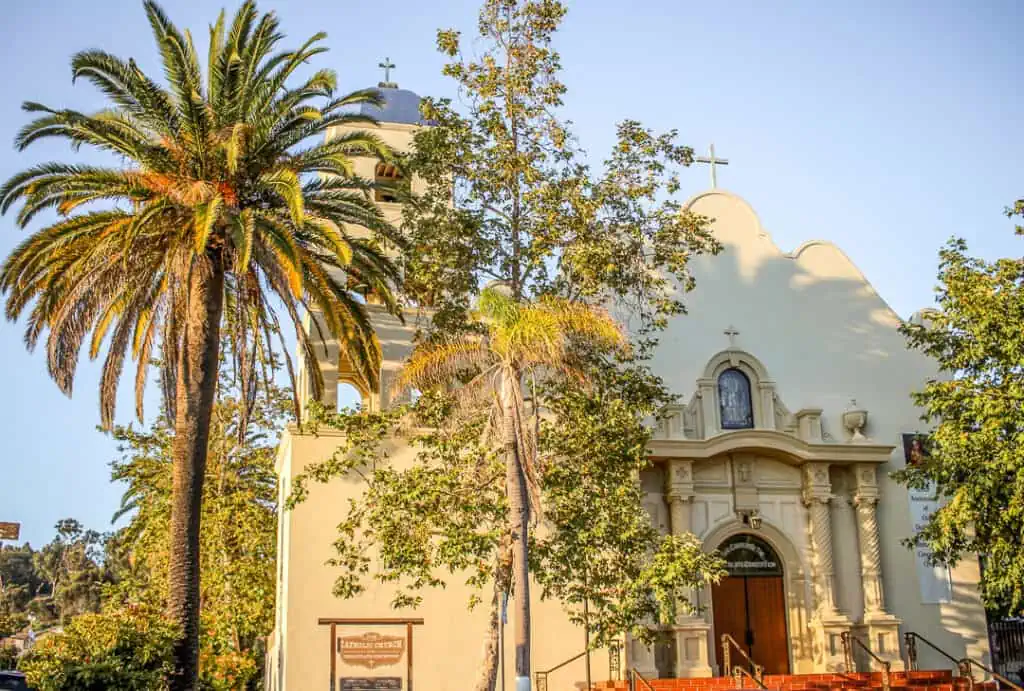 Searching for things to do in Old Town San Diego? Well, I have you covered because I have visited countless times and know all the tips! Old Town has a deep-rooted history and is best known as the birthplace of California. It is called the birthplace of California because, in 1759, Father Junipero Serra established the first European settlements in Old Town. By building the first of the 21 Spanish missions California has today. That mission still stands today, Junipero Serra Museum, in Presidio Park overlooking San Diego and Old Town.
During the Mexican-American War in 1846, Old Town San Diego was occupied by the United States Army, and it became a part of the United States when California was admitted to the Union in 1850. Today, Old Town offers tons of Mexican heritage, a state historic park with ancient buildings from the 1700s, delicious restaurants, and the best Dia de Los Muertos celebration in San Diego.
Not only that but there are many spooky activities to explore. Including an ancient cemetery and the infamous Whaling House Museum which is known to be haunted. It's such a unique and historic part of San Diego that everyone should visit! In this "A Locals Guide to Old Town San Diego," I will be sharing the best things to do in Old Town San Diego, along with the best restaurants, and so much more!
Best Things to Do in Old Town
While all opinions and recommendations are always my own, my content on this blog post may contain affiliate links for hotels I've traveled to, tours I've completed, and products I recommend. This means I get a small commission (at no additional cost to you) if you book a stay or purchase a product after clicking one of these links. As always, I am so thankful for your support so I can continue to offer free resources.
Visit Old Town Historic State Park
This historic state park offers visitors the opportunity to experience the history of early San Diego by providing a peek into the past. The park is surrounded by original historic buildings (five adobe buildings to be exact) as well as unique shops, a working blacksmith shop, tortilla stands, and museums. The historic plaza is the main section of the park and offers visitors a look back into time. It's one of the most popular San Diego attractions.
The historic buildings are as follows La Casa de Estudillo, La Casa de Bandini, La Casa de Altamirno Pedrorena, and the Mason Street School, San Diego's first one-room schoolhouse. Finally, Old Town State historic park offers tons of free parking and is located within walking distance from the Old Town San Diego trolley so it's easy to get to! Finally, if you prefer to see the sights in comfort consider taking one of the historic Old Town Trolley Tours.
Visit Heritage Park
Heritage Park is located a few blocks away from the historic park. Heritage Park is home to San Diego's most notable Victorian homes and a historic synagogue sitting on 8 acres of land. The styles of the homes include Italianate, Stick-Eastlake, Queen Anne, and classic revival styles. These homes were relocated from their original locations and have been authentically restored to their original splendor. It's completely free to visit and it's a great place to post up and enjoy a picnic!
Furthermore, right across the street from the park is the Mormon Battalion Historic Site. This museum is in honor of the latter-day saints that joined the US army during the Mexican-American war. It features an interactive video tour, historical artifacts, and demonstrations on gold panning and brickmaking. Finally, admission is free and you can take a guided tour that lasts 45 minutes.
Picnic at Presidio Park
Presidio Park is a beautiful and historic park that offers visitors a glimpse into the rich history and culture of San Diego. It's located on top of the hill in Old Town and spans over 40 acres. It overlooks Old Town and Mission Valley and offers stunning views of the surrounding areas. The park is home to the Junípero Serra Museum, which is dedicated to the history of the Spanish missions in California and the life of Father Junípero Serra, the founder of the California missions.
In addition to the museum, the park also features several hiking trails and picnic areas, making it a popular spot for outdoor activities and family outings. The park's landscaping includes native plants and trees, and the park's paths are lined with historical markers that explain the significance of the area.
Presidio Park is also home to the Serra Cross, a 29-foot-tall cross that was first erected in 1913 to commemorate Father Junípero Serra's arrival in California. Finally, it's one of my favorite hidden gems in all of San Diego.
Visit a Speakeasy in a Cemetery
One of the coolest things I have ever done in San Diego is visited Oculto 477. This speakeasy is located in the historic Campo Santo Cemetery. More specifically in the back of Tahona Bar. The cocktail selection continually varies and highly recommend getting the "dealers choice" cocktail. In which you roll dice to determine what you will be drinking. It's super fun and interactive.
The speakeasy itself is very small. Because of this, it's best to make a reservation. Along with that, the bartenders are not the friendliest. However, it's all part of the schtick. They are open Thursday through Sunday from 6 pm to 12 am.
Shopping at Local Artisan Shops
Old Town Market offers a unique shopping experience with its blend of traditional and modern shops. You can find unique and handmade items that reflect the area's rich history and culture. I always love supporting small businesses so I am sharing a few of the best shops in Old Town:
Bazaar del Mundo: This colorful outdoor marketplace features over 20 unique shops selling handmade crafts, jewelry, and other souvenirs. You can also enjoy live music and traditional Mexican food at the nearby restaurants.
Old Town Market: This indoor market offers a variety of shops selling handmade crafts, clothing, and other souvenirs. You can also find fresh produce and traditional Mexican sweets and treats.
Cousin's Candy Shop: This family-owned candy store has been in business since 1965 and offers a wide selection of homemade candies, including fudge, caramel apples, and brittle.
Toby's Candle & Soap Shop: This shop offers a variety of handmade candles and soaps in a range of scents and styles. You can also take a candle-making class and learn how to make your own candles.
Rust General Store: This shop offers a mix of vintage and modern items, including clothing, accessories, and home decor. You can find unique gifts and souvenirs here.
The Blacksmith Shop: This shop offers handmade ironworks, including decorative pieces, hardware, and custom pieces made to order. You can also watch the blacksmith at work and learn more about the craft.
Visit the Whaley Museum
The Whaley House Museum is a historic house museum that was built in 1857 by Thomas Whaley. He was a prominent San Diego businessman, the house served as the family home, as well as a general store, courthouse, and theater. Today, the Whaley House is operated as a museum and is open to the public for tours. The museum features exhibits and artifacts that showcase the history of the Whaley family and life in San Diego during the mid-19th century.
The Whaley House is also famous for being one of the most haunted houses in America. It is rumored to be the site of several murders and other paranormal activity. Visitors can take a guided tour of the house and learn more about its spooky history. In addition to the main house, the museum also includes several outbuildings, including a reconstructed theater and a garden.
Celebrate Dia de Los Muertos
Dia de los Muertos, or Day of the Dead, is a traditional Mexican holiday that is celebrated in Old Town every year. The holiday is a celebration of the lives of loved ones who have passed away and is typically celebrated on November 1st and 2nd.
Old Town's celebration is a colorful and lively event that includes traditional music, dance, and food. The streets of Old Town are decorated with ofrendas (altars) that are filled with flowers, candles, and offerings to the deceased. The celebration includes a variety of events and activities, including a candlelight procession, face painting, and arts and crafts.
Visitors can also enjoy traditional Mexican food and drinks, including tamales, pan de dulce, and hot chocolate. One of the main highlights of the celebration is the display of ofrendas, which are created by local artists and community members. The altars are a tribute to loved ones who have passed away and often include photos, mementos, and favorite foods and drinks of the deceased. Finally, it's a meaningful holiday to remember and honor your loved ones that have passed on.
Old Town San Diego Restaurants
Old Town San Diego has several great restaurants and bars that serve delicious margaritas and traditional Mexican cuisine. For a full Old Town experience visit Fiesta de Reyes where they have live music most nights. If you're looking for jumbo margaritas Cafe Coyote is your go-to. Finally, for more upscale Mexican cuisine with the best queso visit Miguels.
Miguel's
Fiesta de Reyes
Cafe Coyote
Tahona Bar
Don Pietro's
Garden Coffee
Thank you for reading my "Local's Guide to Old Town San Diego". If you're visiting soon make sure to check out my Ultimate San Diego Travel Guide. Enjoy America's Finest City!
XO,
Courtney