A Locals San Diego Travel Guide
Looking for a complete San Diego Travel Guide? Well, look no further because this local San Diegan is sharing all the details! San Diego, also known as America's Finest City, where the weather is perfect 300 days out of the year and the coastline views will take your breath away. I am grateful to call San Diego home for the past fifteen years and throughout that time I have scoured every corner of this city to find the best of the best.
San Diego is home to many attractions, including the famous San Diego Zoo, Balboa Park, the USS Midway Museum, and the Gaslamp Quarter, a historic district known for its nightlife and entertainment. The city is also known for its annual events, such as Comic-Con International, the largest comic book and entertainment convention in the world.
Being that San Diego tourism is very popular at the moment – this "Ultimate San Diego Travel Guide" will outline all the best things to do in San Diego, when to visit, where to stay, hidden gems, and other local tips to make it your best San Diego vacation yet!
San Diego Weather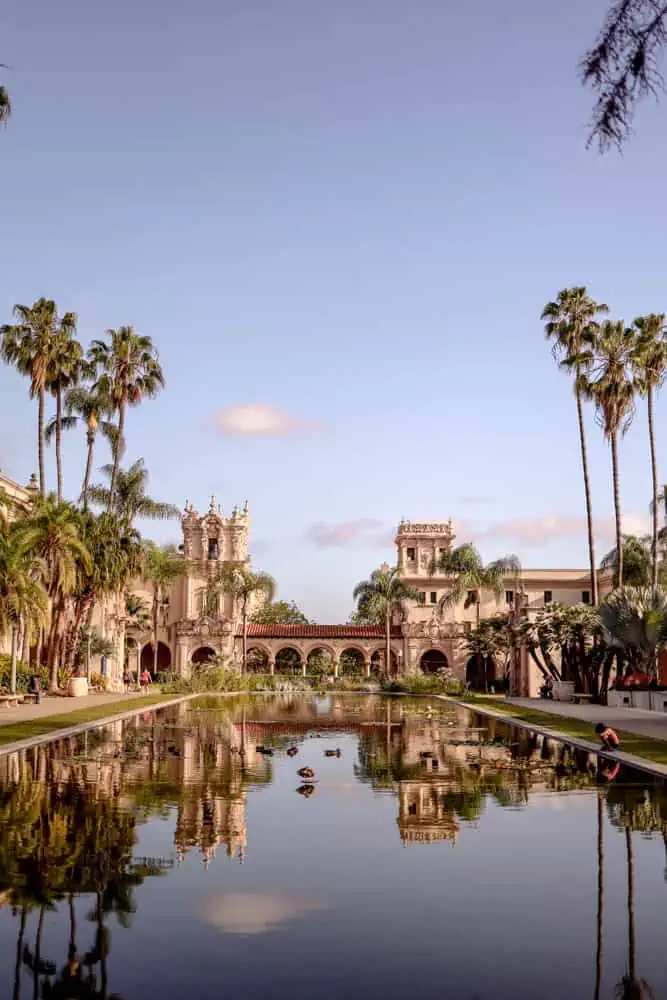 San Diego has a Mediterranean climate, characterized by mild winters and warm summers, with an average temperature of around 70 degrees Fahrenheit. The city's location on the Pacific coast provides a great opportunity for outdoor activities, such as surfing, sailing, and hiking.
San Diego weather is beautiful year-round so there is really no off-season. If you want to avoid high crowds I would recommend visiting in early March or late September – November. The hotel rates are lower during this time and the crowds are slim to none since the kids are back in school. Do note when traveling to San Diego we have "June Gloom" so while it is warm in June, most of the days are overcast. For the warmest weather in San Diego visit July-October.
Best
Things to Do in San Diego
While all opinions and recommendations are always my own, my content on this blog post may contain affiliate links for hotels I've traveled to, tours I've completed, and products I recommend. This means I get a small commission (at no additional cost to you) if you book a stay or purchase a product after clicking one of these links. As always, I am so thankful for your support so I can continue to offer free resources!
The San Diego Zoo is one of the most famous and highly regarded zoos in the world, located in Balboa Park in San Diego, California. The zoo is home to over 3,500 animals from more than 650 species, making it one of the largest and most diverse collections of wildlife in the world.
The San Diego Zoo is also involved in a wide range of conservation efforts, both locally and globally. It operates the San Diego Zoo Global Wildlife Conservancy, which funds and manages conservation projects in over 100 countries, and participates in various breeding and reintroduction programs for endangered species.
There are tons of activities for you to enjoy especially with your little ones. Make sure to take a ride on the Skyfari for sweeping views of the park (included in the ticket price). Book your tickets here!
Visit
Balboa Park
Balboa Park is well known as the heart of San Diego. It's a vibrant cultural hub of San Diego and covers over. 1200 acres. It is home to multiple museums, a Japanese garden, and an organ Pavilion that puts on concerts year-round. The park was originally created for the 1915-16 Panama-California Exposition, which was held to celebrate the opening of the Panama Canal. Many of the buildings constructed for the exposition, including the California Tower, the Museum of Man, and the Botanical Building, still stand today and are iconic landmarks of the park.
My favorite part of the park has to be the botanical building. However, it has been closed since 2020 because it is getting completely revamped. The project is assumed for completion in 2024. If you have the opportunity to visit, it's quite stunning! I've written a complete insider's blog post for all that Balboa Park has to offer so check that out for more information.
Visit Coronado Island
A short ferry ride from Downtown, Coronado is a great place for a day trip! It's a small charming town that is family-friendly and has a great restaurant scene. Rent a bike to explore the ferry landing, and beautiful homes, or post up at the beach for the day. Make sure not to miss the Hotel Del Coronado. It's iconic and the movie "Some Like It Hot" was filmed at "The Del" (as the locals call it) and Marilyn Monroe actually stayed here. They pay homage to her in a couple of the shops at "Del".
Fun fact: Coronado was the inspiration for the "Emerald City" in The Wizard of Oz. The author, L. Frank Baum, had a summer home in Coronado where he wrote his famous novel around the corner from the historic Hotel Del Coronado. You can find the home on Starlight Circle and I've given the exact address in my guide below.
Explore Old Town
The historic Old Town district is a small state park. One portion of it re-creates life in the early days of California. Take a step back through time as you visit these old-time shops and a full street of authentic Mexican restaurants. Yes, Old Town can be extremely touristy however that's part of the fun. If you visit during October they will have the entire Old Town Historic Park decorated in "Dia de Los Muertos". Finally, they have a "Dia de Los Muertos" festival every year during the last week of October and the first week of November. It's the best time to visit!
Locals tip: right behind Fiesta de Reyes they have a small stand that hands out free handmade tortillas. They are so delicious but make sure to tip the hard workers!
Visit La Jolla, California
La Jolla translates to "the jewel" and it is just that – the jewel of San Diego. With sweeping coastline views, a beach that hundreds of sea lions and seals call home, and beautiful coves to discover, you can easily spend a couple of days relaxing here. The most famous spot would be La Jolla Cove, which is known for its crystal-clear waters and stunning sunsets. The Cove is also a popular spot for snorkeling and scuba diving, with an abundance of marine life to observe.
Some of my favorite spots in La Jolla are:
Windandsea Beach
La Jolla Shores
Scripps Coastal Meander
La Jolla Cove
Torrey Pines Gliderport
Gaslamp Quarter

, Downtown San Diego

A lively downtown neighborhood that is known for its nightlife. There is no shortage of clubs, cocktail lounges, chic rooftops, and dive bars in the Gaslamp. Not only that, but some of the best dining options San Diego has to offer are located in the Gaslamp Quarter. Along with the Gaslamp Quarter, consider visiting Seaport Village. It's a bit touristy but you can enjoy seaside shops, my favorite coffee place (portside coffee), the Midway Museum, and harbor views for days!
Catch a Sunset at Sunset Cliffs
It's all in the name, one of the best places to catch a sunset in San Diego is Sunset Cliffs. Located on the border of Ocean Beach and Point Loma, Sunset Cliffs has beautiful beaches (that are a trek to get to), a walking trail along the coast, tide pools, and dramatic cliffside views. During the summer months, this place can be pretty unbearable with crowds however if you're visiting during the off-season you'll witness this beautiful place as a San Diego local.
Visit Harbor Island or Shelter Island
Right near the airport, Harbor Island is a small island that has sweeping views of downtown. It's a perfect spot for a picnic, walk, or just to post up in the evening to watch the city light up. The view pictured above was taken at Coasterra Restaurant which I highly recommend. Apart from Harbor Island is Shelter Island. Another great area is surrounded by a marina, seafood restaurants, a music venue, and even a Japanese Friendship Bell. Both Harbor Island and Shelter Island have the same vibe!
San Diego Travel Guide: San Diego Museums
San Diego is home to a wide range of museums, covering a diverse array of subjects, from art and science to history and technology. Here are some of the most popular museums in San Diego:
San Diego Museum of Art
Museum of Us
San Diego Natural History Museum
San Diego Air and Space Museum
Mingei Museum
The New Children's Museum
Museum of Contemporary Art
San Diego Travel Guide: Best Beaches in San Diego
Did you know there are over 30 beaches in San Diego County and 17 miles of coastline? Below are just a few examples of the many beautiful beaches in San Diego. Whether you're looking to surf, sunbathe, or simply enjoy the scenery, San Diego has a beach for you.
Windandsea
Located in a residential part of La Jolla, Windandsea is hands down my favorite beach in the entire world. It's quieter than most of the San Diego beaches (aside from summertime). It's known for its beautiful scenery, large waves, and iconic surf culture.
The beach also has unique rock formations, tide pools, and clear waters. It's a popular spot for surfing, but the strong currents and large waves make it better suited for experienced surfers. One of the most unique features of Windansea Beach is the historic Surf Shack, a wooden structure built in the 1940s that has become an iconic symbol of the beach and the surf culture in San Diego. The shack is a popular spot for locals to gather and watch a sunset. Finally, it has been featured in many photographs and films over the years.
La Jolla Shores
La Jolla Shores is a family-friendly beach with an easily accessible parking lot. This beach is a popular spot for swimming, surfing, kayaking, and stand-up paddleboarding. It also has a large grassy area with picnic tables, barbecue grills, and playgrounds, making it a great spot for families.
La Jolla Shores Beach is near one of my favorite casual breakfast/lunch spots in La Jolla, Caroline's Seaside Cafe. Also in the area is The Sandwich Shop which serves iconic sandwiches loved by the community for years. Finally, One of the most popular activities at La Jolla Shores Beach is snorkeling or diving in the nearby La Jolla Underwater Park. The park includes a protected marine reserve, a sea cave, and a kelp forest, making it a great spot for marine life sightings. Visitors can rent snorkeling gear or take a guided tour to explore the underwater park.
Black's Beach
A local beach surrounded by mountainous cliffs and quieter than most. Partly due to the fact that there is a short hike to get down to the water. This beach is a surfer's haven but note there are certain parts of this beach that are "clothing optional" so don't bring the kids! But as long as you stay near the La Jolla Farm street entrance, you will get to enjoy the beauty of this beach.
Tourmaline Beach
Located on the border of Pacific Beach and La Jolla, this is a less-touristy beach that is popular with surfers. It has beautiful coastline views of La Jolla and a huge parking lot. You can view False Point in the distance which is my favorite sunset spot in San Diego. Finally, the lifeguard tower here is reminiscent of a castle. It's pretty awesome!
Coronado Beach
A family-friendly beach located on the island of Coronado close to the Hotel Del Coronado. Street parking is usually easy to find unless it's a holiday or summer weekend. You can also rent chairs and umbrellas at the Hotel Del. They are pretty pricey but it's fun if you can swing it since it's reminiscent of a European beach club. Finally, you'll recognize this beach as the beach filmed in the movie Top Gun
San Diego Travel Guide: Best Restaurants in San Diego
San Diego is no longer just known for its Mexican food and tacos. The San Diego restaurant scene has evolved over the past few years and it's more diverse and delicious than ever. Here are some new and noteworthy restaurants to check out in San Diego:
Born & Raised image via Eater San Diego, and Fort Oak Image via San Diego Union-Tribune
Herb & Wood ($$$) – Upscale rustic, wood-fired dishes
Born & Raised ($$$) – American, Steaks
Senecas ($$$) – upscale Italian with stunning views
Craft & Commerce ($$) – American, Cocktail bar with a Hawaiian-inspired speakeasy in the back (False Idol)
Coasterra ($$) – Mexican, coastal views
The Marine Room ($$$$) – best restaurant views of the La Jolla coast and mouth-watering food
Cucina Urbana – ($$) Rustic Italian
Fort Oak – ($$$) Wood-fired small plates, cocktail bar
Kindred – ($$) Vegan, cocktail bar ($$)
Starlite – ($$) Small tapas, cocktail bar
Davanti Enoteca ($$) Little Italy family-owned restaurant with the best Foccacia
Casual Dining in San Diego
Since San Diego is a casual town, I wanted to share the top casual dining spots to check out when you're on the go in San Diego:
Kono's Cafe ($$) – My favorite casual breakfast spot in San Diego. This is a local's only spot and worth the long line every time. I recommend Big Breakfast #2.
Rubicon Deli ($$) – Artisanal sandwiches made with in-house bread. Try the Dutch Crunch bread, it's to die for!
Little Lion Cafe ($$) – A charming cafe near the beach.
Underbelly ($$) – Delicious ramen, outdoor seating.
The Crack Shack ($$) – Fried chicken and egg dishes, outdoor seating
Lolitas ($) – Best Mexican food in San Diego. The bean and cheese burrito is iconic to locals.
Ramiro's Pacific Beach ($) A hole in the wall a block from the beach but have the best breakfast burritos in San Diego, hands down!
Caroline's Seaside Cafe ($$) stunning views located near La Jolla Shores
The Sandwich Shop ($) This deli is beloved in the La Jolla community serving incredible sandwiches
Lucha Libre ($$) – Delicious tacos with Mexican wrestling-inspired

decor (hence the name). Their french fry taco is delicious!
San Diego Brunch
Brunch in San Diego is kind of a big deal. Not only do these restaurants have delicious meals but some of them are so Instagram-worthy that the wait time could be up to two hours.
Morning Glory ($$$) – Pink hues, light-filled, and mid-century decor including an entire mirrored bathroom. This brunch spot is currently THE San Diego hotspot. The souffle pancakes are a hit!
Great Maple ($$$) – 1950s vibe well known for its comfort food.
Parakeet Cafe ($$) has multiple locations, healthy options
Cafe 21 ($$) – Farm-to-table restaurant with vegan options.
Bali Hai ($$$)- Sundays are their signature buffet-style brunch with endless mimosas and water views. It costs $48 a person, and is well worth it!
The Henry Coronado ($$) – is located down the block from the iconic Hotel Del this new hotspot is great for brunch, grab the french toast, and thank me later!
For an in-depth brunch, guide check out my Ultimate Brunch Guide to San Diego
San Diego also has amazing coffee shops and I've dedicated an entire blog post to the "Best Coffee Shops in San Diego".
Best San Diego Hotels
Hotel Del Coronado: One of San Diego's most iconic landmarks, the Hotel Del Coronado is a great place to stay. It's located on the beach, is within walking distance from the town of Coronado, and has an old-school Victorian-style charm. Being that Coronado is an island it is not so centrally located. But with that being said, if you have a rental car you'll be good to go. And it is only a quick Uber ride to Downtown San Diego. Book your stay here.
Paradise Point Resort in Mission Bay: A secluded resort on Mission Bay, Paradise Point is lush, and tranquil, and is perfect for a romantic getaway. It is close to Mission Beach and Pacific Beach but is situated on its own secluded 44-acre island. We've personally stayed here and would highly recommend this place! We even got engaged at the Paradise Point Hotel so it will hold a special place in our hearts forever. Book your stay here.
La Valencia: The Mediterranean-style hotel is also known as "the pink lady". La Valencia is located atop La Jolla Cove so it boasts panoramic views. This hotel looks like it belongs to the Amalfi Coast of Italy with a touch of Hollywood glamour. Book your stay here.
Hilton Bayfront: A 30-story waterfront hotel located in Downtown San Diego right across from the San Diego convention center. If you're looking to stay Downtown, this is a great option since it's situated on the bay but is central to Downtown, San Diego. One of my favorite parts of this hotel is the pool that sits right on the bay. Book your stay here.
The Guild Hotel: A historic boutique hotel located in Downtown, San Diego. If you want to be centrally located near public transit then this is the hotel for you. It was completely updated a few years back. Their blend of historic charm and modern design makes this hotel so unique! Book your stay here.
San Diego Travel Guide: What to Pack for San Diego
San Diego has warm temperatures year long so you'll want to always have these items on hand no matter when you're traveling to San Diego:
Best
Hikes in San Diego
Torrey Pines
Torrey Pines is home to one of the most famous golf courses in the US. Not only that, but Torrey Pines is a great spot for hiking. The trails are moderate and offer picturesque views of the coastline. You can sometimes find free parking along the beach road but the lot costs $10 to park in. Finally, don't miss out on Torrey Pines Gliderport. It has some of the most stunning views of the coastline.
Potato Chip Rock: Mt. Woodson
Located in Poway, this hike takes you to a rock shaped like a potato chip. Because of that, people flock here on the weekends and you can sometimes wait 30 minutes for a picture. Roundtrip the hike is 8 miles with beautiful views. It's free to residents but costs $10 for non-residents.
Three Sister Falls
A challenging hike to get to but you are rewarded with waterfalls and a swimming hole at the end. You most definitely need to be in shape as well as have some sort of rock-bouldering knowledge to hike this trail. I myself have yet to do this hike but it's been on my list for years!
Annies Canyon
Did you know that San Diego has a slot canyon? Well, we do! It's called Annies Canyon Hike and is located in Solana Beach. This IG video has all the details you need to know before visiting.
Secret Spots in San Diego
These local spots are usually kept secret because the locals like to keep them on the down low (shhhhhhh). However, I'm going to let you in on this secret San Diego. If you're looking for unique things to do then check these spots out!
Secret Swing: The secret swing is a San Diego legend and is pretty easy to find if you know where to look. It's located at the south end of the Birch Aquarium parking lot. There you will find a small path between two bushes and a hill. Hike about 100 feet to the top of that hill and the swing will be there. There have been many times when this swing was taken down so don't be too disappointed if that happens to you. Last visited in June 2021 when this picture was taken.
Sunny Jim's Sea Cave: Sunny Jim Cave in La Jolla is an underground tunnel that legends say was used during prohibition to smuggle alcohol. The entrance is housed in a small gift shop called The Cave Store. There is a small fee to access the stairs but it's well worth the price for one of, if not the coolest part of La Jolla.
Sunset Cliffs Open Ceiling Cave
One of those places that you have to see to believe. This massive sea cave is an incredible spot to check out. It's extremely difficult to reach and can only be done during the negative tide. This article outlines how to get to the open ceiling cave. Before attempting to do so, make sure you are a skilled swimmer, have some rock climbing knowledge, and have the proper gear.
Scripps Coastal Meander: this trail is a short one but the views are quite breathtaking. The wildflowers and sweeping views of the coast are worth the visit even on a cloudy day. If you walk the entirety of the trail you will come across a student building that has the most epic sunsets (pictured in the middle). On a clear day, you can catch paragliders cruising. It's the perfect spot to post up for a coffee and take in the beautiful La Jolla views.
Harper's Topiary Garden: Located in Mission Hills is reminiscent of Edward Scissorhands garden. The landscaping skill of this private home is truly off the charts. Another fun free thing to do in San Diego. Please note, that it's on a quiet residential street so be respectful of the neighborhood.
If you want more secret spots in San Diego, I've written an entire guide on the "20 Best Hidden Gems in San Diego".
Thank you for reading my "Ultimate San Diego Travel Guide: written by a Local". If you have any questions please leave them below and I will be happy to answer. I hope this helps you plan the perfect trip to America's Finest City. Check out more California guides!
pin this San Diego travel guide for later!
XO,
Courtney