The 30 Best Coffee Shops in San Diego: written by a local
San Diego is a vibrant city known for its beautiful beaches, stunning sunsets, and thriving food and beverage scene. Among the many offerings in the city are a plethora of fantastic coffee shops, each with its own unique atmosphere and selection of high-quality coffee drinks. Whether you're a caffeine addict, a lover of cozy spaces, or simply enjoying trying new things, San Diego's coffee shops have something for everyone.
There are constantly new San Diego coffee spots popping up around town. Some are great, others not so much but having lived here for 15 years I've visited my fair share of them. That's why I've curated this list of 25 classic and new and noteworthy coffee shops to visit in San Diego. In this guide, we'll explore some of the best coffee shops in San Diego, highlighting their distinctive features and what sets them apart from the rest.
James Coffee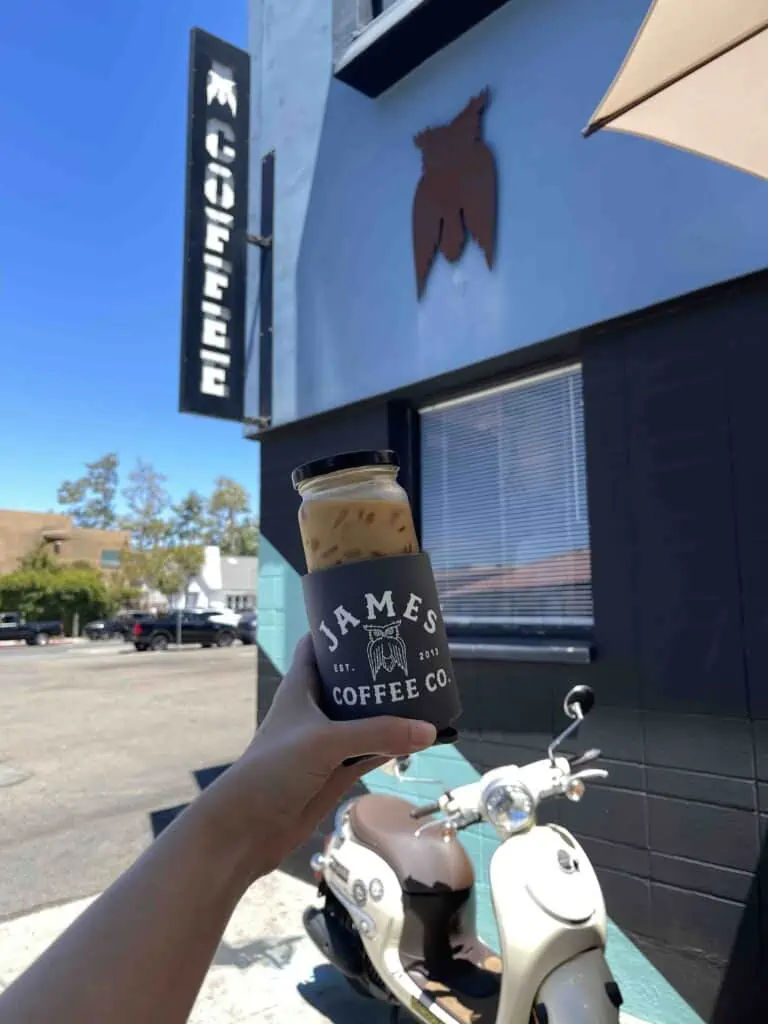 Starting off strong with James Coffee. Pun intended, James Coffee is infamous in San Diego and specializes in producing handcrafted artisan coffee in four locations. Their spots are located in Little Italy, North Park, Escondido, and Bankers Hill. Most of the locations don't offer single-use cups. So you are going to need to either bring your own or purchase a glass container for an additional $2. That's the only qualm I have with James otherwise this would be my favorite coffee shop in San Diego because the taste is incredible. But hey, they're saving the planet one cup at a time.
Superbloom – Mission Bay
Superbloom at the Mission Bay Club is a new and noteworthy coffee shop. It's located right on Mission Bay and has tons of outdoor seating, and a tasty menu including seasonal lattes, juices, and salads. Superbloom even has a working vineyard and the tables are set amongst that. It's a great spot to visit on a beautiful San Diego day!
Location: 2688 E Mission Bay Dr, San Diego, CA 92109
Craft Cafe by Mingei – Balboa Park
A new cafe located inside Balboa Park? Sign me up! When the Mingei Museum was renovated they added a small cafe that serves dark horse coffee, pastries, smoothies, and salads. Pictured above are the spinach and feta croissant, plain croissant, and overnight oats – all were great. Finally, there are plenty of small tables surrounding the outside of the cafe. Making it the perfect to post up, people-watch, or get some work done. It's easily become a new favorite of mine.
Better Buzz coffee roasters is a San Diego legend and a popular coffee chain. Known for its signature "Best Drink Ever" and a variety of other delicious coffee and espresso drinks, Better Buzz has become a household name for coffee lovers in the area. There are 6 locations scattered about the county and all are known for their insanely good coffee. The constant line out the door is a perfect indicator of that. Also, it's a great place to work remotely because the aesthetic is so on point. I swear it makes you more creative.
Location: 801 University Ave, San Diego, CA 92103
Mostra Coffee – Bankers Hill
Mostra Coffee has multiple locations in San Diego County and has recently taken San Diego by storm. I have only visited one of the six shops but absolutely loved the coffee. The Bankers Hill location is small yet charming and don't skip out on their signature lattes like the cookie butter. That one is my personal favorite.
Address: 2001 Fourth Ave, San Diego, CA 92101
Pink Rose Cafe – La Mesa
One of the newest coffee spots, The Pink Rose Cafe is the prettiest place to get your cup of joe. Adorned with a full pink flower wall, neon signs, lucite furniture, and delicious coffees you need to add this to your list pronto! They have a very small selection of food items, it's mostly pastries.
Location: 8209 La Mesa Blvd, La Mesa, CA 91942
Holsem Coffee – North Park
Super modern, clean design and their coffee is delicious! It's located in the heart of North Park and is known to be super busy during morning hours. They now have a cute outdoor seating area for prime people-watching on El Cajon Blvd.
Location: 2911 University Ave, San Diego, CA 92104
S3 Coffee Bar – Mission Valley
S3 Coffee Bar is a cozy and modern coffee shop located in the heart of San Diego. This family-owned coffee shop is known for its high-quality coffee, friendly staff, and comfortable atmosphere. What makes this coffee shop unique is the atmosphere. It's 2D inspired which is fun however it is also very warm and inviting. With plenty of natural light. S3 Coffee Bar also offers a selection of smoothies and sandwiches for those looking for a quick bite.
Whether you're looking to get some work done or catch up with friends, S3 Coffee Bar is a great spot to enjoy a delicious cup of coffee and relax.
Location: 6225 Mission Gorge Rd, San Diego, CA 92120
Communal Coffee – South Park
Communal Coffee is easily the cutest coffee shop on this list. Who doesn't love a good coffee truck and boho decor? I was a little taken aback when they said they didn't have any almond milk and only have oat milk as alternative milk. Tell me you live in California without telling me you live in California. Even still, it is one of my favorites in San Diego.
Their food selection is small however the ricotta jam toast is to die for. Make sure to order that and check out the cute shop located inside.
Location: 2221 Fern St, San Diego, CA 92104
Garden Coffee Old Town
Garden Coffee is a charming coffee shop located in the historic Old Town area of San Diego. This cozy spot is known for its delicious coffee drinks, friendly staff, and welcoming atmosphere. It is a hidden gem and can be a little difficult to find since it's set in the back of a shop.
However, the atmosphere and ambiance is the best part of Garden Coffee. It's set in a courtyard and there are plants everywhere. It is extremely warm and inviting, with comfortable seating and plenty of natural light. They have tons of outlets to choose from when picking a table so it makes for a great working atmosphere as well.
Kono's Coffee
Located on the back deck of my favorite breakfast spot, is a cute little coffee cart called Kono's. It's directly across from the beach so I swear that makes the coffee taste better. Finally, their vanilla latte is their claim to fame and if you have time to stop for breakfast, you will not be disappointed! It's a local jaunt and it's extremely affordable.
Address: 704 Garnet Ave, San Diego, CA 92109
Communal Coffee North Park
The same owners as the one in South Park (2 miles away) but this one is a little more classic with the same great coffee and cute aesthetic. The flower shop inside the coffee shop adds to the unique vibe of Communal Coffee, with beautiful blooms and plants available for purchase. The shop is also decorated with local artwork, creating a warm and welcoming atmosphere.
In addition to their coffee and flowers, Communal Coffee also offers a variety of baked goods and sandwiches for those looking for a quick bite. The outdoor patio is also a great spot to enjoy your drink on a sunny day.
Location: 2335 University Ave, San Diego, CA 92104
Portside Coffee Downtown San Diego
Portside Coffee is a small walk-up window located on Harbor Drive. It's part of the Portside Pier which houses multiple restaurants and casual eateries right on the water. The views are marvelous and I was surprised at how much I loved this coffee. Hands down it's a new favorite. Get the vanilla iced latte and thank me later.
Bird Rock Coffee Roasters Little Italy
Known for its ethically sourced coffee, Bird Rock Coffee Roasters is another shop with multiple locations. The original was located in Bird Rock (hence the name) but my favorite has to be the Little Italy location. It's a prime spot for people-watching located directly on the corner of Kettner Blvd. They occasionally have "cupping" demonstrations. A technique they use to evaluate coffees and get to know their flavors and aromas.
Location: 2295 Kettner Blvd, San Diego, CA 92101
Moniker General is unlike most other coffee shops. It has coffee, bikes, cocktails, and geometric tiles galore. They have tons of couches and just completed a brand-new outdoor area. It's the perfect place for studying, catching up with friends, or grabbing a cocktail for happy hour. Finally, there is a cute shop that sells women's and men's clothing. It's one of my favorites on this list that can't be missed. Finally, make sure to save time to explore Liberty Station while visiting.
Location: 2860 Sims Rd, San Diego, CA 92106
Since 2010 Coffee & Tea Collective has been serving up some amazing coffee. It's a hidden gem and the coffee is nice and robust. The shop on El Cajon Blvd also doubles as an art gallery. If you're a die-hard coffee aficionado, you have to check out C&T!
Location: 2911 El Cajon Blvd, San Diego, CA 92104
Lofty Coffee Little Italy
Give me a good pun and I'm all set! Lofty Coffee is a cute indoor/outdoor spot that is a staple in Little Italy. They also have multiple locations scattered about San Diego. The Little Italy location is prime though. It has delicious menu items and is the best for a remote work session. They have a fair amount of outdoor tables and they are always pumping good jams!
Location: 444 W Cedar St, San Diego, CA 92101
Holy Matcha North Park
If you're not in the mood for coffee, then check out Holy Match for the best matcha in San Diego. Matcha is all the rage these days and Holy Matcha's pink and green vibes and minimal aesthetic combine for a great place for an afternoon pick-me-up. Not going to lie, I've tried Matcha and it is NOT FOR ME. But they do offer a small coffee menu.
Location: 3118 University Ave, San Diego, CA 92104
Holy Matcha East Village
Holy Matcha East Village may have a better decor than the North Park location but it's the same great matcha. this spot closes early (2 pm) but the vibes are immaculate! Finally, the cold brew coffee was just ok. I would strictly visit for the matcha, don't expect much from the coffee!
Spill the Beans
Location, location, location! This small coffee shop located in Seaport Village is known for its coffee and great bagels. They tend to sell out of bagels quickly because they are that good. Make sure to visit early if you want their iconic bagel sandwiches. The coffee is delicious as well and it's situated right in the water so it. has amazing views. Finally, it is in a high-tourist area so parking can be difficult and you will have to pay to park in the Seaport Village lot.
The Invigatorium
The Invigatorium is easily the most unique coffee shop on this list. Located downtown and owned by Consortium Holdings, the decor of this place is so unique. I mean what other coffee shops do you know of that have dinosaurs and a disco ball? Not only that, but the coffee is very tasty. Don't skip out on the breakfast menu!
Dark Horse Normal Heights
Last but certainly not least, Dark Horse micro coffee roasters are rounding out the list. It's my husband's favorite coffee shop and since he was born and raised here, he knows a thing or two. They have four locations in San Diego but the original Dark Horse coffee roasters are located in Normal Heights. Finally, they sell their own roasted coffee beans for you to take home.
Location: 3794 30th St, San Diego, CA 92104
So there you have it, you now know "The 30 Best Coffee Shops in San Diego, California". This was one of my favorite posts to date well because, of coffee. Please drop your favorites in the comments below so I can do some more research. Make sure to check out my San Diego Ultimate Restaurant Guide.
XO,
Courtney
pin this post for later!