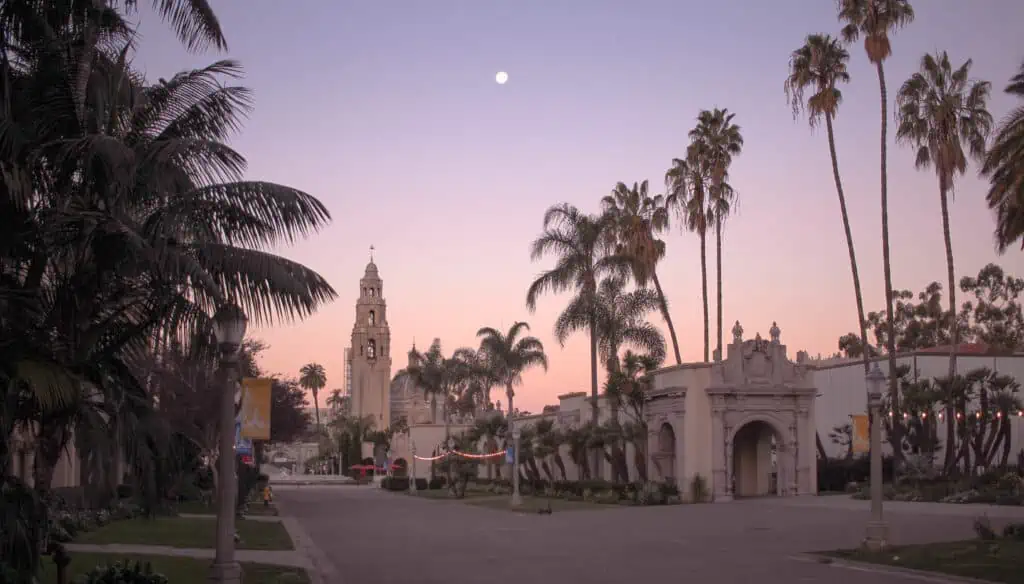 Balboa Park is a cultural hub of San Diego and there are endless things to do in Balboa Park. You could spend an entire week exploring all that it has to offer. Balboa Park is filled with beautiful Spanish architecture, 16 museums, cultural art centers, gardens, and the world-famous San Diego Zoo. The park is named after the Spanish explorer Vasco Núñez de Balboa and has a rich history dating back to the late 19th century.
It's commonly called the true heart of San Diego and I can attest to that. Having lived in San Diego for over 14 years now I can confidently say that it's my favorite part of San Diego. It is not to be missed when visiting! That's why I created this local guide to help you navigate your trip to the park.
Balboa Park Map
Below is a map to help guide you through the park when visiting. I always like to park behind the Organ Pavillion because it's a great starting point for enjoying the entirety of the park.
Best Things to Do in Balboa Park
San Diego Zoo
The World-Famous San Diego Zoo needs to be experienced by everyone who visits. It's home to over 3,700 animals from around the world and 700,000 plants. There are endless activities for everyone to enjoy including a brand new children's interactive park that recently opened in 2022. Furthermore, you'll want to take the Skyfari air tram (it's free) since you'll have a birds-eye view over the zoo, and Balboa Park, and can even catch a glimpse of Downtown, San Diego. It's my favorite thing to do when visiting the zoo!
Climb the California Tower
The California Tower is one of the iconic structures in Balboa Park, located in San Diego, California. It is a historic landmark that stands 200 feet (61 meters) tall and is part of the Museum of Man, which is housed within the iconic California Building. The tower's architecture is heavily influenced by the Spanish Colonial Revival style, featuring ornate details, arches, and decorative elements. It stands as a symbol of the rich history and cultural heritage of San Diego.
From the observation deck of the California Tower, visitors can enjoy breathtaking vistas of the park's gardens, museums, and skyline. It showcases amazing 360 views of the city (up to 23 miles away). On a clear day, you can even catch glimpses of downtown San Diego, the San Diego Bay, and the Pacific Ocean. The tower offers a splendid perspective on the beauty and grandeur of Balboa Park. It was closed from 2019 to 2021 due to repairs but is now officially open for entry, so check out tickets here!
Walk the Cabrillo Bridge
The Cabrillo Bridge, also known as the Laurel Street Bridge, is the gateway to Balboa Park. It was built in 1915 for the Panama-California Exposition. The bridge is accessible to both pedestrians and vehicles, allowing visitors to cross over and explore Balboa Park. As you traverse the bridge, you'll be greeted by the splendor of the park, with its museums, gardens, and iconic buildings coming into view.
The best part about walking the bridge is that you can see sweeping views of the California Tower, planes flying into the airport, the San Diego Zoo Skyfari, and downtown San Diego! Definitely don't miss out on walking the bridge when visiting Balboa.
Spanish Village Art Center
Easily, the most colorful part of the park is the Spanish Village. The art center is home to over 30 working artist studios and galleries, where visitors can observe artists in action, interact with them, and purchase their creations directly. The range of artistic disciplines represented at the Spanish Village is diverse, including painting, sculpture, ceramics, jewelry, photography, textiles, and more. Each artist brings their unique style and perspective, resulting in a dynamic and ever-changing artistic environment.
Created in the 1930s, the exterior of the shops has remained the same since then. Furthermore, it's home to a delicious coffee cart, and a gem museum. Recently the sculptures museum re-opened and showcase tons of beautiful sculptures from artists around San Diego.
Balboa Park Carousel
Placed here in 1910, this historic landmark has preserved all of its original hand-carved animals since the day it opened. In addition to this, it's one of the few in the world that still has the brass ring game for riders. It's a perfect activity for the kids and is open daily from 11 am-5:30 pm.
Gardens in Balboa Park
In addition to its cultural offerings, Balboa Park features beautiful gardens, lush green spaces, and recreational facilities. The park is adorned with exquisite landscaping, including the Alcazar Garden, the Desert Garden, and the Japanese Friendship Garden. Visitors can also enjoy outdoor activities such as hiking, picnicking, and playing sports in various areas throughout the park.
Undoubtedly, the gardens in Balboa Park are the best part of the park. Plants from all over the world with plenty of palm trees, cacti, and succulents give Balboa Park that signature San Diego southwest vibe.
Botanical Building + Lilypond
An iconic building that you'll see in most Balboa Park pictures. Housed in front of a beautiful lily pond, the Botanical Garden is a true eye-catcher in the middle of the park. Furthermore, this garden is home to 2,100 permanent plants as well as ones that rotate throughout the seasons. My personal favorite is when they add the poinsettias at Christmas. It's free to enter and is open Friday-Wednesday from 10 am-4 pm. UPDATE: the interior of the botanical building is currently closed until 2024 for construction.
Japanese Friendship Garden
The Japanese Friendship Garden was built for the friendship between San Diego and its sister city Yokohama. You can really immerse yourself in Japanese culture here. Located at the entrance is a tea shop that also has delicious ramen. It's open daily from 10 am-6 pm and costs $12 to enter. But, if you're a San Diego resident, every third Tuesday it's free to enter!
Palm Canyon
Did you know that Palm Canyon is made up of 450 Palm Trees some of them dating back to 1912? It's a pretty incredible part of the park and is a true hidden gem. There is a huge banyan tree at the start of the trail that is over 150 years old. In conclusion, it is located directly behind the House of Charm.
Inez Grant Parker Memorial Rose Garden
The Ines Memorial Rose Garden displays over 2400 rose bushes and over 100 varieties of Roses. As a result, this part of the park smells incredible and makes for the perfect photo opp! It's in a remote part, across the bridge from the Natural History Museum. Finally, the flowers are usually blooming from May to June.
Alcazar Garden
One of my favorite hidden gems in the park is the Alcazar Garden. It is inspired by the gardens of the Real Alcazar in Seville, Spain, and serves as a tranquil oasis within the park. Designed by noted horticulturist Kate Sessions and constructed in 1935, the Alcazar Garden showcases a classic Spanish Renaissance style. It features symmetrical geometric patterns, meticulously manicured hedges, colorful tiles, and ornamental fountains, all reminiscent of traditional Moorish and Andalusian gardens. Finally, it offers stunning views of the California Tower.
Best Photo Spots
There are endless opportunities for beautiful photo spots in the park. Below I've listed my favorite places with past pictures I've taken there:
(order from left to right)
Organ Pavilion
Rose Garden
Botanical Building
Casa Del Prado
Spanish Arts village
North of Rose Garden on East Side of Park Blvd
Plaza de Panama Fountain
Inside the Botanical Building
Did you know that you can legally drink in Balboa Park?
There are certain designated areas within the park that allows drinking from the hours of 12 pm-8 pm. So head to one of these nine lawns, grab your white claws, and have yourself a picnic!
Botanical Building East Lawn + West Lawn
Federal Building Lawn
House of Pacific Relations Lawn
International Lawn
Mall Lawn
Moreton Bay Fig Lawn
Pan American Plaza Lawn
Recital Hall Lawn
Balboa Park Museums
If you love museums, you would LOVE Balboa Park because it's home to 16 museums. You can easily spend an entire week checking them all out. Furthermore, there are a variety of museums ranging from art to history and science. A few of the top ones are:
Mingei International Museum (just opened!)
San Diego Air & Space Museum
Museum of Us
Timken Museum
San Diego Natural History Museum
The San Diego Museum of Art
Model Railroad Museum
On the other hand, if you don't love museums, you can skip them entirely and just marvel at the gorgeous Spanish Architecture. Above all, it can be expensive to visit all of the museums in the park since they have separate admission fees. But with the Park Explorer Pass, you can visit all 16 museums within a seven-day time frame for $59!
Food in the Park
Panama 66: The restaurant with prime views of the park serves craft beers, shareable plates, and cocktails. They also have live jazz music on Friday nights.

Fun Fact: It was Zagat rated as one of the best beer bars in the country!

Prado at Balboa Park: Charming indoor/outdoor dining serving great Mexican food.
Craft Cafe at Mingei: a new coffee shop in the Mingei museum serving dark horse coffee, smoothies, pastries, and grab + go food.
Craveology: located in the Fleet Science Center this place is great for lunch (serving salads, paninis, and snacks).
The Tea Pavilion at the Japanese Garden: Serving teas, sushi, miso soup, and snacks a true hidden gem in the park (closed on Mondays and Tuesdays).
Daniel's Coffee Cart: located in Spanish Arts Village.
Prado Perk: Small coffee cart located in the same courtyard as The Prado.
Performing Arts in the Park
Old Globe Theatre
The Old Globe Theatre was built in 1935 as a replica of the one in London where William Shakespeare performed many of his plays. They house 15 plays annually with the most famous one being "How the Grinch Stole Christmas". You can check out their current events.
Spreckels Organ Pavillion
The Spreckels Organ Pavillion is home to the largest outdoor pipe organ and is surrounded by gorgeous architecture. During the year they perform many symphonies here.
Fun Fact: The Beatles and The Rolling Stones played concerts here in the '60s. Apparently, sales were not that great. Imagine if they played here today. I would pay an obscene amount to see that!
Marie Hitchcock Puppet Theatre
A great activity for children. With shows running three times a day on Saturday and Sunday. They also have some showtimes during the week. Don't forget to check out the schedules!
Balboa Park Events
December Nights
December nights in Balboa Park always take place on the first weekend of December. It's a holiday celebration that is similar to a European Christmas Market. With food vendors, artists, performances, and free admission to all the museums from 5-9 pm. For more Christmas Activities in San Diego head to my San Diego Christmas Activities Guide.
Food Truck Fridays
Last but not least, Food Truck Fridays are the hotspot during the summer. Vendors with cuisines from all over the world gather here every Friday evening from May to September in the central mall. Finally, make sure to check out the Balboa Park calendar of events before visiting.
What to Pack for Balboa Park
While all opinions and recommendations are always my own, my content on this blog post may contain affiliate links for products I use and love. This means I get a small commission if you make a purchase after clicking one of these links. As always, I am so thankful for your support!
In conclusion, if you're visiting San Diego you simply can't miss Balboa Park, it's a true gem and it's considered the heart of San Diego. I hope you enjoyed my "Locals Guide on Things to Do in Balboa Park" and gained some insight into your visit!
Finally, if you're traveling to San Diego, you don't want to miss my Ultimate San Diego Travel Guide! As always, drop any questions in the comments below and I'd be happy to answer them.
XO,
Courtney
pin this post for later!