The Ultimate Travel Capsule Wardrobe
Being a skilled packer is not an easy feat. There is a formula that goes into creating the perfect Travel Capsule Wardrobe and I'm here to teach you my ways! With a little bit of strategy and a few classic versatile pieces, you will be packing light in no time. Along with that, while this collection can take you anywhere in the world, it's designed for a European destination. Finally, read on for tips on How to Dress European so you don't stand out as a tourist!
While all opinions and recommendations are always my own, my content on this blog post may contain affiliate links for products I use and love. This means I get a small commission (at no additional cost to you) if you make a purchase after clicking one of these links. As always, I am so thankful for your support so I can continue to offer free resources!!
Classic Clothing Items to Invest in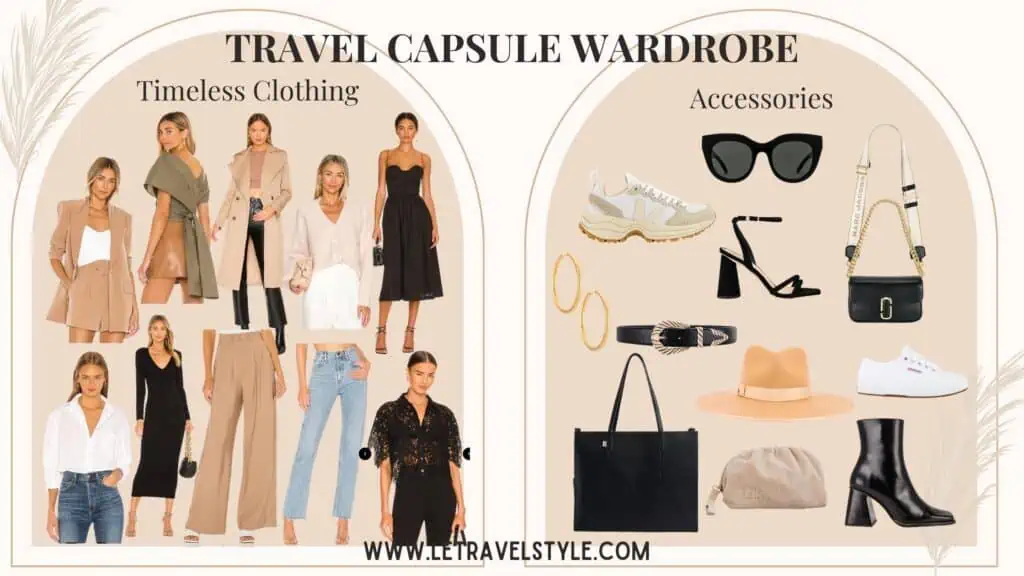 When curating your travel wardrobe you want to start off with good solid pieces that will interchange with many outfits. These are the pieces to invest in because they will last for your trips in years to come! Also, always remember the cardinal rule when packing: stick to a similar color palette. It makes life easier when you're on the road. Consider this your packing list for classic items:
Trench Coat
A classic trench coat is the clothing equivalent to a good black purse. It's a wardrobe staple that will never go out of style. Being that it's lightweight, I travel with mine the majority of the time. When shopping for your trench stick to a classic style.
White Button Down
The perfect all-season staple is a white button-down. Whether you're wearing it with jeans, a leather skirt, or simply leggings you can never go wrong with this minimalist piece. I love wearing mine through the airport with leggings or with jean shorts in the summer. Being that they will never go out of style, this is a great piece to invest in.
Blazer
A classic blazer will dress up any look with its sharp silhouette! It's no longer a staple for the office we are taking the blazer everywhere with us. You can never go wrong styling a blazer with jeans and sneakers for a casual look. Or take it out to a fancy dinner paired over a midi dress and heels. Finally, throw it on with leggings and a tee at the airport for a polished look.
Wide Leg Trousers
Wide-leg trousers have taken the fashion industry by storm in the past few years. They have become a new classic staple and I am here for it! Not only are they comfortable but they're uber stylish as well. You can't go wrong with that combo and the trousers I linked come in multiple colors.
Midi Dress (Spring/Summer)
A midi dress is a perfect balance between casual and polished. For summer travel, you can easily wear it with sneakers for a day of sightseeing or paid with heels and a clutch for a night out. It's also a very flattering silhouette to add to your closet!
Sweater Dress (Fall/Winter)
The fall equivalent of a midi dress is a sweater midi dress. A cold weather staple and one of the most comfortable pieces of clothing to travel in during the colder months. Pair with sneakers for a daytime look or high-heeled boots for a fancy dinner. It rounds out your travel capsule wardrobe perfectly.
Straight Leg Jeans
I have a love-hate relationship with jeans when it comes to traveling but they are no doubt one of the most versatile pieces of clothing you can add to your wardrobe. Stick to a straight-leg style since they are very trendy at the moment. You also want a pair that fits properly or else you will be uncomfortable. These AG Golde jeans come highly recommend and the material is a bit stretchy.
Neutral Cardigan
Cardigans have been in fashion for decades. Not only that but a cardigan comes in handy during those long-haul flights and train rides. I like to pair my neutral cardi with straight-leg jeans, a tank top, and sneakers for a travel day polished look.
Trendy Pieces
Trendy pieces are a great way to round out your travel capsule wardrobe. You can easily filter these pieces in and out as you see fit. Finally, when shopping for trendy clothes I tend to go out of the box in terms of colors and patterns as I will filter out these pieces within a year or so.
Statement Blouse
A statement blouse truly makes a statement. The best part about wearing a statement blouse is you can keep your other articles of clothing simple. Let the blouse have its own moment!
Leather Trousers
Leather trousers are another hot item that has taken the fashion world by storm. I don't see leather slowing down as a trend so pick yourself up a pair of classic pants to last years to come.
Black Split Front Pants
These split-front pants elevate any outfit but feel like leggings. Sounds like a win-win for me! Pair this with a white button-down, black booties, and throw on a trench coat and you have yourself a solid European Outfit.
Travel Capsule Wardrobe: Accessories
Retro Sneakers
The sneaker trend is not going anywhere so buckle up sister and buy yourself a nice pair of retro sneakers. These can easily be styled with a dress and denim jack. Or opt to wear them with split front pants and a white button-down.
Wearable Heels
I tend to only pack one pair of wearable heels when traveling to Europe. Mostly because of the cobblestone streets. They do not pair well with heels. However, if you choose a pair with a chunky heel you'll be waltzing down those streets in style.
Black Heeled Booties
The versatility of Black Heeled Booties is endless! Whether you pair it with leather trousers and a statement blouse or opt for a more casual look with jeans and a white button-down you can trust these booties to last for years. I always splurge on accessories because they are mostly worn in my wardrobe.
Crossbody Bag
I love a good shoulder bag like the rest of the fashion world but when traveling I always carry a crossbody bag. For multiple reasons one being scams and pickpocketers. When wearing your crossbody in front of your person you are less likely to have someone rummaging through there when no one is looking. I love this trendy crossbody from Marc Jacobs because it's the perfect blend of classic and trendy.
Wide Brim Fedora
An easy way to elevate any daytime look is by adding a wide brim fedora. You can pair it with a leather jacket and jeans for a daytime look or with a sweater dress and over-the-knee boots for a night out. The best part about wearing a hat while traveling is not only do you look chic but it protects your face from the sun.
Travel Tote Bag
An ideal tool that comes in handy for travelers is a tote bag. Whether you're toting around your laptop at the airport or simply shopping in the European markets, bringing a classic tote bag on your trip will always be a good idea.
Black Sunglasses
Chic, timeless, and classic. I am describing these Le Specs Sunglasses that I own in two colors because they are that good. We love a good pair of sunglasses to hide our tired eyes while traveling. Finally, they are under $70 so it's a steal.
How to Dress European
The key to blending in with the Europeans is creating an outfit that has 3 elements: classic, cool, and minimalism. If you can learn this formula you will be golden. Another important thing to remember is that Europeans do not wear activewear as a leisure outfit unless they are quite literally on their way to the gym. So leave the lululemon and baseball caps at home! One of the main reasons we want to blend in as locals when traveling is because you are less susceptible to being targeted for a travel scam. Here are a few packing tips to help you dress like a European:
Stick to classic clothing, you can also dare to be trendy with some pieces because it is Europe after all
Wear neutral colors
Bring comfortable walking shoes that look elevated
Leave the athleisure wear and logos at home
Don't wear jeans often, they used to be a big no-no but in recent years have become more accepted in Europe. Opt for a straight leg or wide leg pair they are tres chic
When mixing pieces if you're wearing a menswear-inspired outfit then pick a feminine shoe

Alternatively, if you are wearing a feminine outfit choose a menswear-inspired shoe
Thank you for reading my "Ultimate Travel Capsule Wardrobe" post. I hope you gained insight into how to dress like a European. If you have any questions leave them below. Don't forget to check out more of my styling guides.
pin this post for later
XO,
Courtney