Paris Packing List for Every Season
Heading to the city of lights and not sure what to bring? Well, this "Ultimate Paris Packing List" will cover all your needs and help you look stylish in the style capital of the world. As cliche as it sounds, Paris is one of my favorite cities to travel to. Mainly because of the beauty and architecture which always inspires my outfits in Paris packing. It's essential to curate your travel packing lists based on the weather. In this post, I have broken down each of the categories by fall/winter and spring/summer to help you build your Parisian capsule wardrobe. Get ready girl because you are going to PARIS!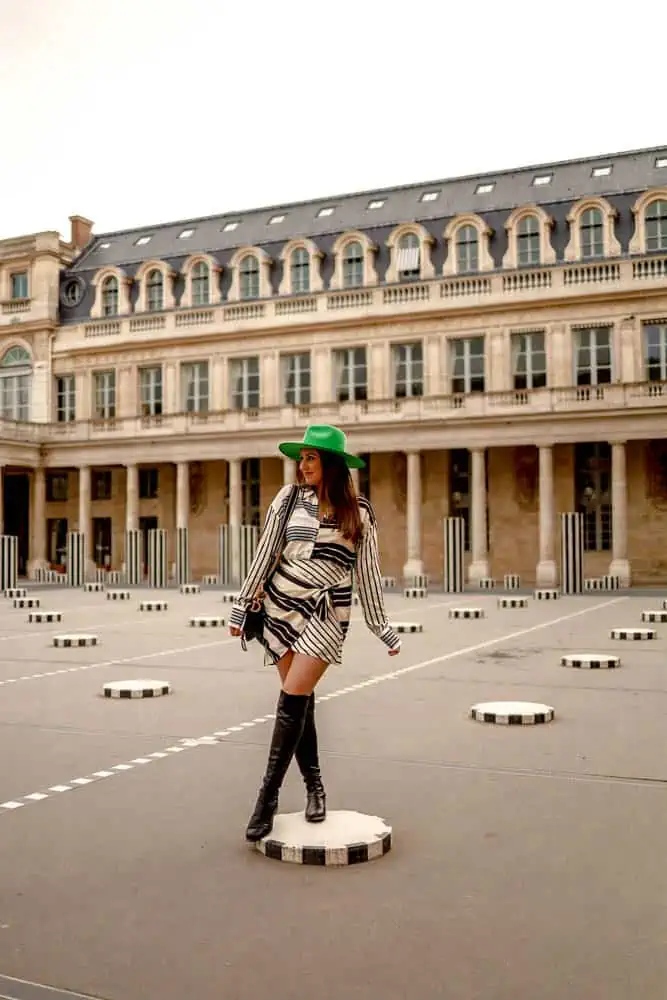 Essentials to Pack for Paris
Regardless of the weather, these essentials are necessary to bring to Paris. Whether it's a power adapter, packing cubes, the right credit card, or a reusable water bottle to stay hydrated – these items won't go unused when traveling to Paris.
While all opinions and recommendations are always my own, my content on this blog post may contain affiliate links for products I use and love. This means I get a small commission (at no additional cost to you) if you make a purchase after clicking one of these links. As always, I am so thankful for your support so I can continue to offer free resources!
Power adapter: you will not be able to plug in any American chargers in Europe. Make sure to grab a power adapter so you're able to use your chargers and hot tools.
Packing Cubes: I do not travel without these packing cubes. They not only organize your entire suitcase but they are easy to pop in and out of hotel room drawers. My #1 packing hack as a travel blogger!
Portable Charger: This 2 pack comes in handy for my husband and me. It's always good to have these when traveling they have saved me time and time again!
Mastercard or Visa: I always use my Delta American Express however, in Paris it's a 50/50 chance that they don't accept American Express. Most everywhere does accept Mastercard and Visa so pack those.
Travel Insurance is always a great idea. We used hey mondo when we visited and really trust their services. Whatever you do, do not purchase alliance travel insurance they have the worst customer service I have ever encountered.
Packable Umbrella: Paris in the rain is quite magical and it can rain often in Paris so it's best to pack an umbrella.
Paris Capsule Wardrobe
So you want to build your Paris capsule wardrobe? Paris exudes glamour and classiness so keep that in mind when curating your packing list. Think neutral colors and classic pieces with a trendy twist. Although Paris is classy it's also the fashion capital of the world so don't be afraid to pull out your extra high-fashion pieces. Once you visit you will understand the vibe that comes with visiting Paris and the high fashion that follows.
Clothing to Pack for Paris year-round
Trench Coat or Rain Jacket: A trench coat is the clothing equivalent of a classic black purse. It never goes out of style and every closet needs this wardrobe staple. Being that it's a lightweight jacket you can wear this for every season in Paris.
Little Black Dress: what's a better combo than Paris and a little black dress? Having a chic black dress is a great staple to bring when traveling because you never know when the mood will strike for a fancy dinner abroad. Paris will do that to you!
Shirt Dress: a chic way to be comfortable in Paris is wearing a shirt dress. You can pair it with tall boots and. a fedora like I did above for an effortless look.
White button-down: the perfect all-season staple is a white button-down. I always pack mine for whatever trip I'm headed on. Whether you pair it with straight-leg jeans, a mini skirt, or faux leather leggings you can never go wrong with purchasing a quality white shirt for your wardrobe.
Chic blazer: Blazers are no longer a work staple but they are a classic wardrobe piece. This sharp silhouette is a perfect way to style up a boring outfit and the girls in Paris love an oversized blazer look.
Straight-leg Jeans: Jeans and traveling are kind of a love-hate relationship for me but I can't argue that jeans are the best versatile piece to pack. And having properly fitting jeans is a small luxury every woman needs in her life!
Wide-Leg Trousers: over the past few years wide leg trousers have taken the fashion industry by storm. I am here for the new classic staple because they are so comfortable and chic. I strive to be those two things when I travel. You can dress these up with a statement top and heels or casually wear them with sneakers and a white tee.
Statement Jacket: It's Paris so let's make a fashion statement shall we? As you can see I wore this jacket all over Paris and not only did it keep me warm during November, I got so many compliments on it! For the warmer months consider a lightweight jacket that also makes a statement.
Fall/Winter
Camel Topper: not only is a camel topper a great wardrobe staple, but it's also a great Paris staple as well during the colder months. You can pair leather leggings and a white button-down for a casual look or dress it up with a sweater dress and heels.
Neutral sweater: I pack 2-3 of these when traveling during winter because they're great for layering looks. You can easily space-save them by purchasing compression bags. These babies come in handy when traveling with bulky items.
Sweater Dress: a sweater dress pairs so nicely with tall boots and a camel topper for a chic cafe visit (Cafe de Flore is our favorite in Paris).
Faux Leather Leggings: these have taken the fashion industry by storm over the past two years. I don't see them going anywhere and it's a great alternative to jeans for a night-time look. Not to mention they are so comfy!
Leather Skirt: I wore my leather skirt more often than my jeans when visiting Paris because I love dressing up in Paris and romanticizing living there one day.
Long Sleeve Layers: during the colder months wearing long sleeve layers underneath your clothing is the best way to not freeze when sightseeing. I always purchase my layers at Uniqlo since they're affordable and best to replace them every few years.
Spring/Summer
Light Blazer: a lightweight blazer is a great packing staple to base an outfit on. Whether you pair it with a silk skirt and tank or jeans and sneakers you can never go wrong with purchasing this classic blazer that I own and love.
Denim Jacket: I can confidently say that a denim jacket will never go out of style. According to Gen Z, they are on their way out however as a millennial woman I'm claiming that denim jackets are here to stay! While the styles may change throughout the years, currently the oversized silhouette is popular.
Light Cardigan: A light cardigan comes in handy whether you're on the plane or need it to drape over your shoulders during a crisp spring day in Paris. Keeping a neutral color palette in mind this cardigan is a favorite of mine when traveling.
Midi Dress: the perfect balance between casual and polished. When traveling you can pair a midi dress with sneakers and a lightweight cardigan for a chic museum visit look. If you want to dress it up pair it with heels, hoop earrings, and a statement jacket.
Paris Packing List: Accessories
Comfortable walking shoes
I average 20,000 steps per day when I travel Europe so it's best to bring yourself a comfortable pair of sneakers. Luckily, in recent years Parisians have become more accustomed to leisure wear. While you shouldn't wear a full-on lululemon look (the French only wear workout clothes when working out), a trendy pair of sneakers is a must-pack item. This one pair I've had this personally for two years and have walked the streets of Paris, London, and Spain with no complaint.
Black Pumps
Paris is a fancy city so there are endless activities that allow us to dress to the nines. Consider a nice dinner cruise and throw on a pair of classic black pumps with a cocktail dress and you'll be ready for a night on the town.
Chic Sunglasses
When you're traveling and have tired eyes sunglasses are a girl's best friend. They're also the perfect accessory to make an outfit pull together. I love these Le Specs sunglasses that come in a few different colors. I always get the most compliments on them and they compliment a variety of face shapes.
Hoop earrings
I tend to not pack too much jewelry when traveling and stick to simple pieces. You can never go wrong with a chic pair of hoop earrings. Adding a bit of shine to your Paris outfit.
Crossbody Bag
Not only is a crossbody bag versatile, but it's also a great way to safely store your belongings while traveling. The trick is to put the bag in front of your body as opposed to the back where pickpocketers can access it. Luckily the crossbody trend is not going anywhere. Finally, this Marc Jacobs bag is perfect for Paris and has an elevated look without designer prices.
backpack
I always travel with my lululemon backpack as it's a great carry-on on the plane and holds my laptop, skincare bag, and other travel necessities. Furthermore, it's easy to wear when traveling on multi-city trips.
a Beret
If you go to Paris you MUST pack a beret. It's a right of passage and is the perfect touch to add to your Paris packing list. Think about the pictures in front of the Eiffel Tower wearing your beret, a no-brainer! Finally, if you don't already own one I would suggest you purchase one in Paris for a little souvenir.
Accessories for Fall/Winter
Felt Hat
I'm a big stickler for protecting your face from the sun. While traveling we tend to be outside quite often so I always pack multiple hats. Not only do they provide SPF but they add a little zhutz to any outfit. I love this felt hat because it's timeless and stylish.
Pro Tip for packing hats: I typically wear a hat on the flight and pack one in my checked bag. The best way to pack it without it getting smushed is to pack out the top with clothing items and surround the outside of the hat with a cushion of clothes.
CASHMERE BEANIE
A cashmere beanie not only keeps you warm but it helps with looking winter chic! This beanie is a favorite of mine and has lasted for years.
Tall boots
Instead of ankle boots, try a tall boot for a more fashionable way to wear boots. Whether it be an OTK boot, heeled boots, or suede you will fit right in donning a pair of tall boots in Paris. These are my go-to boots when I travel because I can walk all day in them with no complaint.
Chelsea Boots
Ok I know I just said tall boots are better and more stylish however a Chelsea boot is not your average ankle bootie. They have been around for generations and are a classic piece to add to your wardrobe.
Cozy Socks
While wearing your tall boots I always make sure to pack thicker socks in the winter/fall. These hue socks are a favorite and I have been wearing them since my days working at Nordstrom (almost 10 years ago!).
Accessories for Spring/Summer
NUDE sandals
Not the best for long hours of sightseeing however for a day tour or museum visit pack a pair of neutral sandals for the summer. They pair perfectly with a midi dress, sunnies, and a straw hat.
Lightweight Sneakers
The city of lights gets steamy in the summer months so pack a pair of lightweight sneakers that have breathable fabric. I always wear these socks and they are hands down the best no-show socks around and truly stay up with lots of walking.
Neutral Heels
Neutral heels come in handy during the warmer months but opt for one with a thicker heel. Do not underestimate the cobblestone streets of Paris. While they are incredibly charming they aren't best for stilettos if you know what I mean.
Chic Straw Hat
Like I said earlier, I want you to keep your face protected from the sun because that is the number one way to help combat aging my ladies. Having a chic fedora in the summer in Paris is a necessity.
What Not to Bring to Paris
Expensive Jewelry: Sadly with visiting a big city comes pickpocketers. You always need to be super aware when visiting touristy places. In order to not stand out leave your expensive jewelry at home.
Heavy Items: Paris temperatures are pretty mild year-long. Aside from the coldest months of the year (December, January, and February), the temperature doesn't drop below 50° much. Because of that, you can leave your bulky sweaters and heavy jackets at home.
Super Touristy Clothing: I'm thinking of Hard Rock Cafe t-shirts from random places in the states. Paris is a classy place and you'll stick out like a roe thumb if you wear anything that screams tourist. Along with that, leave home your camouflage. In Europe, it is reserved for military personnel only and civilians don't ever wear them.
Beachwear: Typically in Europe, the only place to wear beachwear is you guessed it, by the beach. And unfortunately, Paris doesn't have any beaches nearby. So leave your cut-off shorts and tank tops for other areas of France!
Thank you for reading my "Ultimate Paris Packing List for Every Season". I hope you enjoy one of my all-time favorite cities and don't miss my "4 DAYS PARIS ITINERARY" to help plan your entire trip!
pin this post for later
Bisous!
Courtney