Best Things to Do in Pioneertown when Visiting
Looking for the best things to do in Pioneertown? Well look no further because this guide has it all! The old west lives on in a small town located north of Joshua Tree National Park. A little place called Pioneertown California. It's unlike any other deserted town and is a true hidden gem in California. Built in 1946 as an 1880's old west movie set, there are countless movies that were filmed here.
Plan to spend about an hour exploring this old western town it truly is tiny. Whether you want to take photos, bring your littles, or eat at one of the coolest BBQ places in town, this blog, outlines all the best things to do in Pioneertown California.
Pioneertown History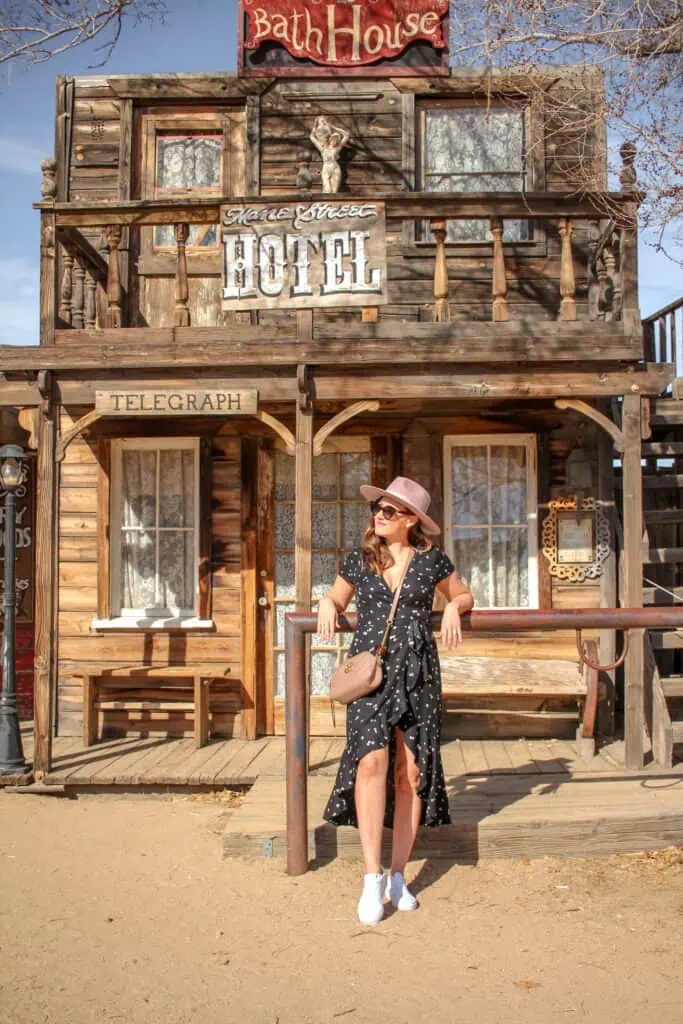 Pioneertown was built in 1946 to mirror an 1880s old-western village. It was Dick Curtis' dream to build a "Living Breathing Movie Set". So he gathered up investors (27 to be exact) to build the town of his dreams, Pioneertown. Some of the famous investors are Roy Rogers, Dick Curtis, and Russell Hayden. The goal was to build a town where they could work and play. Back in the day, all of the shops were fully functioning. Today, only a few of the shops in Pioneertown are functioning and the rest are strictly for show.
Back in the 50's and 60's it was widely used as a working set. Being featured in countless western movies and TV shows somw of which inclue Annie Oakley, The Gene Autry Show, and Barbed Wire. Finally,
When to Visit Pioneertown
Since it's close to Joshua Tree National Park and it's a desert, it gets extremely hot during the summer months. So plan on visiting in the cooler months from November-April when the weather is mild and the crowds are low. We went midday on a Wednesday and we were basically the only ones there. Finally, make sure to coincide your trip with when Pappy + Harriets are open because you do not want to miss visiting that spot (closed on Tuesdays and Wednesdays)!
How to Get to Pioneertown
Located in the Yucca Valley (San Bernardino County) Pioneertown is only 25 minutes away from the famous Joshua Tree National Park. If you're looking for a day trip from San Diego it takes roughly 2.5 hours to reach. Finally, you can road trip from Los Angeles (two hours) and Palm Springs (40 minutes) as well.
Pioneertown Mane Street
Only some of the shops on Mane street are functioning today and the rest are strictly for show. Here are the ones that are still operating today:
Pioneertown General Store: all things vintage, accessories, and western-inspired. They are open Thursday to Monday from 10:30-5 pm but a note on their website that they run on desert time so hours will vary.

MazAmar Art Pottery

: a small pottery shop with handmade goods. They are open every day from 11am-5 pm.
Soap & Goats: a small gift shop selling soap but sadly not goats.
Red Door Saloon: another restaurant option is to visit the Red Door Saloon off of Mane Street.
Pioneertown Hotel
"There is a special spirit here that attracts folks from around the globe. You may catch a meteor shower, happen upon a sold-out show, dance under the stars or simply pass time around a fire."
The Pioneertown Motel which is located in the middle of nowhere California has to be the quaintest place I've ever seen. We only walked around the property for a bit but chatted with the owner enough to know we want to come back for a night's stay here! They make you feel so welcome and are so kind.
Eat at Pappy + Harriets
Pappy and Harriets is a restaurant and live music venue all in one. They serve some of the best western BBQ ones could find, cocktails, and comfort food. Noted on their website sometimes the music and food can get in the way of each other so when visiting check if there is a concert that night. They do take reservations, so head to their website for more info.
When we visited right at opening time we were seated right away. We enjoyed the food however the food was not hot and more on the cold side. It was a bit disappointing however, the food itself was delicious! Finally, our favorite item was the chili cheese hot dog, yum!
Thanks for reading my "Guide to Visting Pioneertown in California" post. I hope this helps you plan your trip to visit and check out more of my California Guides!
XO,
Courtney
pin this post to save for later!