The Ultimate Big Sur Travel Guide
Big Sur is one of those places that you truly have to see to believe. I know that sounds incredibly cliché but the dramatic cliffs, eclectic vibe, and endless views of the Pacific Ocean speak for themselves. The scenery is truly unmatched and it has such a calming energy. In this "Complete Travel Guide to Visiting Big Sur", I'm going to cover the best things to do, where to stay, and most importantly where to eat when visiting Big Sur. To ensure that you have the best information before traveling to Big Sur, California.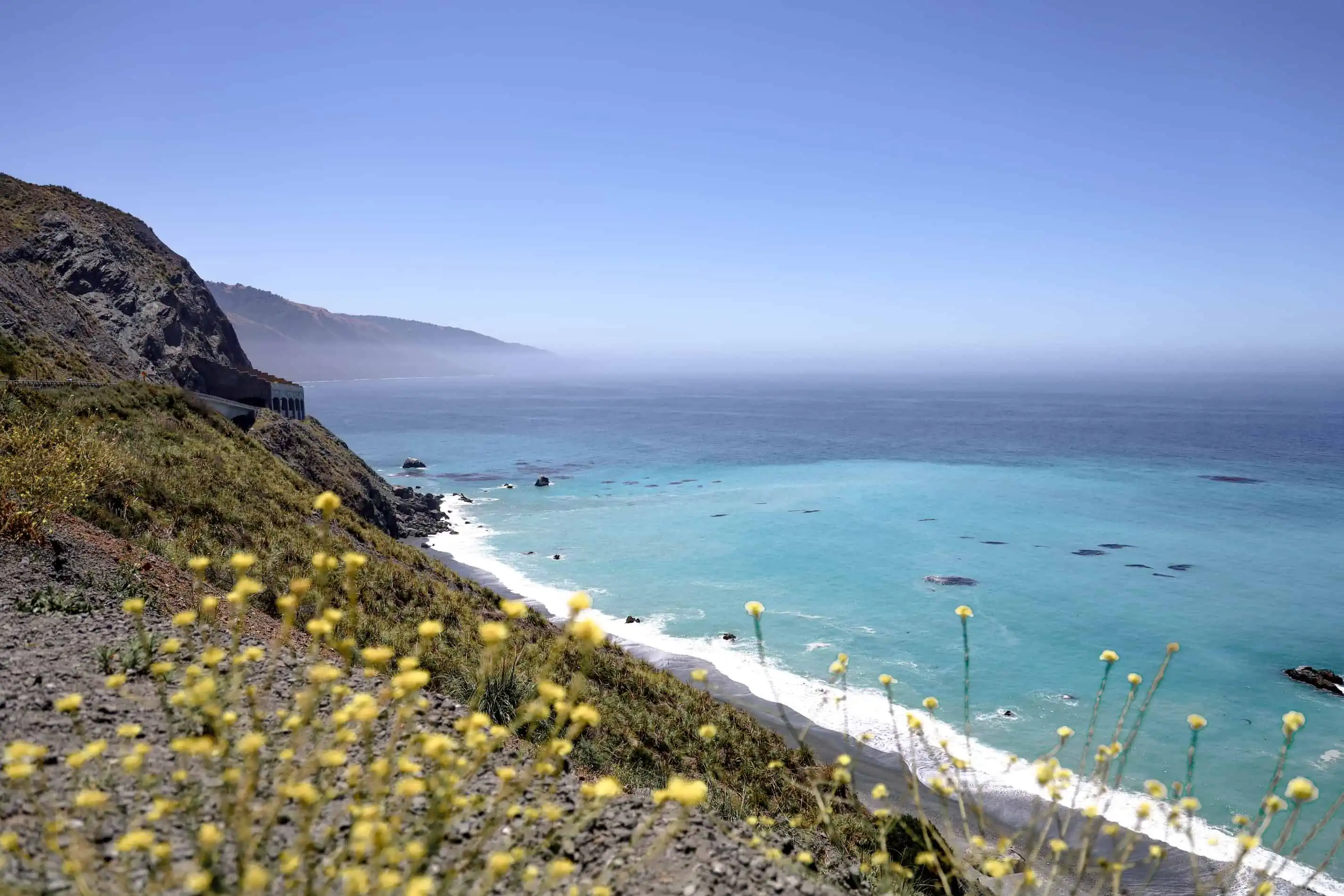 When to Visit Big Sur
For the best time to visit Big Sur, California consider a trip during late spring to early summer. The sun is shining and the crowds are somewhat sparse. March-April is a great time to visit to beat those summer crowds. Also, September to November is a great time to visit Big Sur however it can be very cloudy during those months.
Things to Know Before Traveling to Big Sur
There is hardly ANY cell phone service when driving on Highway 1 so make sure to download an offline map if you're directionally challenged.
You can spend one day here but it's best to stretch it out to two or three days because the weather is so fickle. One minute it can be sunny the next you can't see two feet in front of you.
Big Sur is pricey so be prepared if you're on a budget. Gas prices are roughly $2 higher than the norm so make sure to fuel up before traveling to Big Sur.
Currently, a main portion of Highway 1 in Big Sur is closed. Unfortunately, there are no detours available. Basically, you have to drive down the 1 from Carmel and then drive back up. There is no way to go all the way through to San Simeon at the moment (last updated August 2023).
Best Things to Do in Big Sur
McWay Falls
This was our favorite stop in Big Sur. Located just outside of Julia Pfeiffer Burns Park, it's a short 1/4 mile hike that will take you to an overlook of an 80-foot waterfall that cascades down into a turquoise-blue cove. There. is a small lot with a fee and they only accept cash. However, you are able to park on the side of the road and walk a bit of the way up to access the trail.
Pfeiffer-Big Sur State Park
A great option when staying in Big Sur is to camp! This state park is located right smack in the middle of Big Sur and has the nickname "Mini Yosemite". Campgrounds tend to book up at least six months in advance so make sure to plan before you go. Furthermore, when visiting make sure to check out Pfeiffer Beach. You can find all information about camping!
Pfeiffer Beach
A beach located off the beaten path but is well worth the 2 miles drive down to the beach! You can park here for $12 a day and it's a short walk to the actual beach from the lot. You'll be rewarded with a gorgeous coastline. It's so unique because it features a huge rock with a hole in the middle.
Bixby Creek Bridge
The Bixby Creek bridge has become famous because of the hit HBO show "Big Little Lies". But this bridge has been around for ages (1932 to be exact) and is a must-see when visiting Big Sur. There is a small parking lot just north of the bridge to enjoy the beauty of this masterpiece. Furthermore, you are able to park on the side of the street to access this viewpoint.
Finally, it gets extremely busy at all hours of the day so be prepared to wait for a spot. We witnessed people hiking down to the beach below but it looked extremely dangerous. Hike at your own risk!
Garrapata State Park
Located in North Big Sur (18 miles north) this 3,000-acre state park has two miles of beautiful beaches and many hiking trails on the Monterrey coast. There is no entrance fee to enter this park and the highlights include:
Garrapata Beach
Soberanes Point trail
Little Sur Beach overlook
17 Mile Drive
The starting point for 17 Mile Drive is the entrance of the Pebble Beach golf course. It costs $10.50 for the day to drive on this portion of the coast and it's well worth it. The beaches are pristine and you won't see many people here because of the cost. You can't miss the Lone Cypress which is a California legend standing tall at 250 years old.
Lastly, Fan Shell Beach was our favorite quiet cove along the coast (pictured below).
Morro Bay
Technically, Morro Bay is not located in Big Sur however, it's a couple of hours south. If you're driving from a southern city you might want to stop along the way. Morro Bay is a small coastal town that is best known for "Morro Rock" a large ancient volcanic mound in the middle of the bay. You can easily make this a quick pit stop for lunch on your way to Big Sur!
Drive Down Highway 1
There are so many hidden corners of the Big Sur coast. Each unique corner of the Highway has its own perspective of the endless Pacific Ocean. So I encourage you to just drive along Highway 1 and stop when you see a beautiful spot!
While all opinions and recommendations are always my own, my content on this blog post may contain affiliate links for hotels I've traveled to, tours I've completed, and products I recommend. This means I get a small commission if you book a stay or purchase a product after clicking one of these links. As always, I am so thankful for your support and will continue to share the best properties, things to do, and items I love!
Big Sur Travel Guide: What to Pack for Big Sur, California
All the activewear. Most of the things to do in Big Sur are outdoor hiking, biking, and swimming. My favorite brands of activewear that have lasted me YEARS are Lululemon and Athleta. I've also found some great lululemon dupes on Amazon.
Good quality hiking shoes or sneakers: I wore my Asics the entire time in Big Sur and did not have any issues when hiking, however, it's best to wear actual hiking shoes since the hikes can get pretty intense
A sturdy pair of flip-flops that you can also wear on a nice walk or to the beach. These Olukai Sandals are my go-to and have lasted me years and are the most comfortable.
A sun hat for the summer months.
Bathing Suits: Being that Big Sur gets very warm in the summer months you'll want to always be prepared by bringing bathing suits. I always find quality suits that last for a few seasons at revolve and amazon.
Sunscreen: This GOOP FACE SUNSCREEN BRUSH is perfect for traveling because it adds SPF to your face all while not messing up your makeup. It's my new holy grail product and you need to add this one to your packing list!
A light jacket for the evening.
Where to Stay in Big Sur, California
There are not many options when it comes to hotels in Big Sur. You either have to choose between a low-star hotel or a 5-star resort that will set you back $700 a night and up. Below are some options if you are dead set on staying in Big Sur while visiting.
Because we wanted to stay on a budget in Big Sur, we chose to stay in Carmel by the Sea. It's roughly an hour's drive from everything Big Sur has to offer and is the cutest little storybook town.
We stayed at the La Playa Carmel and highly recommend it. It was a bit pricey but we felt as though we were staying in Sorrento, Italy. A couple of other Carmel by the Sea hotels to check out are:
Restaurants in Big Sur
Nepenthe Big Sur ($$$) – Ocean views and healthy eats, this restaurant is highly recommended!
Deetjens Restaurant ($$) – Located at the Big Sur Inn, this restaurant is great for breakfast and dinner.
Lucia Lodge Restaurant ($$) – Another Big Sur restaurant with a gorgeous view. This spot is great for lunch and has amazing service.
Sierra Mar ($$$$) – If you're looking to splurge, this is your place. Located in the Post Ranch Inn, this Michelin star restaurant serves superb food. It's quite literally perched on a cliff and has floor-to-ceiling windows overlooking the pacific ocean.
Thank you for reading my Complete Travel Guide to Visiting Big Sur. I hope you've found some great tips to help you plan a visit to Big Sur! Please be sure to let me know if there is anything you think I've missed in this guide and check out more of my California travel guides.
XO,
Courtney
pin this post for later