Best Hikes in Arches National Park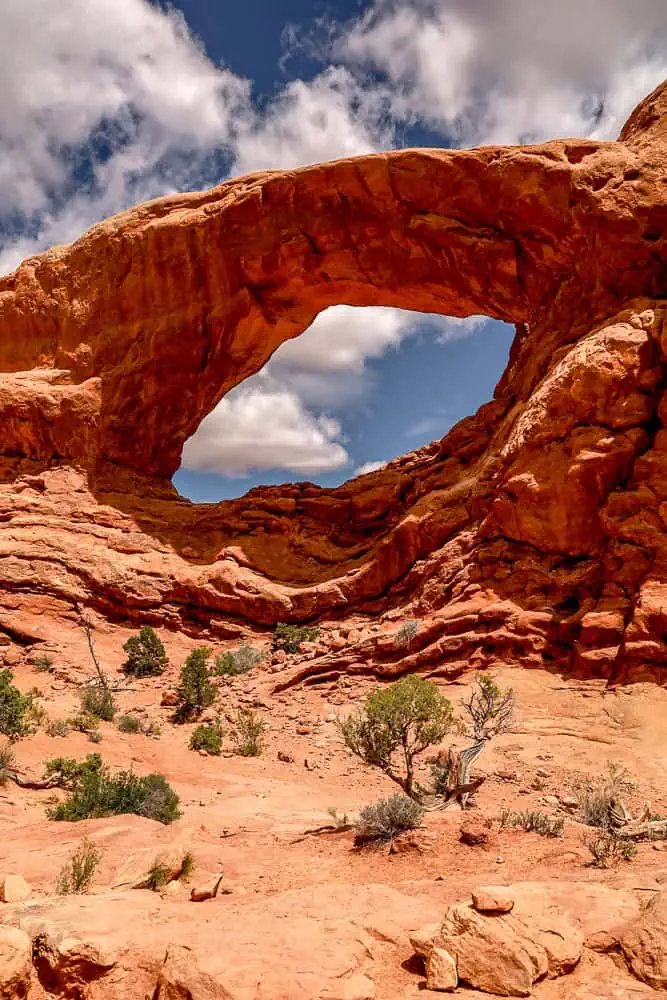 Need to find the best hikes in Arches National Park? I'm here to help! Arches National Park is proof that Utah is another planet. There are over 2,000 red-hued sandstone arches that are entirely made by nature. The park likes above an underground salt bed and this caused the unique rock formations. It will truly take your breath away. It's one of the most famous Utah National Parks and part of the Utah Mighty 5.
One of the best things to do when visiting Arches National Park is hiking! Name something better than national park hikes. I'll wait. Lucky for you there are over 47 trails to choose from. We visited Arches during the first week of May and the weather was ideal. It was a bit chilly (sweatshirt weather), however, it kept us cool during our hikes. Try not to visit in the months of July/August as the park will be sweltering hot.
Things to Know Before Visiting Arches
Because of its popularity, the national park service has implemented a timed reservation system from April to October. This means you need to reserve your spot to enter the park months in advance

Reservations open up 3 months in advance.
You have an hour window to show up for your reservation. We showed up 2 hours later and the park ranger was nice enough to let us through but said that there have been times when they don't allow people entry if they are that late. So it's best to be on time!

Most hiking trails have a small car parking lot however, can be full by mid-day so it's best to start your day early.
Always practice the 7 principles of leaving no trace behind when visiting national parks.
Canyonlands National Park + Dead Horse State Park is located very close to Arches so consider adding an extra day to visit those parks.
Best Hikes in Arches National Park
Delicate Arch Hike
The big kahuna! This is the reason most people visit the park is to witness this magnificent arch spanning 52 feet tall. It's so magnificent that it's THE arch on the Utah state license plate. Not only that, but it's one of the most famous geologic features in the world.
This delicate arch trail hikes up 500 feet and the start of the hike is almost all uphill with no shade. At the start, you hike past Wolfe Ranch which has an ancient rock with petroglyphs. Make sure to stop and check those out. For the entirety of the hike, you will not see the arch. Once you are nearing the end, you will hike around a narrow traverse and once you round the corner will feast your eyes on the beauty that is Delicate Arch.
Since it is the most popular spot in the park, expect crowds. When we visited mid-day in May it wasn't too crowded and we were able to sit and admire the arch for a bit as well as take pictures.
3 miles round trip
2-3 hours total
hike level: medium to hard
Window Arches
The window arches are visible from the road because they are massive. If you look closely at the North and South window arches it resembles a face. It's such a stunning place and an incredibly short and easy hike. You are able to hike to the North, and South Windows, as well as Turret Arch. They are all incredibly close together (and the double arch is right across the way).
Furthermore, when hiking makes sure to hike the trail around the back of the windows. We are so glad we did see it from another perspective and we did not bump into one person. As most people just view the windows from the front and then leave.
1-mile round trip
30 minutes-1 hour total
Big parking lot located at the trailhead
hike level: easy
Turret Arch
When researching the best hikes in Arches National Park, I didn't see many pictures or information on Turret Arch. Turret Arch gets its name because there is a towering spire to the side of a giant sandstone fin. As mentioned earlier, it's located right next door to the window's arch. Begin here as it's a quick walk up natural steps to best view this beauty.
Double Arch
Double Arch was hands down my favorite in the park. The natural wonder this arch possesses is out of this world. Further proof that Utah is another planet! The double arch trail is short and flat. Whilst hiking the trail, look to your left and you'll see rock formations called the Parade of Elephants. Finally, it's beautiful to visit during spring because of all the wildflowers.
0.8 mile out and back
30 minutes-1 hour
hike level: easy
Devils Garden Loop Trail
Devil's Garden Trail has many different arches to choose from and tons of narrow rock walls that are called fins. It's one of the most popular parts of the park as it offers many different hikes, camping, and stargazing. Within this 8-mile loop, you can pick an easy hike to an extremely advanced hike (looking at you – primitive trail). Hikes such as landscape arch, double o arch, and more. To reach Devils Garden trailhead it's a 45-minute drive from the visitor center.
Below are the garden trail hike details:
Landscape Arch

the longest arch in America
2 miles
add on 0.5 miles to visit Pine Tree arch
relatively flat
hike level: easy

Double O Arch

4.1 miles out and back
steep climb with narrow ledges
hike level: strenuous

Primitive Trail

an alternative route to or from Double O Arch
2.1 miles one-way
hike level: strenuous
Sand Dune Arch
Sand Dune arch is so unique and it completely reminded me of a scene from Star Wars. This short and easy hike sits completely in the shade for the majority of the day and is surrounded by sand. The last hundred yards are a bit narrow on the trail and are reminiscent of a small slot canyon. If you have more time you can even hike the Broken Arch Trail which is located nearby.
0.3 miles from the broken arch trail
hike: moderate
Park Avenue
This hike gets its name from New York City. That's right, the monoliths you see out on the Park Avenue Trail reminded early visitors of skyscrapers lining Park Ave so hence the name. It's located right near the visitor center so is a great way to start or end your trip. We visited on the way out and didn't hike and instead opted to visit the viewing point. It's still just as beautiful to see! Finally, make sure to keep your eyes peeled for Queen Nefertiti Rock.
2 miles roundtrip
hike level: easy
Hiking Arches National Park Itinerary
If you only have one day to visit this is how I would plan out my day:
Windows Arches (north and south and turret arch)
Double O Arch
Delicate Arch
Sand Dune Arch
Devils Garden Trail
Park Ave viewpoint
Where to Stay Near Arches
While all opinions are always my own, my content on this blog post may contain affiliate links for hotels I've traveled to and recommend. This means I get a small commission (at no additional cost to you) if you book a stay after clicking one of these links. As always, I am so thankful for your support so I can continue to offer free resources!
If you're not camping then I highly recommend staying in Moab as it's only a 20-minute drive from the park entrance. Here are my top picks for hotels:
What to Pack for Arches
Thank you for reading my "Best Hikes in Arches National Park" article. If you're headed to Bryce Canyon National Park you can't miss my one-day itinerary. Finally, stay tuned for an epic Utah Road Trip Itinerary to be published soon!
XO,
Courtney