Florence Travel Guide: for a first-time visit
Nothing screams romantic charm and historic culture more than roaming the streets of Florence Italy. Or as the Italians call it Firenze. Florence is one of the most historic cities in Italy. It birthed the Italian Renaissance which inspired artists such as Michaelangelo and many of his masterpieces are still there today. In this blog " A First-Timers Travel Guide to Florence Italy" I cover when to visit Florence, the best places to see in Florence, the top hotels and restaurants, and so much more!
Florence is the capital of Italy and is best known for its art, culture, fine food, and charm. The city is renowned for its incredible art collections and museums. It is home to the Uffizi Gallery, which houses works by renowned artists such as Botticelli, Leonardo da Vinci, and Michelangelo. The Galleria dell'Accademia is famous for Michelangelo's statue of David. The historic center of Florence has been designated as a UNESCO World Heritage Site since 1982, recognizing its exceptional artistic and architectural heritage.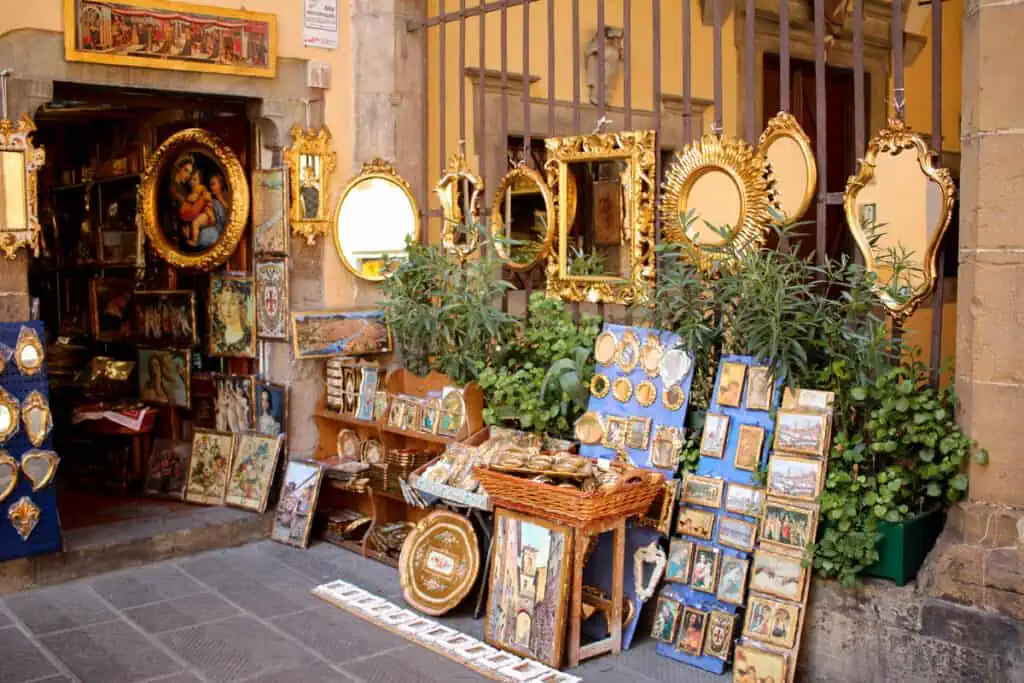 Things to Know Before Visiting Florence, Italy
Florence is best explored on foot. The center of the city is so compact that you can easily walk around for a couple of hours and see the majority of it.
When shopping in Florence, local shops are closed from 1 pm-4 pm for siesta. That is how you'll know if it's an actual local shop or tourist spot.
Pre-book your tickets to the museums. You can spend hours waiting in line for the Piazza del Duomo or Uffizi, it's easy these days to pre-book your ticket.

I typically book my excursions on Viator or Get Your Guide

There is no Uber in Florence. This took us by surprise when arriving at the Firenze Santa Maria Novella train station. We decided to walk to our hotel which was on the Arno. It wasn't the most pleasant experience being that our luggage was making the most noise on the cobblestone streets. In retrospect, we should have taken a taxi!
When to Visit Florence Italy
Florentine summers are hot and humid and most businesses are closed for the month of August. For the best time to visit consider late September or early October. Tourism is at the end of its peak season and the weather is beautiful and sunny!
Spring (April to June): Spring is a popular time to visit Florence, as the weather is generally mild and pleasant. The city comes alive with blooming flowers, and outdoor activities become more enjoyable. However, this is also a peak tourist season, so expect larger crowds and higher prices.
Autumn (September to October): Autumn is another great time to visit Florence. The weather is mild, and the city experiences fewer tourists compared to the summer months. The foliage starts to change, creating a beautiful atmosphere. It's a good time for sightseeing, exploring museums, and enjoying outdoor activities.
While all opinions are always my own, my content on this blog post may contain affiliate links for hotels I've traveled to, tours I've completed, and products I recommend. This means I get a small commission if you book a stay or purchase a product after clicking one of these links. As always, I am so thankful for your support and will continue to share the best properties, things to do, and items I love!
Best Things to Do in Florence
Visit the Piazzale Michaelangelo
The high point of our trip. Literally. When visiting the Piazzale Michaelangelo, is situated on a hill called Monte Pincio, south of the Arno River, and offers panoramic views of the city's skyline. At the center of Piazzale Michelangelo stands a bronze replica of Michelangelo's renowned statue of David. While the original sculpture is housed in the Galleria dell'Accademia, this replica serves as a tribute to the artist and his masterpiece. The statue is a popular photo spot for tourists.
It's completely free to visit and the views at golden hour were spectacular. If you want the place to yourself, make sure to get there early. If you only have time to see one of these places in this Florence Travel Guide, you better pick this one!
The Piazza del Duomo is one of if not the most popular duomo in the world. The square's centerpiece is the Florence Cathedral, officially known as the Cattedrale di Santa Maria del Fiore. This magnificent Gothic-style cathedral is renowned for its striking dome designed by Filippo Brunelleschi. Visitors can admire the intricate marble façade and climb to the top of the dome for panoramic views of the city.
In order to climb to the top of the dome you'll have to walk up 463 steps. But you'll be rewarded with one of the most beautiful sights in Florence. You can pre-book your time slot. Plan to get here early in the morning for the best views and shorter wait times. Piazza del Duomo is not only a focal point for religious and historical landmarks but also a vibrant gathering place where visitors can appreciate the grandeur of Florence's architectural masterpieces.
A notable Italian Art Museum is located in the historic center of Florence. The gallery has been open since the 16th Century and the pieces of art were a gift after the Medici family lost its rule. Showcasing pieces from Michaelangelo, Raphael, Leonardo Da Vinci, and so many more artists. Uffizi Gallery's most prominent piece is 'The Birth of Venus' by Sandro Botticelli. Finally, to make the most of your time in Florence, I highly recommend purchasing the "skip the line tickets" prior to visiting the Uffizi Gallery.
Florence Travel Guide: Visit the Galleria dell'Accademia
Another beautiful Italian Art museum is located in the center of Florence. It's most famously known for housing Michaelangelo's David sculpture. It also has many other Florentine artists' pieces from 1300-1600.
Walk Along Ponte Vecchio and The Arno
Ponte Vecchio is the oldest bridge in Florence. The Italian translation of "old bridge" is literally Ponte Vecchio. When the bridge was in its prime, it was primarily meat vendors. However, the Medici family hated the smell so much, that they made it a law that only jewelry stores can be opened on the bridge. To this day this holds true and you'll find countless jewelry shops on Ponte Vecchio. Finally, The Arno is the river that runs adjacent to Florence's city center. If it's a nice day, walk along The Arno to see what it's like to live as a local in Florence.
Visit the Historic Piazza Della Signoria
Florence is filled with Piazzas (which is simply town square) however the most notable one has to be Piazza della Signoria. Here you'll find a W-shaped square that is historic because it has always been the focal point of the Florentine Republic. The Palazzo Vecchio which is Florence's Town Hall is located in this square. Finally, another popular square is the Piazza Santo Spirito so add that one to your list too!
Visit the Boboli Gardens
The Boboli Gardens is a historical park that was opened to the public in 1766. Originally it was owned by the Medici family and it represents one of the first examples of an Italian garden.
Day Trip to Tuscany for Wine Tasting
Florence is also famous for its wine, particularly Chianti, which is produced in the surrounding vineyards. One of our favorite days of our Florence trip was taking a day trip to the Tuscan vineyards. We booked a Tuscany Wine tour through Viator. It included lunch, transportation to two wineries, and visiting two medieval towns. Each winery offered a guided tour where we learned a great deal about winemaking. The tour took about 6 hours total and was a definite highlight of this Florence Travel Guide!
Best Hotels in Florence Italy
Plaza Hotel Lucchesi: We personally stayed at the Plaza Lucchesi when visiting Florence and would highly recommend it. The hotel is located directly on the Arno River so it's not exactly in Florence's historic center but it's super close walking distance to all the sights. The views from the rooftop are reason alone to stay here! And like most European hotels, breakfast was included. Book your stay here.
Villa Cora: a 19th-century mansion that is secluded in the hills next to the center of Florence. Not only is it a beautiful property, but it boasts a lot of charm and elegance. They have a garden pool and spacious rooms, and the service is unmatched! It's a perfect spot if you want to be more secluded. Book your stay here.
Hotel Savoy: A Rocco Forte hotel located on the Piazza Repubblica, this hotel is luxurious and stylish all in one. It's only steps away from the main fashion houses and super close to the main attractions in Florence. Book your stay here.
Four Seasons Hotel Firenze: who doesn't love a stay at a four seasons hotel? This 5-star hotel is only steps away from the cultural center of Florence. Enjoy a private garden, a luxurious pool, and a delicious on-site restaurant. Book your stay here.
Best Restaurants in Florence
Buca Niccolini – When visiting Florence you absolutely must have the Bistecca alla Fiorentina aka Florentine steak. It's the main dish of Florence dining. Buca Niccolini is known for having the best and it's big enough to split with three people!
Trattoria Zsa Zsa – There is something about sitting in a glass cube that sparks joy in my life. The food at Trattoria Zsa Zsa was not only delicious but decently priced as well. Get the truffle ravioli and you will not be disappointed!
Gusta Pizza – Surprisingly, Italy is not really well-known for its pizza. But this spot has amazing pizza. It's great for on-the-go slices when exploring the city.
Gelateria Dei Neri – The most delicious gelato I've ever had in all of Italy. The portions are amazing and it's located right in the center of town.
For a full restaurant guide to Florence, check out the Best Restaurants in Florence article from Conde Nast traveler.
Best Bars in Florence
Empire Rooftop Bar ($$) – Located in the Hotel Lucchesi this rooftop bar has views of the Duomo. Great bar eats and drinks!
Atrium Bar ($$$) – Elegant and casual at the same time. Great food and an epic atmosphere.
Golden View Open Bar ($$) –Enjoy a glass of vino while looking over Ponte Vecchio. This came highly recommended by a Florence local.
How To Get Around Florence
Since Uber's been banned in Florence, there are plenty of other ways to get around this cultural city…
Walk ($) – Florence is pretty small and very walkable. A lot of places are pedestrianized and most of the streets are so narrow that walking can get you around much faster than driving.
Bus ($) – The ATAF electric bus is a great way to cover a lot of ground. They are made to navigate the narrow streets and run frequently during the day/night. One-day fare is only 5 euros.
Bikes ($$) – We rented bikes for the day and covered so much ground. If you're feeling adventurous you can bike up to the Piazzale Michelangelo. It's all uphill and you have to be in some sort of shape to do so, but the beauty we witnessed was unbelievable!
Grazie for reading my "First-Timers Florence Travel Guide". If you're headed here soon it's safe to say I'm incredibly envious of you. Have the best time and make sure to check out more of my Italy Guides.
Ciao,
Courtney