Nothing screams romantic charm and historic culture more than roaming the streets of Florence Italy (or as the Italians call it Firenze). Florence is so historic, it birthed the Italian Renaissance which inspired artists such as Michaelangelo (many of his masterpieces are still there today)! Florence is the capital of Italy and is best known for its art, culture, fine food, and charm. In this blog " A First-Timers Guide to Florence, Italy" I cover when to visit Florence, the best places to see in Florence, the top hotels and restaurants, and so much more!
Things to Know Before Visiting Florence, Italy
Florence is best explored by foot. The center of the city is so compact that you can easily walk around for a couple of hours and see the majority of it.
When shopping in Florence, local shops are closed from 1 pm-4 pm for siesta. That is how you'll know if it's an actual local shop or tourist spot.
Pre-book your tickets to the museums. You can spend hours waiting in line for the Piazza del Duomo or Uffizi, it's easy these days to pre-book your ticket.

Viator

has some great options!
There is no uber in Florence. This took us by surprise when arriving at the Firenze Santa Maria Novella train station. We decided to walk to our hotel which was on the Arno. It wasn't the most pleasant experience being that our luggage was making the most noise on the cobblestone streets. In retrospect, we should have taken a taxi!
When to Visit Florence Italy
Florentine summers are hot and humid and most businesses are closed for the month of August. The best time to visit would be late September or early October where tourism is at the end of its season and the weather is beautiful and sunny!
Things to Do in Florence Italy
The high point of our trip. Literally. You have a view of all of Florence from up here it's quite the spot, and it's FREE! Make sure to get there early to beat the crowds. It's easy to say if you only have time to see one of these places on this Florence Guide, you better pick this one!
If you're down to climb 463 stairs and see one of the most beautiful sights in Florence than this should be on the top of your list. You can pre-book your time slot here. Plan to get here early in the morning for the best views and wait times.
The ultimate Italian Art Museum located in the historic center of Florence. The gallery has been open since the 16th Century and the pieces of art were a gift after the Medici family lost its ruling. Showcasing pieces from Michaelangelo, Raphael, Leonardo Da Vinci, and so many more artists. Uffizi Gallery's most prominent piece is 'The Birth of Venus' by Sandro Botticelli.
I highly recommend purchasing the "skip the line tickets" prior to traveling since it can sell out quite fast and you don't want to be waiting in line while in Florence.
Visit the Galleria dell'Accademia
Another beautiful Italian Art museum located in the center of Florence. It's most famously known for housing Michaelangelo's David sculpture. It also has many other Florentine artists' pieces from 1300-1600.
Day Trip to Tuscany for Wine Tasting
One of our favorite parts of our Florence trip was taking a day trip to the Tuscan vineyards. We booked a tour through Viator and it included lunch, transportation to two wineries and we even stopped at two medieval towns. Each winery offered a guided tour where we learned a great deal about winemaking. Head to the link above for the tour we chose, it cost around $60 and was a four-hour tour.
Walk Along Ponte Vecchio and The Arno
Ponte Vecchio is the oldest bridge in Florence. The Italian translation of "old bridge" is literally Ponte Vecchio. When the bridge was in its prime, it was primarily meat vendors. However, the Medici family hated the smell so much, they made it a law that only jewelry stores can be opened on the bridge. To this day this holds true and you'll find countless jewelry shops on Ponte Vecchio.
The Arno is the river that runs adjacent to Florence's city center. If it's a nice day, walk along The Arno to see what it's like to be a local in Florence.
Best Hotels in Florence Italy
While all opinions are always my own, my content on this blog post may contain affiliate links for hotels I've traveled to, tours I've completed, and products I recommend. This means I get a small commission if you book a stay or purchase a product after clicking one of these links. As always, I am so thankful for your support and will continue to share the best properties, things to do, and items I love!
We personally stayed here and would definitely choose to stay here again upon our return. Hotel Lucchessi is located directly on the Arno river so it's not exactly in Florence's historic center but super close walking distance. The views from the rooftop are reason alone to stay here. And like most European hotels, the breakfast was included!
A 19th-century mansion that is secluded in the hills next to the center of Florence. Not only is it beautiful, it boasts a lot of charm and elegance. They have a garden pool, spacious rooms, and the service is unmatched!
Located on the Piazza Repubblica, this hotel is luxurious and stylish all in one. It's only steps away from the main fashion houses and a hop skip and a jump to the main attractions in Florence
Restaurants in Florence
Florentine steak is the feat of Florence dining. It's safe to say that if you visit Florence and don't have a Florentine steak, you will be missing out. Buca Niccolini is known for having the best and it's big enough to split with three people!
Something about sitting in a glass cube sparks joy in my life. The food was DELICIOUS as well. Get the truffle ravioli and you will not be disappointed!
Gusta Pizza
Surprisingly, Italy is not really well-known for its pizza. But this spot has amazing pizza. It's great for on the go when exploring and Gusta has affordable prices!
Gelateria dei Neri
Not a restaurant but you can't go to Italy and not eat gelato. This was by far the most delicious gelato I have ever had in all of Italy. Need I say more?
Best Bars in Florence
Empire Rooftop Bar ($$) — Located in the Hotel Lucchesi this rooftop bar has views of the duomo. Great bar eats and drinks!
Atrium Bar ($$$) — Elegant and casual at the same time. Great food and an epic atmosphere.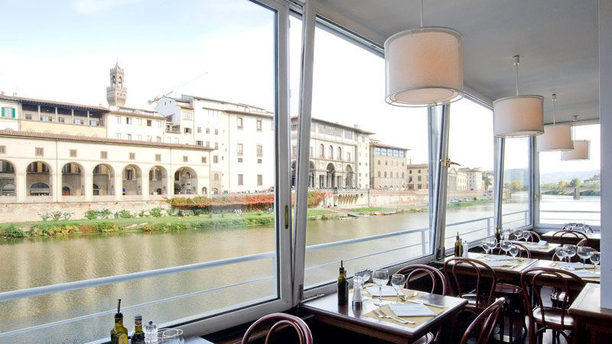 Golden View Open Bar ($$) –Enjoy a glass of vino while looking over Ponte Vecchio. This came highly recommended from a Florence local.
Getting Around Florence
Since Uber's are banned in Florence, there are plenty of other ways to get around this cultural city…
Walk ($) — Florence is pretty small and very walkable. A lot of places are pedestrianized and most of the streets are so narrow that walking can get you around much faster than driving.
Bus ($) — The ATAF electric bus is a great way to cover a lot of ground. They are made to navigate the narrow streets and run frequently during the day/night. One day fare is only 5 euro.
Bikes ($$) — We rented bikes for the day and covered so much ground. If you're feeling adventurous you can bike up to the Piazzale Michelangelo. It's all uphill and you have to be in some sort of shape to do so, but the beauty we witnessed was unbelievable!
Grazie for reading my "First-Timers Guide to Florence, Italy"! If you're headed here soon it's safe to say I'm incredibly envious of you 🙂 I hope you have the best time and if you enjoyed this please share this guide with your family and friends! For more of my Italy guides head here!
Ciao,
Courtney
pin this post to save for later!