What to Pack for Hawaii: a packing list
If you've ever been on a Hawaii vacation then you know once you travel to Hawaii – you will forever want to go back for another trip. Think light fabrics, workout gear for the endless hikes, and all the bathing suits to bask in that Hawaiian sun. Before any trip, knowing what to pack is crucial so I've created this "What to Pack for Hawaii: a Packing List" of things I highly recommend bringing (and not bringing) to the Hawaiian islands.
What to Bring to Hawaii
While all opinions and recommendations are always my own, my content on this blog post may contain affiliate links for products I use and love. This means I get a small commission if you make a purchase after clicking one of these links at no additional cost to you. As always, I am so thankful for your support and will continue to offer free resources!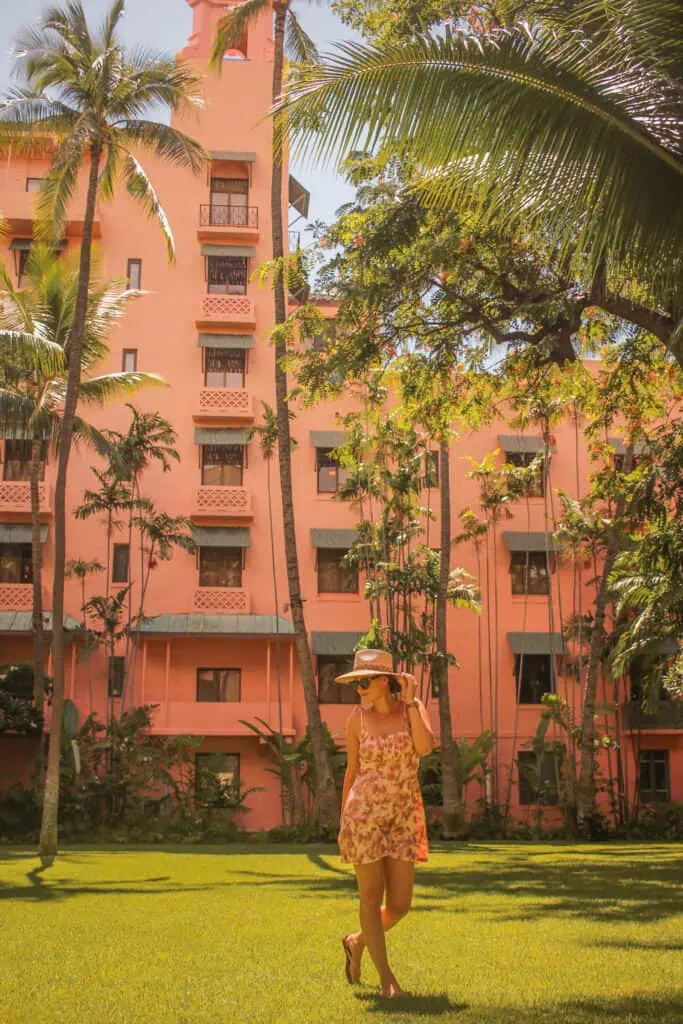 For traveling to Hawaii, since the weather is always humid you should plan on bringing lighter clothing. You'll want to pack for the beach and casual dinners mostly. However, there are tons of beautiful hikes in Hawaii so make sure to pack plenty of activewear as well. Furthermore, the hikes can be pretty muddy so don't count on re-using any activewear! A great rule of thumb is to bring a wet bag for all your clothing items that are too wet to re-pack.
Clothing to Pack for Hawaii
I've curated this list for a 5-night stay in Hawaii. If you plan on staying longer or shorter remove or add items as you see fit. I think it's important to note that you should leave your nice/fancy clothes at home. Since many of the appeals to Hawaii are outdoor adventures you'll mostly be wearing casual clothes. Aside from the occasional dinner outfits.
These Levi shorts from Revolve are another favorite. For easy and affordable basics check out: Abercrombie and Free People. Bathing suits are always so hard to find but I've found that Summersalt and Revolve have the best-fitting swimsuits. Finally, I've found amazing Lululemon dupes on my Amazon shop that are just as good for a fraction of the price, check it out here!
Accessories to Pack for Hawaii
Outdoor Gear to Pack for Hawaii
Miscellaneous Items to Bring to Hawaii
Sunscreen, sunscreen, sunscreen

I cannot recommend this enough! My husband and I went through two bottles alone. Sunscreen is more expensive on the Hawaiian islands so it's best to pack reef-safe sunscreen in your checked luggage.
This GOOP FACE SUNSCREEN BRUSH is perfect for traveling because it adds SPF to your face all while not messing up your makeup. It's my new holy grail product so add it to your packing list immediately!
Finally, my daily moisturizer with SPF is incredible for traveling + every day.

Lotion

Being in the sun all day will really dry out your skin. Plan on moisturizing daily.

Bug spray

Since Hawaii is high in humidity, the mosquitos are no joke. My best travel tip is to use bug spray at night and during your hiking adventures!

Packing cubes

I love these cubes from Amazon and I never travel without them. It's the perfect way to organize your clothing for vacation and you can easily pop them into a drawer when you're checking into your hotel.

Rain Coat

although most times the rain comes and goes if you want to be extra prepared bring a light raincoat or poncho.

Water Bottle
A trash bag

Because of the treacherous and sometimes muddy hikes, your shoes/clothes will most definitely get dirty. It's best to pack a trash bag to throw your muddy clothes and shoes at the end of the trip.
CHECK OUT MORE OF MY HAWAII GUIDES FOR FREE RESOURCES TO HELP PLAN YOUR TRIP!
What Not to Bring to Hawaii
When you get to Hawaii you'll instantly notice the laid-back feel so there is no need to bring the following items to Hawaii and you can leave them off your Hawaii packing list:
High heels
Winter jackets
Bulky sweaters
Expensive dresses and jewelry
I hope you enjoyed this Ultimate Hawaii Packing List. So since you now know what to bring to Hawaii, it's time to start planning your trip! And don't forget to check out the "32 Travel Essentials: to pack for your next trip"!
Aloha,
Courtney
pin this post for later!