Must-Have Travel Essentials: The Ultimate Packing Guide written by a Travel Blogger
Looking for the must-have travel essentials to help pack for a trip? I got you covered! Overpacking is a problem many people deal with when getting ready for a trip. It can be overwhelming to narrow down the necessities. Whether you're heading out for a short weekend trip or embarking on a long haul flight, having a well-curated list of must-have travel essentials can make all the difference. It's important to bring along the essentials that will make your journey comfortable and stress-free.
Being the avid traveler that I am, I have perfected my vacation packing list with items that will make your life much easier when traveling. Forget overpacking and let's get streamlined for your next destination. From luggage and travel accessories to clothing and toiletries, this guide will cover everything you need to know to make the most out of your travels. So you can be well-equipped with must have travel essentials to hop on that flight and be prepared!
While all opinions and recommendations are always my own, my content on this blog post may contain affiliate links for products I recommend. This means I get a small commission if you purchase a product after clicking one of these links at no additional cost to you. As always, I am so thankful for your support and will continue to share only products I truly use and love!
Best Carry-On Luggage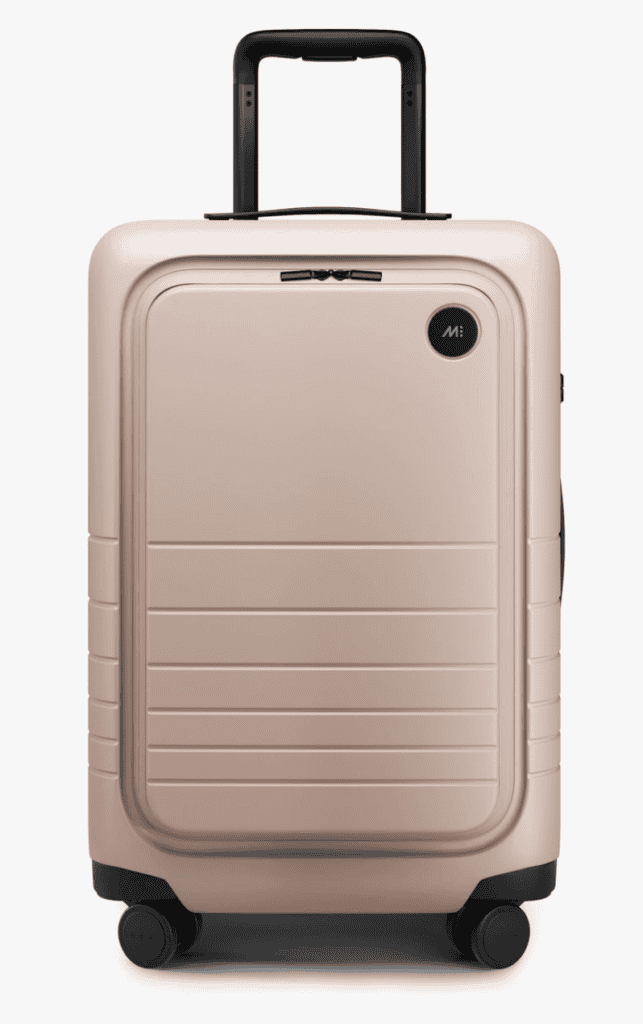 As a travel blogger, I am constantly on the go. When it comes to the dilemma of "to carry on or to not carry on" I always choose the latter. Who wants to deal with the drama of missing luggage? Not I! That's why I always bring a carry-on suitcase (as well as a checked one because a girl needs her options).
I couldn't recommend the Monos Carry-on Pro more. One of the best travel items to invest in. Monos has sleek carry-on luggage equipped with loads of interior pockets to help keep you organized on the go. They also include a lifetime warranty when purchasing so you can ensure you'll have this suitcase for years to come. For my friends on a budget, consider this affordable Amazon version that has great reviews.
Best Checked Luggage
When choosing checked luggage, it's important to pick a sturdy suitcase that's easy to maneuver and has enough space for all your essentials. I would love to be the type of traveler to only bring a carry-on but I need options. This Monos large check-in is a literal lifesaver on long journey travels.
I packed 2.5 weeks of a Fall Europe adventure into this one suitcase alone. It has an unbreakable shell and ample compartments and zipper pockets to keep you organized while you're on the go. The wheels are 360 degrees and are extremely quiet when barrelling through airports. Finally, if you're on a budget consider this Amazon Checked Bag.
Best Travel Bags for Every Type of Traveler
Travel Tote
A travel tote is a great addition to your packing list and will help carry those extra items that didn't fit in a carry-on. A good travel tote should be sturdy, spacious, and lightweight, with multiple compartments to help you stay organized. I love this Tote from BEIS because it's so versatile and it goes with everything. It also has an insert that fits on your suitcase handle and a crossbody strap. All the options! Finally, it allows you to keep your essentials close at hand and provides a convenient way to stay organized on the go. For my friends on a budget consider this amazon Travel Tote.
PRO TRAVEL TIP: Don't pack out the tote before leaving. The reason is you'll never know what you'll pick up on your travels so leave space for a few souvenirs.
Travel Backpack
If you're traveling from city to city with multiple stops then a travel backpack is the way to go! Don't get me wrong, traveling with a tote is chicer however traveling with a backpack is more comfortable. Especially for long travel journeys. I personally use a backpack on most trips and have loved this Lululemon Backpack for years. It fits way more than you would expect it to! I'm able to fit my cosmetic hanging case, a Canon camera, an extra lens, my laptop, a baseball cap, and my AirPod Max headphones. All in this one bag. Don't underestimate this backpack! For a more affordable option check out this one from Amazon.
Travel Weekender
If you're in need of more space than a tote or a backpack then pick up this Weekender Bag. This weekend bag from Beis is great because it not only fits under the seat but is made of cloth fabric which makes it super durable. Along with that, it has a padded laptop pocket and zippered shoe pocket at the bottom to bring that extra pair (because we always need that extra pair right ladies?). No lie, you can fit 3 pairs of shoes on the bottom of this bag. It's incredible for space saving! Finally, check out this budget-friendly Amazon Weekend Bag.
Must Have Travel Essentials Gear
Best Packing Cubes
If you have never packed with packing cubes before, I urge you to try (and then thank me later). When packing, using packing cubes not only help with organization, but you can simply transport the cubes from your suitcase to a hotel dresser with much ease. Unpacking while on a trip has never been easier! Finally, if you're traveling with your significant other, the hack is to purchase two sets (two different colors). This keeps us organized and easily distinguishes which cubes are whose. Finally, I've been using packing cubes for years now and can not leave home without them!
Travel Containers for Liquids
Who wants to lug full-size beauty products on a trip? Not me! When purchasing travel containers it's the perfect way to save space. I swear by these Amazon travel containers. They come in a pack of 4 with a bag for only $12. Talk about a steal! I've been on countless trips and so far there has been no spillage. It's not easy to find containers that don't leak. Finally, you're feeling like you want to be extra cautious consider using a plastic bag to cover the opening of the container after you fill it. Then twist the top on top of the bag.
Cosmetic Case
Having all of your cosmetics in one place is the only way to do it when traveling, ladies. Who wants to scramble to find their moisturizer when you have a new destination to explore? By purchasing a roomy cosmetic case you are saving time by digging through that pack. This case fits all of my makeup and skincare items needed and the hanging option is a great option to have. Finally, I can fit this exact case in my travel backpack with lots of room to spare.
Travel Portable Charger
Nothing is worse than running out of phone battery while you're in a foreign city or even traveling domestically. Do yourself a favor and purchase this portable battery charger so you never have to worry. This rechargeable power bank is my go-to comes in a pack of two so you never run out of juice. Furthermore, it charges your phone fast so you can continue on your journey with a full battery.
Noise Cancelling Headphones
These are my most used item when on a long flight. Nobody wants to hear babies crying or loud people in the midst of conversation when on a long flight. The worst is when someone chooses to watch their phone without headphones cue the eye roll. Do yourself a favor and get these AirPod Max Noise Cancelling headphones so you can sit back and relax. I have had these for a year now and nothing has made my travels more stress-free. You literally cannot hear anything with these on. Finally, for a less expensive version, albeit with similar qualities, check this Amazon pair out!
AirFly Adapter
When traveling, I don't like to use the headphones that the airlines give out. For many reasons. One they're not noise canceling and two the output is so old. Since we are now in the 21st century there is an AirFly adapter that I just started using recently. This allows you to plug into the screen on your seat and listen with your own headphones. Such a game changer when traveling with others too because there are two outputs. This means your partner and you can watch the movie together.
Travel Water Bottle
Don't spend money on overpriced plastic water bottles at the airport. Instead, bring your own reusable one. One of the best useful travel tips out there. Since every airport has filtered fountains that are free to fill up your water. It's so important to hydrate when traveling so you can arrive at your destination refreshed. But don't forget to make sure it's empty before going through security. Finally, for the exact collapsible water bottle I use, pick up this Amazon water bottle that's perfect for extra space-saving.
Travel Wrap
One of my most used essentials for travel is a cashmere wrap. It can serve many purposes on a long-haul flight. You can wear it as a scarf, roll it up to use it as a pillow, or simply wrap yourself up in a cozy blanket when the cabin gets chilly (which it always does. let's be real). This cashmere wrap is a bit of a splurge (think investment piece) but you'll have it for years to come! I included a more affordable option from Amazon as well.
Silk Eye Mask
A silk eye mask is a must-have travel accessory that can make a big difference in the quality of your sleep when you're on the go. When traveling, it's not always easy to get a good night's sleep. Whether you're on a long-haul flight or staying in a hotel room with unfamiliar surroundings. A silk eye mask can help block out light and create a soothing environment for better sleep.
In addition to helping you get better sleep, silk eye masks can also provide a range of other benefits when traveling. They can help alleviate dry eyes and prevent puffiness, as well as provide a sense of privacy and relaxation in crowded or noisy environments.
Travel Adapter
If you have ever traveled abroad and were not able to use your curling iron, I feel for you! The electrical outlets in Europe use a different voltage and plug shape than those in North America, which means that if you plug in a device without an adapter, it could get damaged. When traveling to other countries it's always smart to bring a travel adapter so you can use your electronics with no issue. Finally, we have this Amazon Adapter that has 4 international adapters for multiple countries.
A Straw Hat (Spring/Summer)
Packing a hat is high on the travel essentials list, especially when traveling to warm weather climates. If you want to lay by the pool and protect that precious face or just sightsee and stay nice and cool – make sure to pack a hat! I love my Brixton fedora so much that I own it in 3 colors. Packing Tip: pack the top of the hat with clothing and then surround the hat in your suitcase with soft clothing so it doesn't bend.
Baseball Cap or Beanie (Fall/Winter)
For colder weather climates I always have a beanie or baseball cap on hand. For multiple reasons. One of which is that if my hair is greasy from traveling long days I can throw it on and look put together.
Visor
For trips where I'm active and outdoors, I always pack my oversized visor. It protects my face from the sun and I don't have to worry about ruining it because it was only $17. Sure it may be a little dorky but your girl is a skincare queen so I'd rather that than get sun on my face when being outdoors all day.
Face Moisturizer
Being on a plane for multiple hours can dry anyone out. Don't arrive at your destination with dry skin! Instead, use this Kiehl moisturizer to keep your skin looking nice and refreshed. I don't leave home without it, especially when traveling.
Disinfectant Wipes + Hand Sanitizer
One word: Coronavirus. Let's not forget 2020, the year that took the travel industry by storm. One of the most essential travel items is disinfectant wipes. When traveling it's best to wipe your entire seat, TV, window, and tray table with disinfectant wipes BEFORE sitting down. I'm also linking my favorite shields for those that want extra protection.
Sunscreen
Warm-weather or not, outside or inside, sunscreen is a necessity that everyone needs to use on a daily basis. For face sunscreen, I couldn't recommend Elta MD more. You want to make sure you are always using broad-spectrum sunscreen because it protects against UVA and UVB rays. Elta MD is a dermatologist approved and ever since I started using it, I have never broken out. It's my holy grail skincare item and if I could only pick a few essentials for travel, this would be top of my list!
Sunscreen Brush
Ok, this sunscreen brush is my new favorite item! When traveling, I tend to have a full face of makeup, and reapplying sunscreen in the middle of the day is tough when you are wearing makeup. Cue the SuperGoop sunscreen brush, the easiest way to re-apply sunscreen on the go. It's truly a lifesaver and has come in handy during my recent travels.
Lip Balm
Another travel packing list to check off is lip balm. Unfortunately, many people suffer from chapped lips when there is a change in climate. This Summer Friday Lip Balm is the best for chapped lips. It goes on so smoothly and is not sticky like most other lip balms.
Body Lotion
Ladies, how much do you spend on skincare products? Now ask yourself, how much do you spend on body products? If you are like me, you would pick up whatever lotion was on sale at Target. But let me tell you when I started using Necessaire products the skin on my body never looked better! Not only does this lotion have niacinamide in it but it's fragrance-free and it's a must when packing my bags. You can shop for all the goods here. DON'T FORGET TO USE CODE "LETRAVELSTYLE" FOR 10% OFF.
Travel Card
If you are an avid traveler then one of the best travel products to invest in is a travel card. You can receive many perks such as free upgrades, free flights, and even a companion certificate so your companion can fly for free once a year. I personally use the American Express Delta card for everything and we use our miles to book flights quite often. Last year my husband and I flew to Europe and back for $100. It has an annual fee of $129 and you receive tons of benefits. If you use my Amex referral code you can currently get 50,000 bonus miles signing up!
Must Have Travel Essentials Checklist
Below I covered the ultimate trip packing list for you to check off before your flight. Screenshot this travel packing checklist to help you plan:
Best Packing Tips from a Travel Blogger
Over the past 10 years, I have learned quite a few packing tips. I'm spilling the tea below!
Use packing cubes! It's the best way to organize and save space and time while traveling
Roll your dresses altogether. Start by laying them all flat on top of each other and fold in the corners then roll and pack in a packing cube. You will save so much space!
The same can be applied to tops.
Pack socks and accessories inside your shoes.
Consider travel compression bags for heavier items. I use these when I travel in the fall/winter to pack sweaters and I'm always pleasantly surprised by how good they work.
If you're not using a travel-safe container then use plastic wrap underneath the caps of your toiletry items.
Well, there you have it. If you use this "Must Have Travel Essentials Packing List", you will be more than prepared! Thanks for reading this must-have travel essentials post and check out more of my travel guides!
XO,
Courtney
shop this post
pin this post for later