An Ultimate Guide to The Algarve Coast's Best Beaches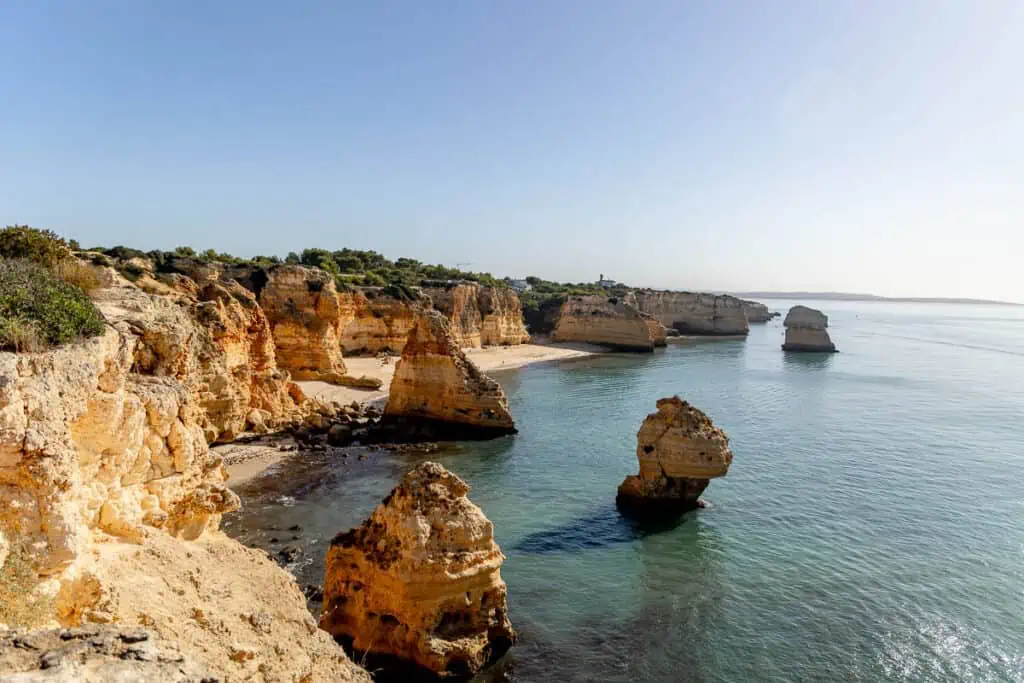 Nestled along the southwestern edge of Europe, the Algarve Coast of Portugal boasts some of the most breathtaking beaches in the world. With its stunning cliffs, crystal-clear waters, and golden sands, this region is a haven for sun-seekers, nature enthusiasts, and adventure lovers alike. In my professional opinion, it now rivals the Amalfi Coast for the most beautiful coastline in Europe. The best thing about the Algarve? It's way less busy and more affordable than the former.
If you're dreaming of a coastal escape that combines natural beauty with a rich cultural experience, you've come to the right place. In this blog, I invite you to embark on a virtual journey through the Algarve's most alluring coastal destinations. From secluded caves and rugged cliffs to lively resorts and charming fishing villages, the Algarve has something for everyone. Whether you're planning a relaxing beach vacation or seeking out thrilling water sports, this region offers a diverse range of experiences that will leave you speechless.
Things to Know Before Visiting the Algarve Coast
3 days is enough to cover a lot on the coast but I would recommend 5 days so you can dedicate a few to just relaxing beachside.
You most definitely need a car to get around but the roads here are very easy to drive on and not narrow like Sintra. Also, most of the beaches have free parking lots.
Praia = beach and we noticed a lot of the beaches during our research were mislabeled. After extensive research, know that these beaches are all properly labeled.
Many people make Lagos their home base but we stayed near Albufeira and would recommend that because you can cover a lot more ground.
•many beaches you need to climb down to get to but most have staircases – I'll make sure to include which ones do below
Where to Stay on the Algarve Coast
The first thing you want to ask is what town to stay in. The Algarve Coast is 96 miles long so there are tons of accommodations to choose from when staying on the coast. It's known for its diversity, with bustling cities, charming towns, and tranquil coastal villages. We personally stayed in Albufeira and loved how it was situated in the middle of the coast. Here are some options for your stay:
While all opinions and recommendations are always my own, my content on this blog post may contain affiliate links for hotels I've traveled to, tours I've completed, and products I recommend. This means I get a small commission (at no additional cost to you) if you book a stay or purchase a product after clicking one of these links. As always, I am so thankful for your support so I can continue to offer free resources.
Albufeira: If you're looking for a bustling beach resort town with a thriving nightlife, Albufeira is the place to be. It's particularly popular among tourists and has a wide variety of hotels, apartments, and vacation rentals. We personally stayed here and would highly recommend staying as it's an excellent base. Book my hotel pick for staying in Albufeira!
Lagos: For a vibrant beach town experience, Lagos is a top choice. This coastal gem is known for its stunning beaches, dramatic cliffs, and bustling nightlife. You'll find a wide range of accommodations, from budget hostels to luxury resorts. Book my hotel pick for staying in Lagos!
Faro: As the region's capital, Faro offers a mix of cultural attractions, historic sites, and a lively atmosphere. Consider staying in the Old Town area to be close to restaurants, shops, and historical landmarks. Book my hotel pick for staying in Faro!
Algarve Coast's Best Beaches
Marinha Beach
Marinha Beach is easily the most iconic beach on The Algarve Coast. It's most recognizable by its striking natural beauty and unique rock formations. The coastline is characterized by dramatic limestone cliffs that have been intricately eroded by the sea, creating stunning rock formations and arches. The most famous rock formation is the double arch which resembles a heart.
Marinha Beach is accessible via a staircase leading down the cliffs. While this may require a bit of effort to descend and ascend, it adds to the sense of seclusion and adventure that the beach offers. Along with that, the water is very calm and bright turquoise blue making it a The walk down the stairs provides breathtaking views of the coastline.
Furthermore, you can hike the Seven Hanging Valley trails. A moderate cliffside 7-mile trail that hugs the coast. It takes roughly 3 hours to complete. At the beginning of this trail is where you'll find the path that leads to the heart-shaped arch. You'll want to go right from the parking lot, down the stairs, and when you see a large sign walk north of that sign a ways. Finally, when visiting, it's best to get here early. We arrived at 9 am and there were plenty of spaces but once we left at 11 am there were no more spots in the lot.
free parking lot (get here EARLY)
staircase to beach
restrooms
beach chair and umbrella rentals
food trucks and vendors selling beach goods
Praia do Camilo
The most famous staircase in the Algarve has to be the one at Praia do Camilo. This beach is celebrated for its extraordinary natural beauty. The beach is tucked between towering cliffs, creating a secluded and intimate atmosphere. The cliffs are composed of golden limestone, and their unique shapes and colors add to the beach's charm.
Along the top, you have a small path that hugs along the cliffs to walk about. And there is a cafe right at the top of the stairs selling small bites and smoothies. To access the beach, visitors must descend a steep wooden staircase carved into the cliffs. This descent is part of the adventure and offers stunning panoramic views of the surrounding coastline. Finally, the climb back up is a bit of a workout, but it's well worth the effort.
free parking lot (entrance was under construction September 2023)
restrooms
large staircase to access the beach
cafe selling small bites and smoothies
Ponta da Piendade
As for the prettiest view on the Algarve coast, Ponta da Piendade won that award for me! The coastline features impressive rock formations, sculpted by centuries of erosion and the relentless force of the Atlantic Ocean. These beautiful rock formations include arches, pillars, and sea stacks, creating a dramatic and visually captivating landscape. This viewpoint is located within walking distance from Praia do Camilo and is reminiscent of Capri, Italy.
Furthermore, visitors can access Ponta da Piedade by taking a boat tour or by descending a series of steps carved into the cliffs. It was quite steep! But being that it provides a close-up view of the rock formations, it's well worth it. The boat tours offer an opportunity to explore the sea caves and grottoes along the coast. You can pick up a boat tour at the end of the stairs with no prior reservation needed. Finally, the cliffside walk provides a breathtaking perspective from above.
free parking lot
restrooms
steep stairs descending down
can view the arches from up above
small beach cafe atop – selling ice cream, small bites, and drinks
Praia Dona Ana
Praia Dona Ana beach is situated in a secluded cove surrounded by golden cliffs, creating a breathtaking and picturesque setting. Like most of the coast, their unique rock formations and warm, golden hues, make this beach a visual treat.
The waters at Praia Dona Ana have remarkable clarity, making it an ideal location for swimming and snorkeling. The calm and transparent waters allow you to observe marine life and underwater features with ease. It's the perfect spot for families and to relax beachside for a few hours. Finally, this beach is a short drive from Praia do Camilo.
free parking lot (which was full around 2 p.m. when we visited)
restrooms
stairs descending down
vendors selling beach gear
São Rafael Beach
Praia de São Rafael is another breathtaking gem along the Algarve Coast of Portugal. Nestled near Albufeira, it's a popular destination for both tourists and locals, and it's celebrated for its natural beauty, golden sands, and clear waters. While São Rafael Beach is well-loved, its relatively remote location and the cove's natural features create a sense of seclusion and tranquility. It's a great place for those who prefer a quieter beach experience.
Furthermore, the beach cafe here was among one of my favorites. Serving a delicious sangria, sandwiches, and small bites. You can also rent beach chairs here and the umbrellas were reminiscent of Tulum. Finally, there is a small wooden path that takes you down to the beach and it is not as steep as the other beaches on this Algarve Best Beaches list.
free parking lot
restrooms
beach chair rentals
beachside cafe
a small wooden path leads down to the beach
Praia dos Três Irmãos
Praia dos Tres Irmaos was another favorite of mine due to its captivating and relatively secluded beach. One of the most beautiful beaches on the coast this one is known for its distinctive natural beauty. A harmonious blend of golden sands, towering cliffs, and the presence of unique rock formations. It gets its name from the three unique rocks on the beach which are called the "three brothers".
Moreover, what sets this beach apart are the unusual rock formations that dot the shoreline. Large sea stacks and rock arches add to the charm of the beach, providing captivating opportunities for exploration and photography. Finally, when we visited in September, there was quite a bit of seaweed on the shore however, it was so peaceful to visit early in the morning.
free parking lot
restrooms
multiple beach chair rentals
multiple cafes + restaurants
Praia da Albandeira
This beach is known for its natural beauty, rugged coastline, and peaceful atmosphere which makes it a fantastic destination for those seeking tranquility and unspoiled landscapes. Along with that, the most notable feature is the arch that jets out into the sea. The water is extremely clear here compared to some of the more popular beaches along the Algarve Coast.
Additionally, this beach is relatively secluded and because of that, there are limited facilities at this beach. The remote setting provides a sense of tranquility and is perfect for those looking to escape the crowds. Finally, we witnessed people horseback riding here at sunset and it was one of the most magical moments we had on the coast.
free parking lot
small cafe
staircase to access the beach
Beach Estudantes
Praia do Estudantes is known for its natural beauty. It features golden sands, clear waters, and the iconic Roman-style bridge that looks out into the ocean. It is very reminiscent of the Amalfi Coast. While the unique bridge feature was stunning, I have to say I was underwhelmed with this beach as a whole. There was quite a bit of graffiti on the limestone cliffs and the water wasn't as clear as the other beaches. Nonetheless, it's worth a visit to view it and move along.
free small parking lot
staircase to access the beach
Carvoeiro Beach
One of the most unique towns on the coast is the small fishing village of Carvoeiro. Nestled in the Lagoa municipality, Carvoeiro is celebrated for its stunning coastal scenery, charming village atmosphere, and rich history dating back to the Roman period. The iconic "Algar Seco" rock formations, with their sea caves and grottoes, are a prominent feature and attract visitors from around the world.
The town offers several beautiful beaches, including Praia de Carvoeiro, which is situated in the heart of the town and is perfect for sunbathing and swimming. The town center is a charming and bustling area, known for its colorful buildings, cafes, restaurants, and shops. Finally, it's a delightful place to stroll around, enjoy local cuisine, and soak in the vibrant atmosphere. It's the perfect place to stop for lunch!
Street parking is limited
chair rentals available
the beach is easily accessible
to view the colorful town walk up the road to the left of the beach
Praia de Caneiros
Praia de Caneiros is an exceptional natural beauty. The beach is surrounded by rugged limestone cliffs and features soft golden sands, making it a visually captivating and serene spot. The coastline is adorned with distinctive rock formations, including sea stacks, caves, and arches. These formations create an exciting environment for exploration and photography.
Along with that, this beach features the prettiest beachside cafe on the coast, Rei das Praias. Making it the perfect stop for a late afternoon to enjoy a spritz! We personally relaxed and enjoyed a swim here which I highly recommend. Finally, they offer chair rentals and have a more casual cafe down below.
free large parking lot
casual beachside cafe
relaxed restaurant with a view
chair rentals available
Best Things to Do on The Algarve Coast
Boat Tour of the Benagil Caves: We booked a private tour of the Benagil Caves for sunrise and it was a beautiful experience. Not only are you able to visit the caves but you visit notable rock formations along the coast. One was the "yellow submarine" rock in which the Beatles gained inspiration from their 1968 hit.
Visit Ria Formosa Natural Park: Formosa is a protected natural park encompassing a network of lagoons, tidal inlets, marshes, and barrier islands along the Algarve Coast. It stretches across approximately 18,400 hectares and is one of the most important and diverse coastal ecosystems in Portugal. Furthermore, the park has a rich biodiversity, serving as a habitat for numerous bird species, marine life, and plant species.
Kayak or Boat Tour: I am a firm believer that coastlines are best viewed by the water. Make sure to get out there and view some of this stunning coast for yourself.
The Algarve Coast of Portugal, with its stunning beaches, charming towns, natural wonders, and warm Mediterranean climate, is a destination that leaves an indelible mark on those who visit. From the iconic cliffs of Praia da Marinha to the vibrant streets of Lagos and the tranquil beauty of Praia de Caneiros, the Algarve offers a diverse range of experiences for every traveler. Finally, it's a destination that awakens the senses and captures the heart, and allures travelers (myself included) to return time and time again.
Thank you for reading fam! Don't miss my 10-day Portugal Itinerary for a more extensive guide on the rest of this beautiful country.
XX, Courtney