Tips on Visiting the Carlsbad Flower Fields
It's that time of year again. The Carlsbad Flower Fields visiting season is almost here! Over 50 acres of giant Tecolote Ranunculus in North San Diego County bloom for 6-8 weeks out of the year. It's one of the best spring activities in Southern California and this San Diego local is here to help you with everything you need to know before visiting. With all the rain SoCal has had in the past few weeks will make for an extra blooming season. In this "Complete Guide to Visiting the Carlsbad Flower Fields" I'll share all the tips, when to visit, and what to expect for the 2023 season.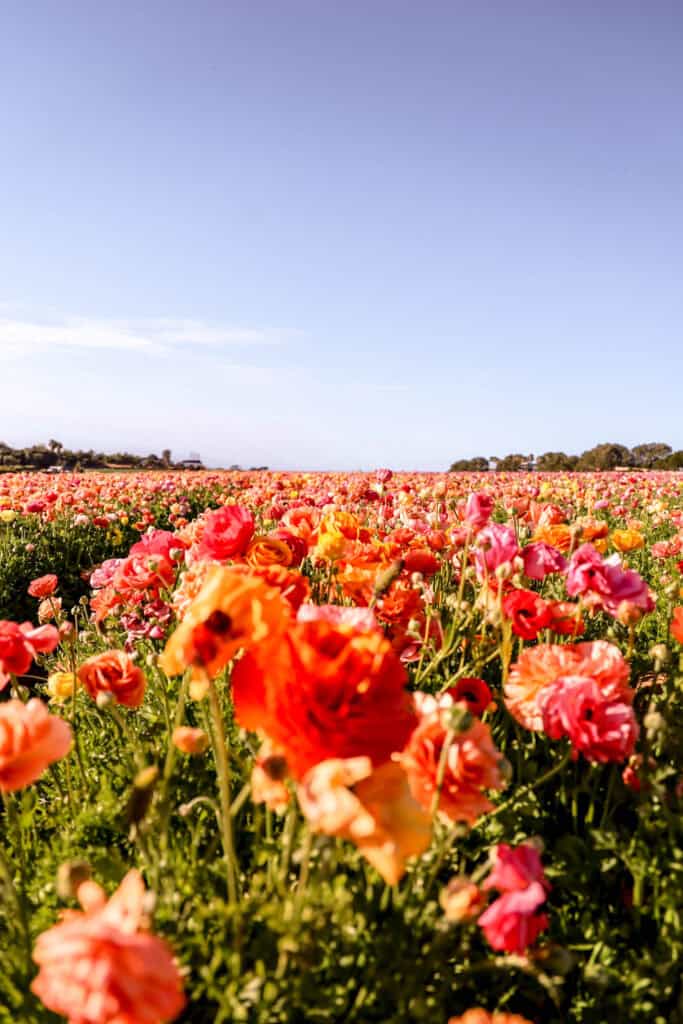 About The Flower Fields
The Carlsbad Flower Fields have been in production for almost 85 years. A horticulturist settled here in the 1920s and started planting ranunculus seeds in rows next to a small vegetable farm, Carlsbad ranch. It was a labor of love to get to where it's at today. But skip to the present day and now there are thirteen color variations and over 50 acres of beautiful flowers that we get to experience for years to come. It's reminiscent of a flower field in Europe and is such a fun activity for everyone to enjoy!
Address is 5704 Paseo Del Norte, Carlsbad, CA 92008
Carlsbad Flower Fields Opening Times + Tickets
The Flower Fields are open every day from 9 am to 6 pm. The season starts on March 1st and runs until the week after Mother's Day usually. You can buy your tickets online here! You'll have to book in advance and although the time slots are only for 30 minutes, it doesn't mean you only have a 30-minute visit. They do not monitor how long you are in the fields.
adults are $17
children $5
season pass adults $46
season pass children $10
parking is included
Attractions at the Field
Not only are there rows of stunning Flower Fields, but there are plenty of other attractions to enjoy while visiting. Firstly, Armstrong Nursery is located out front which has potted plants and fresh-cut ranunculus flowers you can purchase along with plants and garden accessories. You can also indulge in some snacks (do not sleep on the Strawberry Shack). Lastly, there are tons of fun activities for kids to keep them entertained!
Tractor Wagon Ride
Bird Aviaries
Orchid Greenhouse
Santa's Playground
Sweet Pea Maze
Butterfly Garden
Multiple Gardens (including a demonstration garden)
Snacks + Drinks
Pizza trolley
Sweet swirls Ice Cream
Coffee cart
Kettle Corn
Strawberry Shack (I've had this myself and it's so delicious, highly recommend leaving room for this!)
Tips on Visiting
I have visited the Carlsbad California flower fields many times, so I can consider myself an expert. There are some things to know about visiting. For one, wear closed-toe shoes or booties. The fields can be extremely dusty and dirty so keep yourself intact by wearing the proper shoes. Also, it's extremely important that you know not to walk through the fields. There will be ropes up to block people from actually walking through the fields for photos. It can damage the flowers and they do have security guards on golf carts surveying the premises to make sure you stay within the designated areas.
Don't worry, you can still get beautiful photography you just need to be a bit more creative. Finally, they have designated photo areas at the end of each field. Below you'll find some photography tips to make your trip easier.
Photography Tips
You are allowed to bring a camera, tripod, and any other photography accessories you may have. Do note that they do not allow drones on the premises and you will need to get a special permit if you want to shoot commercial photography (weddings, family photos, etc). At the end of most rows, there are white benches that you can get creative with to take amazing photos. For instance, the photo above was taken because I was kneeling down in front of the bench and my husband shot from above. You can also sit on the bench and have your photographer go off to the side and shoot from lower so it looks like you're fully in the fields. Finally, these photos were taken in March at golden hour (we had 4 pm tickets), and highly recommend going during the week at that time if you can. The crowds are sparse and the lighting is perfect!
Thank you for reading my "Locals Guide to the Carlsbad Flower Fields". Do you have any other questions for me? Drop them below and for more of my San Diego travel guides click the link!
pin this post for later
XO,
Courtney