Best Palm Springs Instagram Spots
Palm Springs is a little oasis tucked away in the desert with beautiful mountain views, beautiful weather most of the year, and the prettiest mountain backdrops. Palm Springs is so aesthetically pleasing and picturesque that it's easy to stop for photos while exploring all this city has to offer. In this guide, I've mapped out the "19 Best Palm Springs Instagram Spots" in order to make your trip to the desert more photogenic.
The Pink Door + Mid-Century Door Tour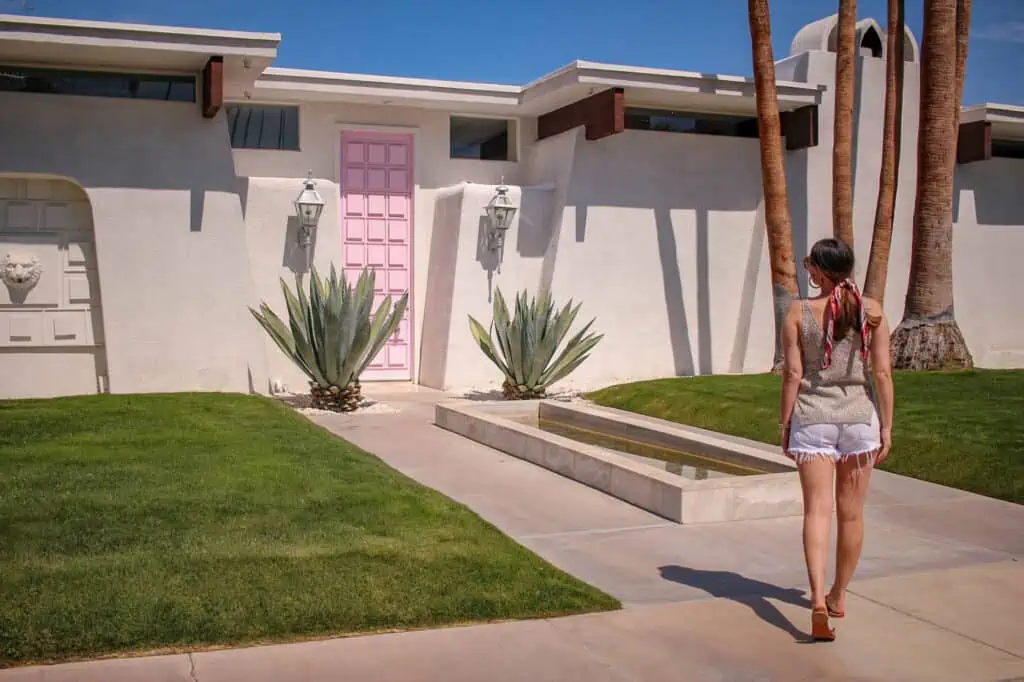 This house is so famous it has its own Instagram account. Palm Canyon Drive is known as "the heart of the city" and it's easy to see why. Along with The Pink Door home, there are tons of alternate colorful doors in this neighborhood and houses that look like they belong in a vintage Hollywood film. It's best to drive around at your own pace so you can check them all out since each one has its own flair. Plan to spend an hour or two driving around ogling at the homes.
Located off of East Palm Canyon Drive.
The Sands Hotel & Spa
This boutique hotel was completely revamped in 2009 and is now a Palm Springs staple (even though it's technically located in Indian Wells). Morrocan-inspired vibes adorn every corner and there is a new photo opportunity awaiting everywhere at this hotel. The hotel's restaurant, The Pink Cabana, is an interior design dream designed by the legend Martyn Lawrence Bullard. They serve delicious brunch and dinner as well! Finally, I've written an entire hotel review on The Sands Hotel & Spa.
Located at 44-985 Province Way, Indian Wells, CA 92210
The Parker Hotel
Photo Credit Taylor Crary
Chic, indie, and hip all embody the vibe at the Parker Palm Springs. It was designed by Jonathan Adler who is famous for his American glamour style. This hotel is most famously known for the giant white patterned wall that broke the internet. Unfortunately, the hotel does not allow anyone to shoot with a DSLR camera so you will have to settle for iPhone photos. Unless you want to fork up $2500 for a permit!
Located at 4200 E Palm Canyon Dr, Palm Springs, CA 92264
The Saguaro Hotel
Photo Credit Taylor Crary
The most Instagram-friendly Palm Springs Hotel is the Saguaro Palm Springs. The rainbow of colors adorns the exterior and interior of this bright hotel. And the mountain backdrop makes this hotel a photographer's dream. Finally, the pool is the best way to capture these beautiful colors with a cocktail in hand of course!
Located at 1800 E Palm Canyon Dr, Palm Springs, CA 92264
Moorten Botanical Garden
You can visit the world's first Cactarium, the Moorten Botanical Garden. This garden is a great spot to stop and marvel at all the cacti. It's also perfect for photo ops. At only $5 to enter, you can explore the entire place in less than an hour. They have tons of plants and succulents to shop for as well. We picked up some tiny ones for the house that were $1.25 each. I can't pass up a good deal!
Located at 1701 S Palm Canyon Dr, Palm Springs, CA 92264
Hotel California
This boutique hotel has such a cute exterior, it's perfect for shooting photos. Unfortunately, this is not the iconic Hotel California made famous by The Eagles, that one is located in Baja, Mexico. But this one is way cuter, trust!
Located at 424 E Palm Canyon Dr, Palm Springs, CA 92264
S Yosemite Street
Just outside of Palm Springs and around the corner from the Pink Door house South Yosemite street has breathtaking views of the mountains. And even more beautiful mid-century homes. Every street is lined with palm trees and all the homes have stunning architecture mixed with landscaping. It's a treat!
Located off of S Calle Pallo Fierro
Palm Springs Sign
This sign is located at the Visitor Center in Palm Springs and it's the perfect place to snap a picture with the overgrown bougainvillea and San Jacinto mountains framing the background. It's easy to spot, rarely busy, and you can park in the Visitors Center for free. Finally, the golden hour is the best time to shoot.
Located at the Visitor Center in Palm Springs, CA 92262
The Colony Palms Hotel
This iconic hotel dates all the way back to 1936 and the old Hollywood charm makes this place a perfect getaway. Its Spanish architecture and picturesque pool views make this hotel super photogenic. It's located near downtown but still embodies a little oasis!
Located at 572 N. Indian Canyon Drive, Palm Springs, CA 92262
Andreas Canyon
Andreas Canyon is located south of Palm Springs and it's an easy 1-mile loop that boasts the most gorgeous views. Think Pride Rock vibes. It costs $9 a person to enter and is open from 8 am-5 pm. Find more information here!
Address: S Palm Canyon Dr, Palm Springs, CA 92264
Salvation Mountain
A man-made structure dedicated to God an hour outside of Palm Springs. Artist Leonard Knight used half a million gallons of paint to express his love for God. It's a unique piece of art surrounded by other art sculptures in Slab City.
Travel Tip: It's free to enter they accept donations only. It's in the middle of nowhere California so be prepared for that. It's best to get here in the morning when it's not busy and a little cooler.
Located at Beal Rd, Calipatria, CA 92233
Palm Springs Aerial Tramway
Did you know that Palm Springs has its own aerial tramway? The Palm Springs aerial tramway is the largest in the world! It goes all the way to the peak of the San Jacinto mountains. It takes 10 minutes to reach the top and there is a restaurant along with hiking trails atop the mountain. Finally, for more information check out the Aerial Tram Information Site.
Other Palm Springs Photo Spots
Kimpton Rowan Hotel
Joshua Tree National Park
Desert X Installations are usually once every two years
Palm Springs windmills
La Serena Villas
Marilyn Monroe sculpture
Lykken Trail
Les Cactus Hotel
Ace Hotel
I hope you enjoyed my "Best Palm Springs Instagram Spots". Finally, you can't miss my ULTIMATE PALM SPRINGS WEEKEND GUIDE!
XO,
Courtney
PS The Saguaro + The Parker pictures were taken by the wildly creative Taylor Crary from A Taylored Approach – check out her blog for more goodness!
pin this post to refer back to!