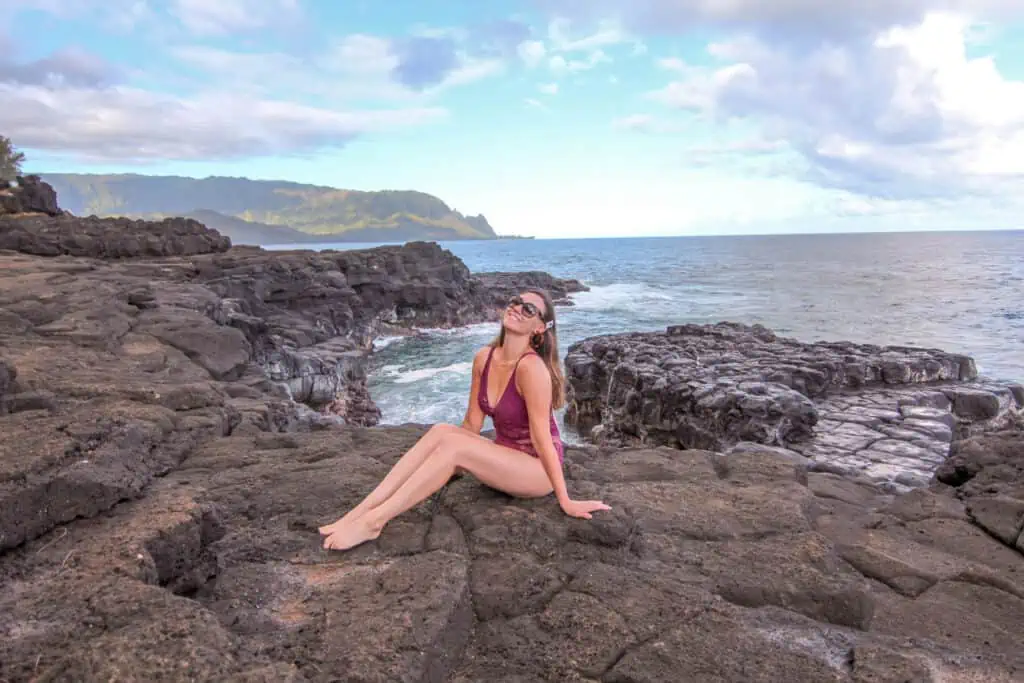 When researching our trip to Hawaii, the number one thing I googled was "How to get to Queen's Bath in Kauai?" I couldn't find the information I was looking for. So that's why I've created this post for you so you can learn everything you need to know before visiting Queens Bath!
In the ancient days, Queens Bath was a place where royalty went when they wanted to relieve stress. The tide pools were formed and separated from the ocean by lava rock. We were lucky enough to experience this place for ourselves and it was the highlight of our Kauai trip!
DISCLAIMER: It is VERY dangerous to visit Queens Bath! During high tide, when the waves are above 4 ft, and in the winter months, the waves could sweep you out to sea. So please be super cautious of the times you go. It's best noted to not go if the waves are above 4 ft.
Where to Park at Queens Bath?
First things first, parking. There is a small lot that holds about 10 cars adjacent to the trailhead. During summer months and high tourist seasons, you need to get there earlier than 8 am in order to snag a spot. Princeville is a small Kauai community and you're not able to park on the streets without a permit. If you miss out on a spot in the small lot, there is another public lot that you can park at. It's a 15-minute walk away from the trailhead.
The Trailhead to Queens Bath
Please always plan your visit by the tide chart and visit during the lowest tide possible. When you get to the lot the gate may be closed. Many people turn back after seeing the closed gate, but there is an entrance all the way to the right of the gate (pictured above) where you can access the trail. Pro-tip is to grab a walking stick once you walk through the entrance. It came in handy for me as I was hiking down to the tide pools since it's a rocky uneven path.
The terrain is very rocky and it's best to use hiking shoes/water shoes because your feet may get wet. It takes 15-20 minutes (depending on your athletic ability) to get down to the tide pools. Please note that right before you get to the baths you have to scale down a pretty large rock.
Tide Pools
Once you arrive, there are a couple of tide pools to check out. When the waves are less than 4ft tall, you can scale down the rocks to swim in the waters but being that it was choppy the day we went, we admired the pools from above. It was still beautiful to visit even though we did not swim.
So there you have it, folks. If you're brave enough for this hike, you can bathe like royalty. I hope this makes your trip to Queens Bath a little easier and if you have any other questions leave them in the comments below!
Finally, if you're headed to Kauai soon you'll want to check out my Ultimate Kauai Travel Guide.
Aloha,
Courtney