The Ultimate 5-Day Kauai Itinerary: a travel guide
Looking for the ultimate Kauai Itinerary? Well, you've come to the right place! There are very few places that possess the sublime beauty that Kauai has to offer. It's a true hidden gem filled with secluded beaches, geological wonders, and the bluest water I have ever seen. I firmly believe that Kauai needs to be experienced by everyone once in their lives! It completely exceeded all of our expectations so that's why I created "The Ultimate 5-Day Kauai Itinerary: a travel guide" to help you plan the perfect trip!
About Kauai Hawaii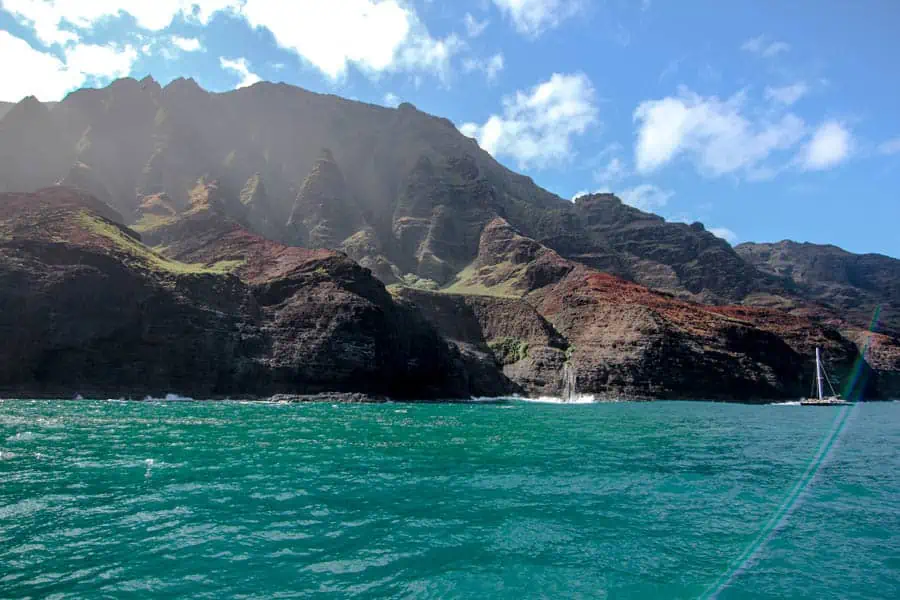 Did you know that Kauai is the oldest Hawaiin island dating back over 5 million years? Kauai is known as "The Garden Isle." You'll understand why it's called that the second you step off the plane. It's also one of the lesser developed islands so the vibes are very laid back. The floral aroma that fills the air is indescribable and it was one of my favorite things about visiting Kauai.
Kauai Weather
Kauai is known as one of the wettest places in the United States as well as all the main Hawaiian Islands. Because of that, the weather can be tricky. Knowing the best time to visit is crucial. For the best time to visit Kauai, I would consider a trip from late April to October. That way the chances of a dry temperature are greater. The rainy season begins in December and goes through March so just be aware of that when booking your travel!
Things to Know Before Visiting Kauai
Below I'm sharing some Kauai Travel Tips:
You'll need a car to experience Kauai and rental cars can cost about $50-70 a day. I recommend renting a Jeep with a detachable roof or a Mustang convertible! I always heard that the gas is more expensive in Hawaii but tbh it wasn't much more than it was in Southern California.
There is only one main road on Kauai (Highway 56) and even though tourism has grown in Kauai, the roads did not – so be sure to be prepared for traffic at any time.
The North and south sides of the island have completely different climates. With the South being more dry and sunny and the north being more cloudy and rainy. The North is known for its scenery but can be quite rainy at times so if you're in search of sun stay somewhere in the southern part of the Island.
Best Things to Do in Kauai
While all opinions and recommendations are always my own, my content on this blog post may contain affiliate links for hotels I've traveled to, tours I've completed, and products I recommend. This means I get a small commission (at no additional cost to you) if you book a stay or purchase a product after clicking one of these links. As always, I am so thankful for your support so I can continue to offer free resources!
Explore The Na Pali Coast
Located on the Northwest side of Kauai, this stunning and untouched piece of nature is a true natural wonder of the world. I believe that the Na Pali Coast is reason enough to visit Kauai. It's known for its dramatic cliffside views, cascading waterfalls, and insane hiking views that will leave you absolutely speechless. Below I've listed a couple of ways to experience the Na Pali Coast in this Kauai Itinerary
Na Pali Coast Boat Tours
Kauai Boat Tours are the easiest way to access the Na Pali Coast. This was another highlight of our trip! We sailed along the Na Pali coast, followed a school of dolphins, swam in the ocean, ate delicious food, drank unlimited beers and wine, and were in good company the entire time. We would highly recommend this boat tour for booking your Kauai Tours adventure! If you ask them nicely, they might even let you drive the boat.
Kauai
Helicopter Tour

s

The prettiest views of all of Kauai are best seen from a Kauai helicopter tour! I couldn't recommend booking this experience more! Each tour is typically a 60 to 90-minute helicopter ride through the valleys of the Na Pali coast. You'll be rewarded with 360 views of this rugged coastline – it's truly an otherworldly experience. Click here for the best-reviewed helicopter tour!
Visit the Waimea Canyon
The Waimea Canyon is known as the "Grand Canyon of the Pacific" and once you visit, you'll see why. Waimea is Hawaiin for "reddish water" and the canyon is given its name because of the red soil that encompasses Waimea Canyon. Measuring 10 miles wide and 3000 feet deep there are hiking trails, waterfalls, and sweeping views that will make you feel as though you stepped onto another planet. My favorite was the red dirt falls pictured below!
There are four trails in total that you can hike here:
Cliff Trail: Easy
Canyon Trail: Moderate
Black Pipe Trail: Moderate
Kukui Trail: Difficult
Visit
Queens Bath
Queens Bath is a myriad of ancient tide pools located in the town of Princeville, Kauai. There is a small hike to get to this natural wonder so it's typically secluded. It's very important to go only when the tide is low otherwise the current could be very dangerous. I dedicated an entire post to getting to Queens Bath. So check out my "How to Get to Queens Bath" post. Finally, it was our favorite part of this Kauai Itinerary.
Visit the Coconut Coast
Kauai's east side is referred to as the coconut coast. Amongst the clusters of coconut trees (hence the name), you'll find historic places, amazing beaches, and memorable attractions. The most populated parts of the island are located on the coconut coast, Wailua and Kapaa. Here are the main things to do when visiting the east side of Kauai:
Opaekaa Falls
Wailua River
Fern Grotto
Kapaa Town
Explore Hanalei Bay + Pier
Hanalei is located on the North Shore of the island and is so incredibly charming! It's known for its crescent-shaped bay, the pier, delicious food trucks, and the best of all — the mountainous backdrop of the Na Pali Coastline. Vogue named Hanalei the trendiest town in Hawaii and we couldn't agree more with that accolade. It was one of our favorite stops on the trip we visited it twice! Finally, the food trucks are only open for lunch from 11 am to 2 pm so try to visit them being that they are famous for their food trucks.
Hanalei Food Trucks
Trucking Delicious – Hawaiin cuisine

Kealia Poke
Fresh Bite – salads, healthy food
Pat's Taqueria – the OG taco shop
Hiking in Kauai
There are endless hikes located on the island of Kauai. Since you only have 5 days I would pick 3 hikes in total. Below I'm sharing the top hikes you need to check out:
Awa'awapuhi Trail
Nualolo Trail
Kuilau Ridge Trail
Honopu Ridge Trail
Makawehi Lithified Cliffs Trail
Sleeping Giant Trail
Canyon Trail
Kalalau Trail: the most famous of all the Kauai trails. The trail actually consists of three trails:

The 4-mile roundtrip hike to Hanakapi`ai Beach
An eight-mile roundtrip hike to a gorgeous waterfall
11-mile hike to the Kalalau Valley with sweeping views of the Na Pali coast. In order to hike the entire 11-mile trail, you'll need a permit in order to do so.
You can also camp during the summer months! Head to The Napali Coast State Park Site to check out more information on camping and the trails.
A sample 5 Kauai Itinerary is located at the end of this post
Best Beaches in Kauai
Secrets Beach
The name speaks for itself. It isn't easy to get to this secluded beach because the locals don't want you to know about it! However, it's not hard to find the trail and once you journey down the 10-minute downhill hike you are rewarded with an untouched secluded beach with views of the Kilauea Lighthouse. There are lava rock walls, dolphins swimming nearby, and a small waterfall that can be found a mile or so up the beach. You don't want to miss this place and I will be writing a blog post entirely on how to get there so look out for that soon.
Anini Beach
One of the most protected beaches in the world because there is a reef that runs alongside the entire beach. The waters are very calm here which makes it great for snorkeling and other water activities. There is plenty of shade too!
Tunnels Beach
By far our favorite beach on Kauai was Tunnels Beach. Such a stunner! It's one of the best diving as well as snorkeling spots in the world and is known for its enormous coral reefs and beautiful tropical fish. There is limited parking here and you can find some on certain street turn-outs leading up to the beach. But, make sure to read all the signs so you don't park in a restricted area.
Polihale Beach
Polihale Beach and State Park is located in West Kauai and is the longest beach in Kauai coming in at 17 miles long. It's known for its glistening white sand and dunes.
Ke'e Beach
Located by the Na Pali coast this beach is known for its draw-dropping beauty and many movies including The Pirates of the Caribbean have been filmed here. It is near the Kaula trail which is known for being one of the most beautiful hiking spots in the world. It gets very busy during the high season so you get here early morning to secure a parking spot.
Best Waterfalls in Kauai
Wailua Falls
Wailua Falls is a triple waterfall that is a major tourist spot. Most people don't realize that you can hike down to the bottom of the falls. You have to be brave enough to trek 300 feet down through mud and brush. It was probably one of the hardest things I have ever done in my life but man was it rewarding. To be able to experience Wailua Falls from below was one of the highlights of our trip and easily my favorite part of this Kauai Travel guide! I will be writing an entire post dedicated to getting down here, so stay tuned for that.
Hanakapiai Falls
Unfortunately, we did not make it to Hanakapiai Falls because it is quite a trek. But it's another famous waterfall in Kauai. The trek is an 8-mile roundtrip hike to access the 300 ft waterfall. Do note: you will need a permit to access the parking in order to hike to the Hanakapiai Falls, check them out here. Permits tend to sell out super fast so my best advice would be to book it a month in advance (they don't allow you to book out further).
Opaekaa Falls
The most accessible waterfall on this list, Opaekaa Falls is 150 feet, located on the east side of the island, and has a great scenic point for you to view this beauty.
Where to Stay on Kauai
There are many options when it comes to staying in Kauai. You can either stay in a luxury resort or rent a quaint Airbnb. We rented one the first time we visited and loved it because many of them come equipped with snorkeling gear, beach towels, chairs, and other beach accessories. If you want more of the luxury resort type below are my top picks for stays on Kauai:
Grand Hyatt Kauai Resort & Spa ($$$): A true luxury experience in the heart of Kauai. We stayed at the same resort in Maui and felt so relaxed and the customer service was incredible!
The Westin Princeville Ocean Resort Villas ($$$): Located on the north shore of Kauai, this hotel is on a tranquil part of the island. There is not much to do (other than Hanalei) but that is the whole point of being on Kauai. This resort is 5-star and is the perfect romantic getaway! You even have your own beach access.
Marriot Kauai Beach Club ($$): Located in Lihue (which is also where the airport is) is this incredible resort. The prices are reasonable and it's the perfect spot for kids as they have their own pool!
What to Pack for Kauai Hawaii
Kauai is warm year-round and can be very wet during some months so make sure to have these on hand for your trip:
Where to Eat in Kauai
Federico's Mexican Food: a great casual restaurant to stop at for lunch in Hanalei or an early dinner. There always seems to be a bit of a line but that's how you know it's good! We had the burrito and tacos and recommend them both!
Da Crack, Poipu: casual Mexican stand that has delicious fish tacos, garlic shrimp, and burrito bowls. Da Crack is located in a parking lot but the food is amazing.
Sushi Girl Kauai: On the north shore of the island, this place is dedicated to gluten-free and is a great option for some fresh seafood and even a sushi burrito. A nice option for splurging on vacation.
Kountry Style Kitchen Restaurant, Kapaa: Kountry Style Kitchen is a classic brunch spot on the south shore of Kauai. Be prepared to wait for your table but it's so worth it! They give you cornbread with every meal and I couldn't recommend the macadamia nut pancakes more.
Porky's Kauai: Porky's came highly recommended and is so delicious! Food trucks are always a hit or miss but this one was great! It's near the Waimea Canyon so it's a great place to stop off for lunch on your way in or out.
Pono Market: known for its delicious poke that is fresher than ever!
Kauai Itinerary (5 days)
Below is a sample Kauai itinerary that will be helpful for your trip. It's based on 5 days but believe me, you can easily visit this island for 7-10 days there are so many things to do in Kauai!
DAY ONE
Check into Grand Hyatt Kauai
Explore Poipu and have a late lunch
Visit the Waimea Canyon
Red Dirt Falls
Sunset at Kokee State Park
SECOND DAY
Hike Makawehi Lithified Cliffs Trail
Visit the Coconut Coast and have a late lunch
Visit Wailua Falls (hike down if you're up to it)
Opaekaa Falls
Drive through Tunnel of Trees
Sunset at Shipwreck beach
THIRD DAY
Morning Catamaran to Visit the Na Pali coast
Check out of Poipu and drive to Princeville
Dinner in Hanalei
Sunset at Hanalei Pier
FOURTH DAY
Morning Hike Kalalau Trail (if you hike all the way to Hanakapiai Falls I would dedicate the entire morning/afternoon to the hike)
Visit Queens Bath if you choose a shorter Kalalau option (check tide times only visit during low tides)
Relax at Tunnels Beach
Dinner in Hanalei
DAY FIVE Kauai Itinerary
Breakfast at Kountry Style Kitchen Restaurant
Helicopter Tour
Relax at Anini Beach and find the hidden swing
I hope you enjoyed my "The Ultimate 5-Day Kauai Itinerary: a travel guide" and that it helps you plan the perfect trip! Don't forget to check out my Most Beautiful Places in Kauai: a Photography Guide if you're planning a visit!
Need help packing for Kauai? I've got you covered – check out my "Ultimate Hawaii Packing Guide". And as always please leave any questions in the comments below!
Aloha,
Courtney
pin this Kauai Itinerary post for later