Everything to Know Before Visiting the Ho'omaluhia Botanical Garden in Oahu
The Hoomaluhia Botanical Garden is one of Oahu's most treasured places. Have you ever seen the lush jungles of Jurassic Park plastered all over Instagram and wondered where that place is? Well, my friends, it's the Hoomaluhia Botanical Garden in Oahu. Over 200 acres of beautiful botanical gardens are set against the stunning Koolau Mountain Range. It recently celebrated its 40th anniversary in 2022 and is and I'm here to spill everything you need to know before visiting.
Botanical Garden History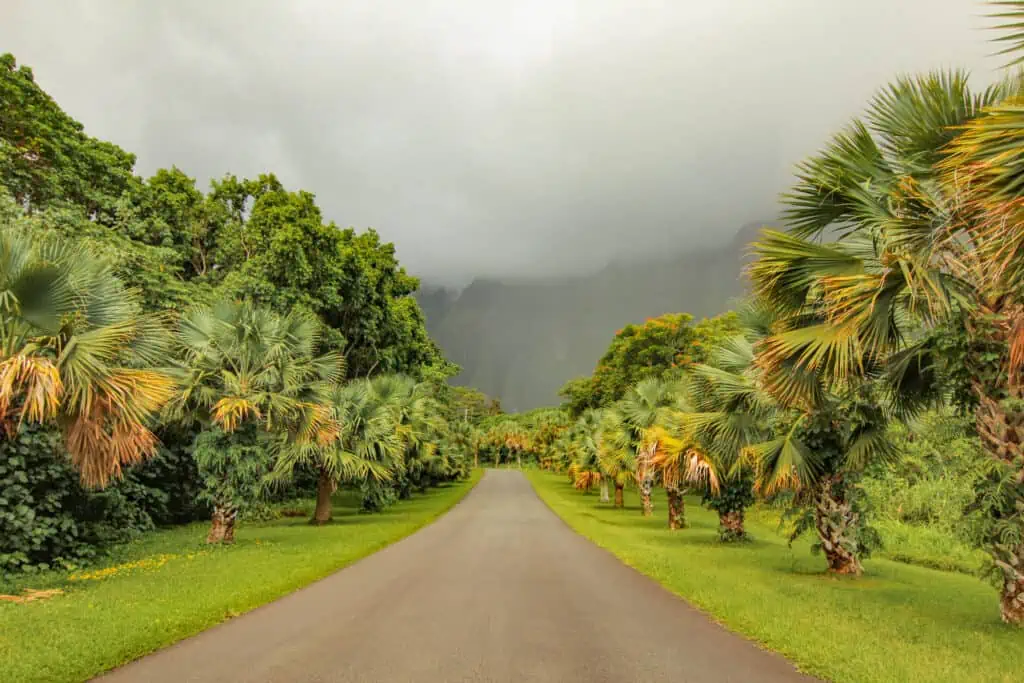 First off, the actual place that Jurassic Park was filmed in is the Kualoa Ranch which is also in Oahu, but this place – the Ho'omaluhia Botanical Garden – is one of the most beautiful places in Hawaii. It's approximately 20 minutes from Honolulu and even the drive to get there is breathtaking. From the second you drive in those gates, you are transported to another world.
The Ho'omaluhia Botanical Garden is 200 acres of absolute lushness with flowers represented from the Philippines, Hawaii, Africa, Sri Lanka, India, Polynesia, Melanesia, and Malaysia. The Koolau Mountain Range is what gives this place breathtaking dramatic views and will leave you speechless.
Tips for Visiting the Hoomaluhia Botanical Garden
It's completely free and open every day from 9 am-4 pm.
They have walking tours on Saturdays at 10 am and Sundays at 1 pm.
You are not allowed to take photos in front of the infamous entrance (pictured above, we got the shot as we were driving through in a convertible). There is always a security guard and they will stop you the second you walk past those gates.

THEY STOPPED US! When we tried to walk through with a camera in hand. But, the guard was kind enough to tell us to come back at like 6 am as there is a hole on the left side of the fence, but we never woke up that early. Blame it on the Aloha lifestyle.

The entire drive through the gardens takes about 25 minutes depending on how often you stop.

Always be respectful of the plants and wildlife and leave no trace
They have multiple parking lots to park in for free so you can walk around the grounds.
There is a picnic area you can reserve along with camping permits (so you can stay overnight, new life goal right there!).
Conclusion
All in all, you will not regret a visit to the stunning Hoomaluhia Botanical Garden and it should be top on your list for your Oahu plans. Thank you for reading and don't forget to check out the Best Things to Do in Oahu, Hawaii. Finally, to help you pack check out the Ultimate Hawaii Packing List!
XO, C