Our Boho Mid Century Modern Home Tour
Welcome to our condo tour in San Diego, California! Our style can be best described as Boho Mid-Century Modern home decor. We have transitioned our rented condo into the warmest and most inviting space possible – who says you can't make your rentals feel more like home? This past year (2020) hit us all like a ton of bricks and it made me appreciate our cozy home more than ever! In this post, I will give you a detailed tour of our home. As well as, discussing tips and tricks to make your space look and feel more inviting.
Tips on Using a Neutral Home Palette
In late 2018, my husband and I moved from Long Island, New York to San Diego, California, and started our home decor from scratch. Because of that, all of our furniture and decor pieces are cohesive and mesh well together. Our favorite stores to shop for home decor are Home Goods, World Market, H&M Home, and Amazon. The trick is to stick to a neutral palette and add pops of color here and there. I highly suggest picking one or two pops of color (for us it's green and pink) and creating that fluidity throughout your entire home. That way, when you are in a decor pinch you can grab pieces from another room and they will fit well together.
While all opinions and recommendations are always my own, my content on this blog post may contain affiliate links for products I use and love. This means I get a small commission if you make a purchase after clicking one of these links. As always, I am so thankful for your support!
Mid-Century Modern Living Room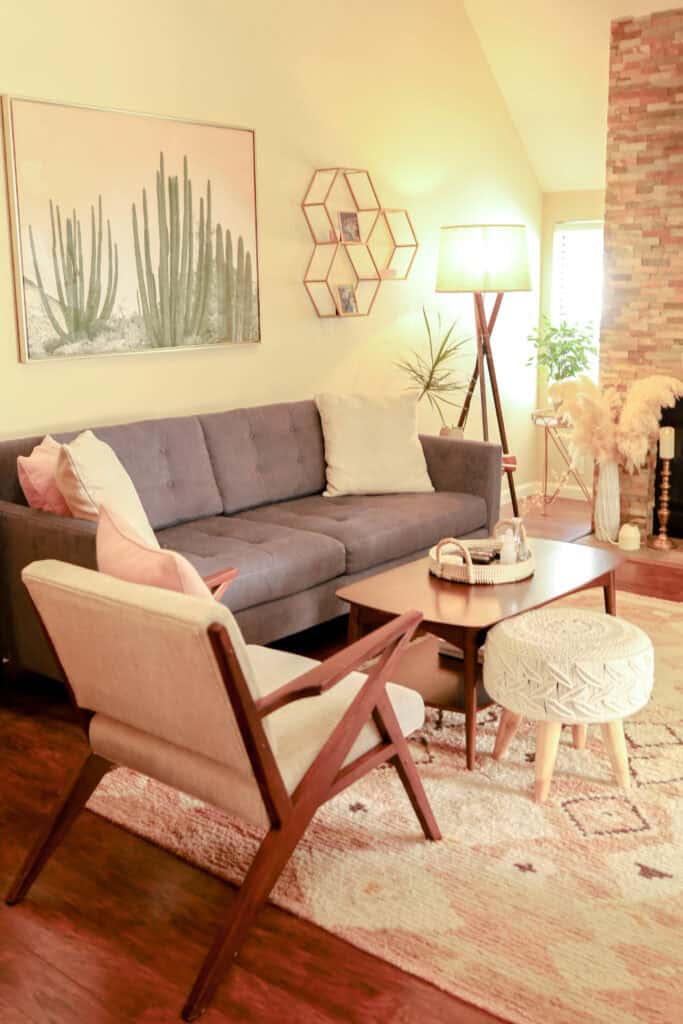 We were blessed with tall ceilings in this rental, and our living room is my favorite place in the home (it's the coziest!). You always want to start off with the large furniture first and play off of those pieces. So we purchased our couch first (from Overstock.com) and worked our decor around that. Be aware that most couches and larger pieces of furniture take months to produce so before you move consider ordering pieces beforehand.
This 1950's TV set from my grandparent's Long Island home is undoubtedly my favorite piece that we own. It has taken the journey cross country with us and I will never part with this for sentimental reasons. I love mixing vintage pieces with new pieces to truly give the home a boho feel. Try checking out estatesales.net for estate sales in your area or heading to your local used furniture store. You never know what gems you'll come across!
Lastly, we were smitten with this Mid-Century accent chair and it paired well with our couch (I may just have to buy a second one down the road!). The mid-century coffee table and console were both purchased from Amazon.
I've linked all I could below:
(if you see something that's not linked comment below and I will help you find an alternative)
Mid-Century Modern Accent Chair
shop our living room
Office Space/Guest Bedroom
Don't underestimate the power of bright white walls. When we first moved in, our office space was painted blue. Because our condo doesn't have that much natural light, it felt dark and dingy. I was never inspired in our office. We then painted it bright white and the difference is uncanny (see below for the before).
I now love the feeling I get when I'm working in my office. It inspires me like no other. One of my favorite pieces in the office is our acrylic wall calendar. Nothing gives me more joy than filling that baby up every month and keeping myself on track. And hey, it doesn't hurt that it looks cute too.
Along with that, the gold bookshelf is one of my favorite eye-catching pieces as well. It's less than $120 and there are so many options on ways you can style this piece. Our office also doubles as a guest room with this neutral sofa couch. We have had multiple guests stay and each one of them talks about how comfortable the queen mattress is. I myself have slept in it a few nights and can confirm!
Another feature that helps this room pop is these Amazon String Lights. I understand that most people use these primarily for Christmas, but I keep them up year-round because they give the room such great ambiance which motivates me.
Finally, blasting this diffuser during my workdays helps tenfold with motivation. The trick is to fill it up every evening so it's ready to go in the morning. This diffuser is the best since it comes with an essential oil set that is great for beginners (it also makes for a great present)!
I'm linking everything in the office below:
shop our office space
Outdoor Patio
Ok, I know I said the living room was our favorite part of the house but this patio holds a special place in my heart. I come out here often to read, write, and grab some fresh air. Our patio set always gets the most questions so I'm linking it here. The seat cushions that came with the set were not thick enough to be comfortable. So we purchased our own from World Market and it made all the difference. This outdoor rug is a steal from Wayfair (we have the 5×7 size). Finally, you can't go wrong with a good plant stand to bring some life to your outdoor spaces.
Outdoor Rug (we purchased the 5×7 size)
World Market Velvet Pillows (only $9)
shop our patio
Bedroom
Our final room in our Boho Mid Century Modern home is our bedroom. We spend the least amount of time here because we strictly use this room for sleeping. I almost trick my brain to know that when I enter our bedroom it's time for sleep. So if you have trouble sleeping try not using your room for anything but!
Since this is the smallest room in the house we kept it simple with a console table instead of a dresser. We added a gallery wall with our favorite travel photos throughout the years. Finally, a genius decor hack when you have a smaller room is to add a large mirror. It helps make the room feel much bigger!
shop our bedroom
Thank you for peeking into our "Our Boho Mid-Century Modern Home Tour in San Diego" post. If you have any decorating questions at all please feel free to comment below. Also, if there's an item I missed, be sure to ask below and I'll try and find a link for you. Don't forget to check out more of my lifestyle guides.
shop this post
pin this post for later
XO,
Courtney