A Complete Yosemite National Park Travel Guide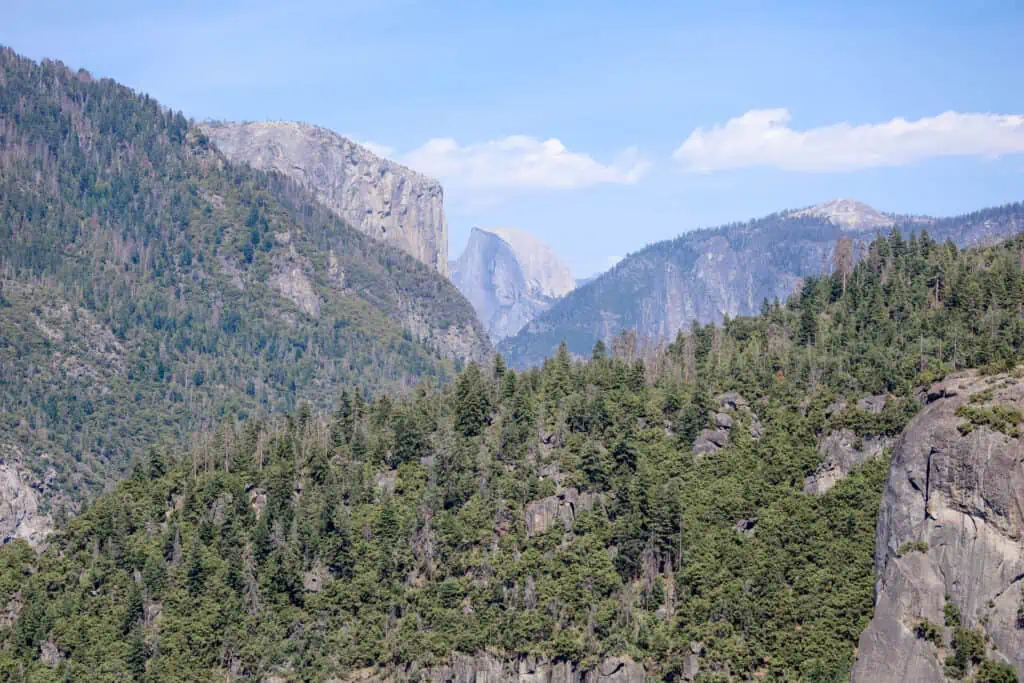 Visiting Yosemite National Park is one of the biggest California bucket list items there is. It is internationally recognized for its breathtaking natural beauty, granite cliffs, waterfalls, giant sequoia groves, and diverse wildlife. It only took us nine years of living here to check this baby off the list but I'm so glad that we finally did! That's why I've created "A Complete Yosemite National Park Travel Guide" to act as a helpful resource when planning your trip.
Yosemite's human history dates back over 3,000 years to the indigenous Ahwahneechee people. In 1864, President Abraham Lincoln signed the Yosemite Grant, which protected the area and set it aside for preservation and public use. In 1890, Yosemite became the third national park in the United States. When driving through Yosemite Valley is truly magical and can't really be put into words.
How to Get to Yosemite National Park
If you're traveling from out of state, Fresno Airport is the closest airport to Yosemite. The drive from Fresno Airport to Yosemite Park is roughly an hour and a half. For all my road trip mamas check out the travel times from your largest California cities:
Traveling from San Francisco: 170 miles away and roughly a 3-hour drive
Traveling from Los Angeles: 280 miles away and roughly a 5-hour drive
Traveling from San Diego: 400 miles away and roughly a 7-hour drive
Things to Know Before Visiting Yosemite
The best time to visit is from May to September when the weather is warm and the valley is blooming. It's also the busiest time to visit but you gotta do what you gotta do.
There is hardly any service when driving through Yosemite, make sure to download some google maps offline if you're directionally challenged.
Bring plenty of bug spray and sunscreen.
Late May to August is the best time to view the waterfalls.
It can take hours to enter Yosemite during peak times (9 am-1 pm). To avoid this plan on heading into the park prior to 9 am or after 2 pm.
Many of the roads are closed during the winter season due to high amounts of snow.
The park is 750,000 acres, most people don't realize how long it can take to get from point A to point B so make sure to do your research
Bring warm clothes, even in the summer the temperatures drop drastically in the evening time.
Where to Stay in Yosemite
Hotels inside Yosemite Park
The easiest way to experience Yosemite would be to stay inside the park's perimeter. For a number of reasons with the first one being that you won't have to deal with traffic when entering the park at peak times. Here are a couple of Yosemite Hotels within the park:
Yosemite Valley Lodge ($$$) – The most central lodge to stay would be the Yosemite Valley Lodge. This rustic hotel is located smack in the middle of Yosemite Valley so you pay for the convenience. Prices can go up to $800 a night in the summertime so be prepared to spend a pretty penny if you want to stay here.
The Ahwahnee Hotel ($$$) – A historic landmark hotel has old-world charm and beautiful views of Half Dome, Glacier Point, and Yosemite Falls. With that being said, it's another property that you will have to splurge on. Prices run anywhere from $300-$1500 a night depending on the time of year you stay.
Evergreen Lodge ($$) – A little further out from Yosemite Valley, however, this hotel is way more affordable. They also have beautiful cabins for rent. Not only that, but you can rent a tent through them and they will set everything up so you won't have to lift a finger! Finally, it costs roughly $75 a night.
Hotels Outside of Yosemite Park
While all opinions and recommendations are always my own, my content on this blog post may contain affiliate links for hotels I've traveled to, tours I've completed, and products I recommend. This means I get a small commission if you book a stay or purchase a product after clicking one of these links. As always, I am so thankful for your support and will continue to share the best properties, things to do, and items I love!
If you're on a budget like we were, I recommend staying outside of the park for budget-friendly accommodations:
Groveland Hotel ($$) – This quaint town is located roughly 45 minutes from the entrance gate to Yosemite. We enjoyed our stay in this little town and would definitely stay again. However, the hotel was a bit loud being that it is an old Victorian house. Book your stay here!
Rush Creek Lodge ($$) – Located only 20 minutes from the entrance gate on Highway 120. It offers a relaxed experience for everyone to enjoy and is especially great for families. Finally, they have many amenities on-site including a large pool, a full dining room, and a general store. Book your stay here!
Camping in Yosemite
Undoubtedly, the biggest draw to visiting Yosemite National Park is the campgrounds. Not only are they the most budget-friendly option when staying in Yosemite, but waking up surrounded by towering pine trees, rock faces, and waterfalls is truly special. Because of the popularity, you'll need a reservation year-round and the camp spots typically book up six months in advance.
Furthermore, certain campgrounds act on a first come first serve basis. So if you've missed out on your top pick, you can always try to get there early for a spot. For all reservations, head to recreation.gov. And for a more detailed list of campgrounds, head to hipcamp.com!
Yosemite National Park Travel Guide: Top Campgrounds
North Pines (most conveniently located in Curry Village)
Upper Pines (largest campground in Yosemite Valley)
Lower Pines
Tuolumne Meadows (less crowded)

Camp 4 (great for rock climbers)
Best Sights in Yosemite
Tunnel View
The most epic view of El Capitan and Half Dome combined. This is a must-see for everyone's visit to Yosemite Park. There is a small parking lot in front of the viewing area and it can get very busy during peak times but don't let that hinder you from visiting this gem.
Yosemite Falls
Did you know that Yosemite Falls is the fifth largest waterfall in the ENTIRE world? Standing at a whopping 2,425 feet this beauty quite literally had me stunned. There are so many viewpoints to capture the beauty of Yosemite Falls. Let me tell you about them:
Lower Yosemite Falls Trail
The most popular view of Yosemite Falls is Lower Yosemite Falls. It's a .5 mile very easy walk to this viewing point. Bonus points if you jump up on the tree to cut out all of the tourists.
The Meadow
I received so many questions on how to get to the boardwalk pictured above in the valley meadow. It's pretty easy to navigate there but unfortunately, I couldn't find the name of the campground that is located directly south of the meadow. However, it's a campground directly next to the stream right before Curry Village on the south side of the Valley Loop Floor. You can't miss it!
The Cathedral
There is a small orange cathedral located in the valley of the park. It's been in the park for over 135 years. We weren't able to capture this cute church but I had to share it regardless!
Glacier Point
Spectacular views of the entire park with Half Dome taking center stage. It's best to catch this view at sunrise or sunset. Also, the drive up to Glacier Point is VERY winding, however, the most scenic (we saw the most wildlife). Driving up here takes an hour and a half from the Yosemite Valley floor. Take your time, and be careful!
Bridalveil Falls
This baby gets its name because the water cascades down in a smoky sheet resembling a bride's veil. It stands tall at 671 feet and is a super quick hike to the viewing point. You can park on the side of the Yosemite Valley floor to access the trailhead.
Yosemite Falls Hike
This hike is not for the faint of heart. It's a 3k elevation gain and takes roughly six hours round trip. But the views are worth it!
Tuolumne Meadows
Tuolumne Meadows is located about an hour from Yosemite Valley. It's a great part of the park that is usually less touristy. There are many hiking trails and campgrounds. Tenaya Lake is the true beauty of this part of the park.
Mirror Lake
This lake is a small seasonal lake located on Tenaya Creek and close to Lower Yosemite Falls. It's the perfect place to cool off during those hot summer days.
Taft Point
Taft Point is located west of Glacier Point and the hike to get to the viewpoint takes about 1-2 hours. It is best early in the morning or at sunset. We, unfortunately, didn't have time for this spectacular view but will definitely be adding this to our list for our next trip to Yosemite!
What to Pack for Yosemite
Hiking in Yosemite
There is no better way to experience Yosemite National Park than by hiking some trails. Wherever you are in the park there are numerous trailheads to take. Head to the Yosemite Hiking page for a complete list of hikes. Here are the most popular ones:
Yosemite Falls (Moderate) 3,000 elevation gain and takes 6 hours roundtrip
Lower Yosemite Falls (Easy) 1/2 mile 30 minutes
Vernal Falls (Easy)
Bridalveil Trail (Easy) 20 minutes
Mirror Lake (Easy) 1-2 hours
Half Dome (Difficult) 10-14 hours
Taft Point (Moderate) 2-3 hours
Best Ways to Get Around Yosemite
If you want to see all that Yosemite has to offer, I would highly recommend using a car during your stay. With that being said, if you are staying outside of the park plan to arrive before 9 am. After that, the traffic to get in the park backs up and you could be waiting for hours to enter.
Once inside, the easiest way to get around the Yosemite Valley floor is by bicycle. There are 12 miles of paved bike trails that take you all through the major sights on the valley floor. In addition to that, you are allowed to ride your bike on all the major roads, don't forget to wear your helmet.
Yosemite National Park Travel Guide: Where to Eat in Yosemite
I have to say, I was surprised there were so many options when it came to food inside the park. Compared to other National Parks, Yosemite has many options. Below are the top spots to dine in Yosemite:
Degnan's Kitchen ($$) – A cafeteria-style eatery with Peet's coffee, sandwiches, and the fanciest bathrooms in the park!
The Ahwahnee Dining Room ($$$$) – Upscale dining with cathedral windows that show off the beauty of Yosemite Valley. This place is definitely a splurge!
Yosemite Valley Lodge – Base Camp Eatery ($$) – Better known as the food court. This is the easiest and fastest way to get a quick bite. Choose from 3-4 counters ranging everywhere from pizza to Asian food. They even have a Starbucks located inside.
Meadow Grill ($$) – Located in Curry Village this casual dining spot has everything from breakfast burritos to rice bowls and many vegetarian options as well!
Thank you for reading my "A Complete Yosemite National Park Travel Guide". I made sure to pack this guide with as many resources as possible to make your trip seamless! Don't forget to check out more of my California travel guides!
XO, Courtney
pin this post for later!