Amsterdam 2-Day Itinerary: A Complete Guide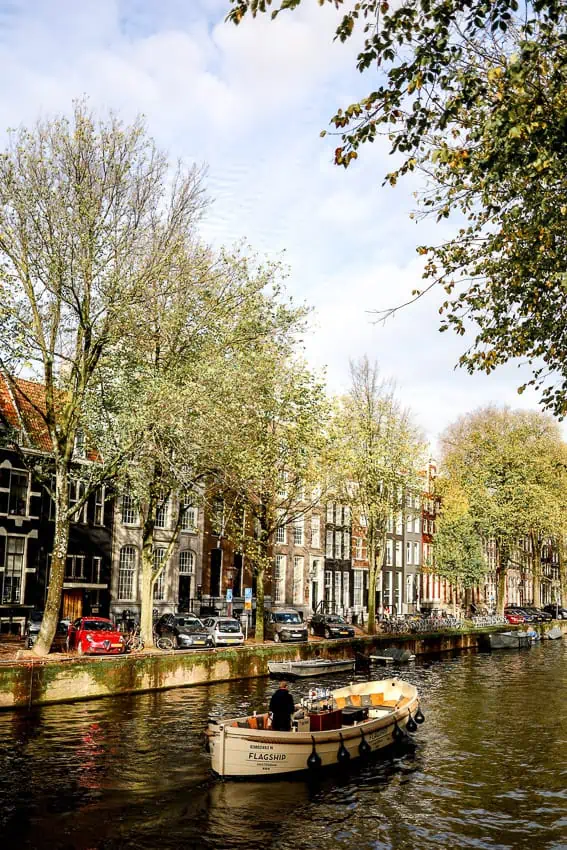 After traveling to Amsterdam twice now it has easily become one of my favorite cities in Europe. The charm in this city comes to you from every angle. From the romantic canals (60 miles to be exact) to the historic architecture (dating back to the 17th century), and the fact that there are more bikes than people. It's easy to see why so many people fall in love with Amsterdam. It's one of Europe's most preserved cities and although a popular travel destination, is also a quiet city. Although you'll want to spend more time here, Amsterdam can easily be visited in two days. That's why I've created this "The Perfect Amsterdam 2-Day Itinerary: A First Timer's Guide" to help you navigate this charming city.
Things to Know Before Visiting Amsterdam
The weather in Amsterdam is typically very mild however, the winters can be very frigid (the canals freeze over). Because of this, it's best to visit either in late spring or fall when the weather is less wet. (April-June or late September-December).
Bicyclists have priority over pedestrians in Amsterdam, you must give way to drivers on your right. But make sure to check both ways when crossing the street and steer clear of walking in the bike lanes.
Since it's a small city, you'll want to book reservations in advance for dining and activities.
If renting a bike, make sure to lock it up! Most rentals come with two locks so make sure to use them both. You can never be too safe when leaving behind valuables.
Best Things to Do in Amsterdam
While all opinions and recommendations are always my own, my content on this 2 days in Amsterdam Itinerary may contain affiliate links for hotels I've traveled to, tours I've completed, and products I recommend. This means I get a small commission (at no additional cost to you) if you book a stay or purchase a product after clicking one of these links. As always, I am so thankful for your support so I can continue to offer free resources.
Visit a Museum
The Anne Frank House
One of the most humbling experiences I have ever encountered was visiting the Anne Frank House. Entering the secret annex where the family of Anne Frank hid during the Holocaust brought tears to my eyes. Gear up for an emotional visit. Tickets come with a guided audio tour that covers the history behind your visit. Since it's the most popular thing to do in Amsterdam you definitely need to book your tickets in advance. They sell out every day! Finally, after your visit head next door to Pancakes Amsterdam for a hit of serotonin.
Rijksmuseum
A national museum that is dedicated to the culture, history, and arts of Amsterdam. Find masterpieces from Rembrandt and Van Gogh in the museum. The most popular piece of artwork is Night Watch by Rembrandt. I highly recommend this small group tour in which you learn all about the backgrounds of the pieces of art you're visiting. Finally, don't miss out on visiting the iconic library housed in the museum. It's simply stunning!
Van Gogh Museum
Home to the world's largest collections of Van Gogh who was an Amsterdam resident. This dutch art museum is a must-see and has over 500 pieces of his work and dives deep into the mid of this creative genius. If you only have 2 Days in Amsterdam it might be tough to squeeze this into your itinerary but nonetheless should be added to your list. Book your tickets here!
Explore the Jordaan District
Jordaan is my husband and I's favorite neighborhood in the entire world. We've been to a lot of cities and nothing compares to this quaint area of Amsterdam. Trendy cafes, narrow homes, quaint shops, and eateries line the streets. Additionally, you'll find unique houseboats and the houseboat museum located in Jordaan. I highly recommend you choose this area to stay in mainly because some of the best eateries in Amsterdam are within walking distance. Our top picks are Jansz, Fabel Friet, Pluk, Ree7, and Het Koekemannetje. More on that is below.
Evening Canal Cruise
To truly experience Amsterdam, you must book a daytime or evening canal cruise. This is the best way to admire the city from another perspective. Not to mention, if you're traveling with your significant other it's very romantic. There are many different cruise options to choose from – this option comes with a tour of the Heineken experience which I will speak about later in this blog.
Bloemenmarkt Floating Flower Market
The floating flower market, known locally as the Bloemenmarkt, is one of the most visited places in Amsterdam. It's been open since 1862 and is the only floating flower market in the world. It's the perfect way to brighten up your day and stroll through the stands selling everything from tulip bulbs to flowers, and souvenirs. They're open Monday to Saturday and have plenty of dining options nearby.
Visit the Dancing Houses
Situated in one of the oldest parts of the city, the infamous crooked narrow homes along the Damrak canal are called the dancing houses. The reason being is that they were built on stilts and over the years have sunk into the soil. Which leads to them leaning forward like they're crooked which some people coined them dancing. Another fun fact back in the day home taxes were charged based on the size of the home's facade. So that is why there are many narrow homes lining Amsterdam's canals!
2-Day Amsterdam Itinerary: Shopping in Negen Straatjes
Translating to "nine little streets" Negen Straatjes is a hip neighborhood with unique and vintage shops. You'll also find some stylish cafes and a few boutique hotels located here. Our favorite store to visit is Scotch & Soda being that its headquarters are in Amsterdam, it is the epitome of Amsterdam's cool clothing. Finally, don't forget if you spend €50 on an item you can get up to 15% VAT tax refund when leaving the country.
Ride Bikes through Vondelpark
Vondelpark is the most famous park in The Netherlands stretching over 120 acres. During the warm weather, you'll see locals scattered about enjoying the park. The park is a popular destination for locals, offering a peaceful escape from the busy city streets. It features winding paths, beautiful gardens, and numerous water features, including ponds and streams. Vondelpark is also home to many statues, sculptures, and monuments, including a monument dedicated to the park's namesake, Joost van den Vondel.
When we visited in the fall, we strolled through on our bikes are were greeted by the most talented saxophone player playing music while the rustling fall leaves were blowing in the background. To say this was a travel highlight is an understatement. It truly was an unbelievable fall afternoon and I hope you can witness something like that during your visit to Vondelpark.
Visit Dam Square
"All roads lead to Dam Square". This main city center is referred to as the heart of Amsterdam. It's surrounded by shops, restaurants, and museums. Situated on the popular street, Damrak, this street runs from Dam Square to Centraal Station. We had the most delicious waffle in one of the eateries surrounding Dam Square we were drawn to because of the wafting smell. I don't recall the name but one of the best parts of traveling is stumbling upon places to eat.
Day Trip to Zaanse Schans
Zaanse Schans is located 30 minutes outside of Amsterdam city. This windmill town is the cutest place you will ever visit with small tourist shops, beautiful gardens, and 1-2 cafes. I would recommend not booking a tour to Zaanse Scans and opting for the local bus from Amsterdam Central station. It's super easy to use, cost-effective and takes roughly 1 hour from the station to Zaanse Schans. I felt extremely safe the entire time. However, if you have more than 2 days in Amsterdam and want to make the most of your itinerary book this tour which also takes you to Giethoorn. Another charming canal village with thatched roof houses. Say less!
Visit the Red Light District
Amsterdam is mostly associated with its famous red-light district. This is such a shame because there is so much more to Amsterdam than this small/touristy part of town. Named because of the neon lights lining the street along with windows showcasing legal prostitutes, sex shows, and more. It's not really my cup of tea but when visiting you have to walk through the district just to say you did.
The Heineken Experience
One of the most popular activities in Amsterdam is this interactive tour of the Heineken factory. Learn all about the history of Heineken, get a chance to taste the product, and see where all of the Heineken products were manufactured up until 1988. I'm not a big beer drinker but I learned so much on this tour and enjoyed it. Finally, they even let you inscribe a glass at the end with your name on it!
Visit Hortus Botanicus
One of the world's oldest botanical gardens is located in the Plantage district of Amsterdam. Multiple greenhouses, flora, fauna, and a cafe are on the grounds. If you have more than 2 days in Amsterdam add these botanical gardens to your list.
Tulip Festival (seasonal)
If you are visiting Amsterdam in April then you are in luck because the Tulip Festival is in full swing during that month. Located 30 minutes outside of the city people come from all over the world to witness this beauty. You can find more information about the dates and I've shared the top places to experience them below:
Keukenhof Gardens – Located in Lisse, about a 30-minute drive from Amsterdam.
Noordoostpolder – This area is located about an hour's drive from Amsterdam and is one of the largest tulip-growing regions in the Netherlands.
Haarlemmermeer – Located just outside of Amsterdam and is known for its tulip fields and flower farms.
Amsterdamse Bos – This large park on the outskirts of Amsterdam is home to several tulip gardens and features over 400,000 tulips.
Bloemendaal aan Zee – This coastal town near Amsterdam is known for its sandy beaches and beautiful tulip fields. Visitors can take a bike ride through the fields. As well as dine at one of the many beachfront cafes.
Best Hotels in Amsterdam
The Hotel Dylan ($$$$) The Hotel Dylan is part of the group "small luxury hotels of the world" and let me tell you, it sure is luxurious. The rooms were so chic and the food was delicious. We stayed here on our honeymoon and the service was incredible so much so that we never wanted to leave the hotel. It was a bit of a splurge but definitely my favorite hotel we have ever stayed in. Book your stay here.
Hotel Mercier ($$) Also located in the Jordaan district we personally stayed here on our 2nd visit. It's located on a quiet street and has a great bar. The decor is incredible, we stayed in the loft suite and loved feeling like we were staying in a true Amsterdam apartment. Finally, it's a bit more affordable. Book your stay here.
Pulitzer Amsterdam ($$$) Pulitzer Amsterdam is a sophisticated hotel located in the Jordaan district. Stay for excellent service and the proximity to the main attractions. Finally, the on-site restaurant Jansz is incredible. Book your stay here.
Hyatt Regency Amsterdam ($$) Moderately priced modern hotel within a walking district to the Botanicus gardens. Hyatt is always a great hotel chain to stay at and has dramatically improved its hotel experience over the years. Book your stay here.
Best Restaurants in Amsterdam
Dinner in Amsterdam
Jansz ($$$$) housed in an old pharmacy Jansz is a splurge-worthy meal to indulge in during your visit.
Bar Brasserie OCCO ($$$) Trendy bar with quality cocktails, small plates, and gorgeous interior design.
Wilde Swijnen ($$) Industrial shabby chic restaurant serving an ever-changing daily menu.
Hong Kong Kitchen ($$) is a casual eatery near the red-light district with delicious dishes.
Breakfast/Lunch in Amsterdam
Pancakes Amsterdam ($) You are simply not living until you've tried a Dutch pancake in Amsterdam. They may be flat but they sure are tasty. We visited Pancakes Amsterdam a total of 4 times now so to say it's our favorite breakfast spot in Amsterdam is an understatement. There are two locations quite close to each other. The one next to the Anne Frank house is bigger however we prefer the smaller quaint Pancakes in Negen Straatjes. Get the bacon and cheese pancake, add maple syrup, and enjoy!
The Avocado Show ($$) If you love Avocados as much as we do then you need to make it to this breakfast spot! It's known for its endless avocado dishes and a chic interior that is very Instagram-worthy.
Pluk ($$) One of the cutest cafes in Amsterdam is Pluk. Serving breakfast, lunch, and coffee we had the eggs benedict which was delicious and took a hot chocolate to go. It's a small albeit beautiful space so during peak times can be hard to grab a table.
Ree7 ($$) If Pluk doesn't have availability your best bet is to visit its sister restaurant just a few doors down. Ree7 is also serving breakfast, lunch, and coffee. They are most famous for their unique shakes. However, we had the acai bowl and coffee and very much enjoyed it.
Casual Eats + Sweets
Fabel Friet ($$) fries in Amsterdam are a big deal and I am not mad about it! It's commonly paired with mayonnaise in Europe. And don't knock it until you try it, it's delicious! Expect a line down the block for this spot but I can promise you it'll be worth it.
Het Koekementje ($) Located next to Fabel Freit these cookies are incredible. Freshly made with multiple flavors. Our favorites were dark chocolate and red velvet.
Polaberry ($$) If you're a fan of berries then Polaberry is for you! Selling chocolate-covered berries, cake pops, and espresso.
Hans Egstorf ($) Since 1898 Hans Egstorf has been slinging stroopwafels. They are freshly baked daily and housed in the cutest storefront.
Amsterdam 2-Day Itinerary
Day One
Visit the Anne Frank House
Pancakes Amsterdam for breakfast
Walk around Jordaan District
Shopping at Negen Straatjes
Coffee + lunch at Pluk
Visit the Dancing Houses
Walk through Bloemenmarkt
Evening Canal Cruise
Day Two
Visit Zaanse Schans or Rijksmuseum
Ride books through Vondelpark
Dinner at Jansz
Walk through the red-light district
How to Get Around Amsterdam
Bicycle: There is no better way to see Amsterdam than renting a bicycle and seeing it from the local's eyes. There are plenty of bike rental shops around the city, be prepared to spend roughly 10 euros per day. We booked this bike tour and loved it, highly recommend it!
Walking: The city of Amsterdam is pretty small compared to other European countries. With that being said, walking is a great way to navigate the canals and take your time viewing this pretty city.
Public Transportation: Buses, Metros, & Trams oh my! There is plenty of public transportation to take you around Amsterdam. If you're going to be there for a couple of days your best bet is to buy a daily transportation pass that you can use across all platforms.
Amsterdam Centraal Station Amsterdam Centraal Station is the largest in the country. Most people take the train to visit Amsterdam and this is where you'll embark on your 2-day Amsterdam journey.
Amsterdam City Card: If you'll be visiting for 2 days then consider getting the Amsterdam City Card. It gives access to multiple museums, public transportation, bike tours, and even a canal cruise tour.
I hope you enjoyed my "2 Days in Amsterdam Itinerary: A First Timers Guide" and that it helped you make your Amsterdam trip the best it could be! You can't miss my Best Photography Spots in Amsterdam post. Finally, don't forget to check out more of my European Travel Guides.
PIN THIS POST FOR LATER
Safe travels,
Courtney